22 Images
Corazon Aquino | 1933-2009
Corazon C. Aquino, the unassuming housewife who toppled a dictator and restored democracy to the Philippines as its 11th president, died July 31, 2009. She is seen here sprinkling holy water on the coffin of her husband, opposition leader Senator Benigno Aquino during his funeral services in Manila on Aug. 31, 1983.
(Alex Baluyut / Associated Press)
Corazon Aquino addresses a crowd of 15,000 at the financial district of Makati in Manila in 1983. She would eventually lead hundreds of thousands in a "people power" revolution that brought down strongman Ferdinand E. Marcos.
(Val Rodriguez / Associated Press)
Corazon Aquino, second left, marches with about 2,000 women, students, teachers, professionals and nuns to hold a sit-in at the residence of President Ferdinand Marcos in 1985. Aquino was born in 1933 in the Philippines, but her family moved to the United States after World War II, and she attended high schools in New York and Philadelphia before earning a bachelor's degree in French from Mount St. Vincent College in New York.
(Romeo Gacad / AFP/Getty Images)
Corazon Aquino, left, in 1985, speaks with Rebecca Quijano, a witness to the assassination of her husband. Quijano is the only civilian witness who testified that she saw a soldier shoot the senator. Corazon Aquino married then journalist Benigno "Ninoy" S. Aquino Jr. in 1954. They had five children and, following Marcos' election in 1965, he increasingly led the opposition to the president's growing power.
(Alberto Marquez / Associated Press)
Corazon Aquino, center, flashes an "L" (for "laban," meaning "fight") sign as she joined a procession from a suburban church to her residence on Dec. 1, 1985, in Manila. She was formally presented with more than 1 million signatures from supporters urging her to run against President Ferdinand E. Marcos. At left in foreground is Aquino's only son, Benigno Aquino III, who is now a senator.
(Bullit Marquez / Associated Press)
Corazon Aquino, right, shares a joke with daughters Viel, left, and Kris, second from left, before they leave for a campaign rally north of Manila in 1985. Aquino had insisted that she had no political ambitions, but she soon emerged as the most credible of Marcos' opponents, registering to run against him after he called a snap presidential election for early 1986.
(Val Rodriguez / Associated Press)
Corazon Aquino waves from the podium as thousands of supporters cheer during a campaign rally in downtown Manila in 1986. Ridiculed by Marcos for her lack of experience, she replied: "It is true. I have no experience in lying, cheating, stealing and killing. I offer you honesty and sincerity in leadership."
(Val Rodriguez / Associated Press)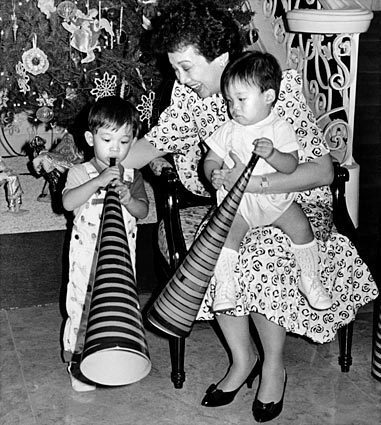 Corazon Aquino with her grandchildren Justin Benigno Cruz, left, and Miguel Abellada, as she celebrated the New Year with her family at the presidential palace in Manila in 1987. Her administration had little success in alleviating the grinding poverty that affects more than half the population or in stamping out the nation's endemic cronyism, graft and corruption.
(Val Rodriguez / AFP/Getty Images)
Aquino, flashing the "L" sign for
laban
, or fight, as she addresses a crowd in Manila. When Marcos claimed victory after an election tainted by massive fraud, Aquino launched a nonviolent civil disobedience campaign to protest the cheating. Then, on Feb. 22, 1986, the army mutinied against Marco, eventually forcing him to flee.
(Bullit Marquez / Associated Press)
Then President Corazon Aquino and Diosdado P. Macapagal, a former president of the country, attend a dinner in 1989. Macapagal was defeated in 1965 by Ferdinand Marcos, whose subsequent authoritarian rule lasted 20 years.
(Associated Press)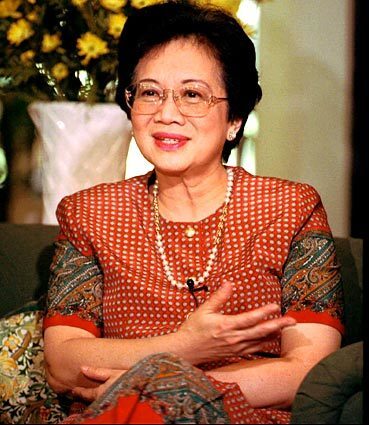 Corazon Aquino at her suburban Quezon city home. Her government was beset by a series of bloody coup attempts — seven in her six years in office — by disaffected right-wing military officers and Marcos loyalists. Challenges from communist rebels, terrorists and armed Muslim secessionists, along with a series of debilitating government scandals, left her administration lurching from crisis to crisis and, it seemed, constantly on the edge of collapse.
(Alberto Marquez / Associated Press)
Corazon Aquino speaks with journalists in Bangkok, where she spoke at a conference on human rights, commemorating the Thai military coup and massacre of October 1976. She was seen around the world as a freedom fighter.
(Charles Dharapak / Associated Press)
Corazon Aquino leads thousands of fellow Catholics at a prayer rally kicking off a three-year preparation for the 2,000th year of Christianity. In her final State of the Nation address in July 1991, Aquino seemed to speak more to her failures than to her successes. "God knows, we have made mistakes," she said. "I hope that history will judge me ... favorably ... because, as God is my witness, I honestly did the best I could."
(Fernando Sepe Jr. / Associated Press)
Aquino joins Roman Catholic Cardinal Jaime Sin, left, at a massive rally in Manila to oppose a move to amend the constitution. A staunch Roman Catholic, she gutted birth control programs in one of Asia's most crowded and poorest countries.
(AFP)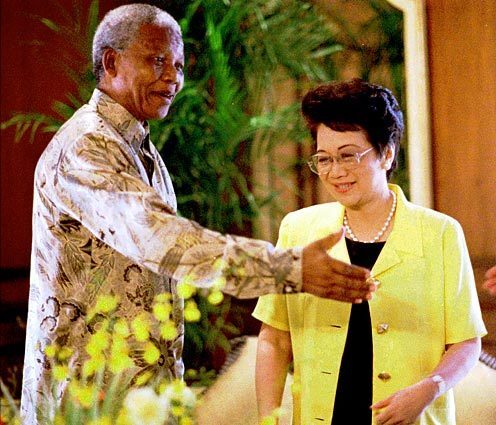 Then South African President Nelson Mandela meets with Corazon Aquino during a visit to Manila. By the end of her term, the woman who was named Time magazine's "Woman of the Year" in 1987 and who won a standing ovation from a joint session of the U.S. Congress had lost much of the global goodwill that accompanied her accession to power.
(Associated Press)
Corazon Aquino pays her respects to Mother Teresa during her funeral Mass in Calcutta.
(Peter Dejong / Associated Press)
Then President Joseph Estrada, right, links arms with predecessors Aquino and Fidel Ramos at the 13th anniversary celebration of the "people power" revolution that ousted strongman Ferdinand Marcos. Aquino left office in 1992 but remained politically active until beset by illness, joining protest rallies demanding the resignation of President Gloria Macapagal Arroyo on corruption charges.
(Bullit Marquez / Associated Press)
Aquino welcomes Wan Azizah Wan Ismail, wife of jailed Malaysian dissident Anwar Ibrahim, upon her arrival at Manila's international airport. Azizah arrived in Manila to seek support for her husband and meet with President Joseph Estrada.
(Past Roque / Associated Press)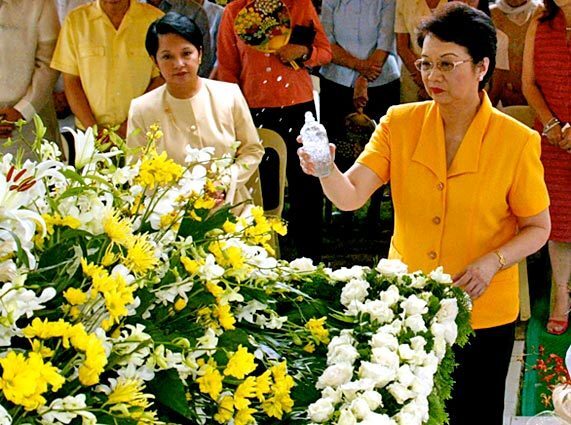 Aquino, right, sprinkles holy water at the tomb of her assassinated husband, former Sen. Benigno "Ninoy" Aquino, on the 19th anniversary of his killing. With her is President Gloria Macapagal Arroyo, whom Aquino later spoke out against.
(Bullit Marquez / Associated Press)
Corazon Aquino greets well-wishers at the Filipino Community Center in Waipahu,
Hawaii
. Aquino appeared to dislike her job and, at the end, literally counted the days until she left office. But she did fulfill a key promise: She survived her term and presided over the first peaceful transfer of power in the tempestuous country in more than 26 years.
(Carol Cunningham / Associated Press)
Aquino shows reporters a new book on her husband, the late Benigno "Ninoy" Aquino Jr., at the Ateneo de Manila University in suburban Quezon City. She and several opposition leaders attended Mass to commemorate the 25th anniversary of her husband's death. He was gunned down at the Manila airport in 1983, sparking a nonviolent army-backed public uprising that toppled dictator Ferdinand Marcos in 1986.
(Aaron Favila / Associated Press)
Aquino smiles at friends inside the church at the Ateneo de Manila University in suburban Quezon City.
(Aaron Favila / Associated Press)