5 Images
Latinos for Obama
Volunteer Joe Perez and organizer Joan Kato discuss Colorado's Tuesday caucus at the Barack Obama campaign's Greeley headquarters. Later, they held a mock caucus with supporters and precinct captains for practice. Obama's strategists say places like Greeley and volunteers like Perez, 64, will help the candidate break Hillary Rodham Clinton's grip on the Latino vote.
(Nathan W. Armes / For The Times)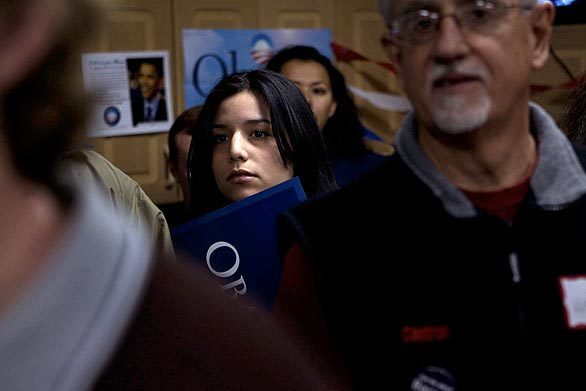 Barack Obama supporter Sofia Lopez listens to Obama staffers speak at the campaign's Greeley, Colo., headquarters. Some polls have shown Obama trailing Hillary Rodham Clinton three to one among Latino voters; his campaign hopes to secure delegates in areas such as Greeley that aren't a high priority for the Clinton campaign.
(Nathan W. Armes / For The Times)
Joan Kato and Gen Murphy, members of Barack Obama's campaign staff, discuss the upcoming Colorado caucus at Greeley campaign headquarters, one of a dozen offices scattered across the state in areas often neglected by candidates. In Telluride, for example, Obama's campaign opened the first headquarters since the town's founding in 1878.
(Nathan W. Armes / For The Times)
Jose Bustos calls voters in Greeley, Colo., from Barack Obama's campaign headquarters. The 55-year-old volunteer flew from his Indiana home to Colorado to help the campaign. Rival Hillary Rodham Clinton boasts deep roots in the Latino community, going back to her husband's presidency.
(Nathan W. Armes / For The Times)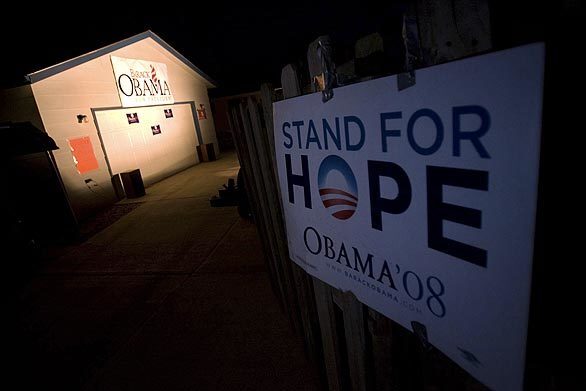 Joe Perez heard Barack Obama speak at the Democratic National Convention in 2004, and was inspired: "It gave me a sense of hope for the country that I hadn't felt since John F. Kennedy was president," he says. Now he's converted his garage into the Greeley, Colo., campaign headquarters for the candidate. Volunteers like Perez will be crucial to winning Latino voters, campaign strategists say.
(Nathan W. Armes / For The Times)