In hurry-up mode while Obama is president, 60 nations have agreed to global climate accord
The historic global climate accord reached last December in Paris is moving rapidly toward enactment, with 60 countries — representing 48% of all greenhouse gas emissions — having formally approved it as of Wednesday.
To become law, the accord must be approved by at least 55 nations and those nations must collectively be responsible for at least 55% of the climate-altering emissions.
The United States and China, the world's largest emitters, formally approved the agreement this month. Many small nations approved the accord in spring, and 31 other countries -- including Brazil, Singapore and the United Arab Emirates -- formally submitted their approval at a special ceremony at the United Nations on Wednesday.
Secretary of State John F. Kerry, speaking at the ceremony, said he was "confident we will bring this agreement into force this year," probably no later than the next international climate conference, which begins in November in Marrakech, Morroco.
Most international agreements take several years to become law while they are approved by individual national governments. The blazing pace toward ratification of the climate accord reflects increasing concerns about climate change - 2016 is on track to eclipse 2015 as the hottest year on record – but also political change.
Many world leaders and United Nations officials have expressed concern about the durability of the agreement if Republican presidential nominee Donald Trump is elected in November. While President Obama has been a strong supporter of the accord and Hillary Clinton, the Democratic presidential nominee, supports it, Trump has repeatedly questioned climate science and said he would "cancel" the agreement if he is elected.
Patricia Espinosa, who leads the United Nations Framework Convention on Climate Change, told ClimateWire this week that "everybody's aware of that possibility and just concerned about it."
The concern has prompted a strong push to complete approval - or ratification – before the end of Obama's second term, which ends in January. If the accord became international law before a Trump administration were to take office, rules of the agreement would require at least four years to pass before the United States could pursue withdrawing from it.
Even if a scenario like that unfolded, many experts believe domestic and international pressure would prevent the U.S. from withdrawing.
As Espinosa told ClimateWire, "What would happen? What would be the reaction of the international community? What would be the reaction in the U.S., where today most U.S. citizens believe climate change is real and something has to be done about it? It's important that we're aware that it would be a very, very complex situation."
The chances of getting from the current 48% of emissions to the necessary 55% appeared promising Wednesday.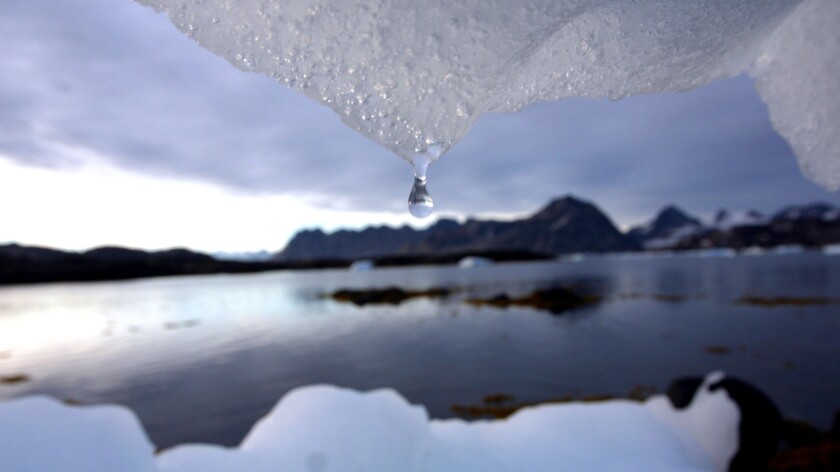 At the U.N. ceremony, 14 more countries -- including Austria, Australia, Cambodia, Canada, Costa Rica, Ivory Coast, Kazakhstan, New Zealand and South Korea -- said they would approve the accord this year. The European Commission also said it was prepared to approve the accord this year, though the approval process in the European Union is complicated by different protocols among its 28 nations. The countries of the European Union create about 12% of global emissions.
The goal of the accord is to hold the increase in global temperatures to less than 2 degrees Celsius, or 3.6 degrees Fahrenheit, above pre-industrial levels. That is a level scientists have said could avert the most damaging effects of climate change, though many scientists want the goal strengthened to 1.5 degrees. The accord includes provisions that could allow that.
The commitments countries have outlined in the accord so far would meet neither of those goals, but the agreement has a rolling set of deadlines that are intended to spur countries to continually increase their goals over time.
"This momentum is remarkable," United Nations Secretary-General Ban Ki-moon said Wednesday. "It can sometimes take years or even decades for a treaty to enter into force. It is just nine months since the Paris climate conference. This is testament to the urgency of the crisis we all face."
MORE WORLD NEWS
Obama's tense relationship with Netanyahu colors his legacy on Israel
Kerry lashes out at Russia, calls for grounding of all aircraft over humanitarian routes in Syria
Iraqi forces being trained to recapture Mosul will be ready next month, Joint Chiefs chairman says
---
Must-read stories from the L.A. Times
Get all the day's most vital news with our Today's Headlines newsletter, sent every weekday morning.
You may occasionally receive promotional content from the Los Angeles Times.