A life saved from the shadows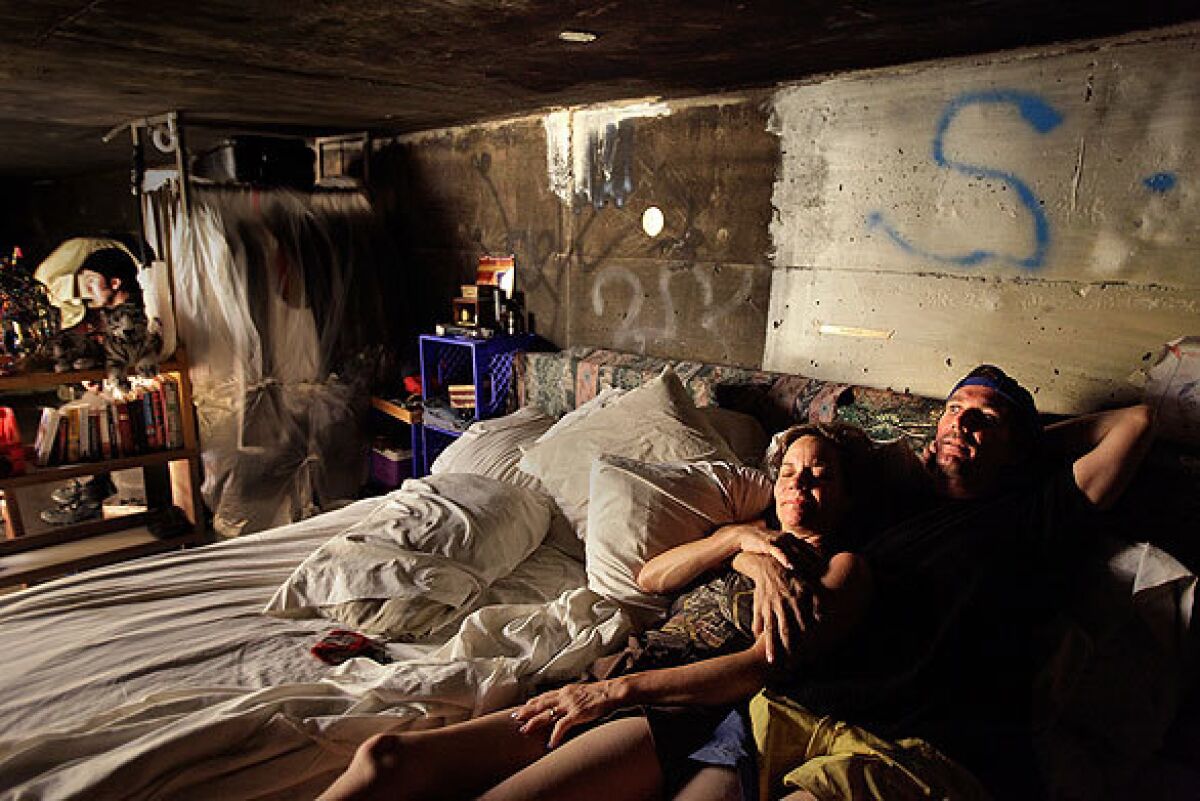 Reporting from Las Vegas —
He already lived in the shadows, if you could call it living.
Most days, for nearly four years, Glenn Harrington foraged for money, smoked marijuana and methamphetamine, and searched for somewhere to crash: a buddy's couch, a deck chair at the Tropicana pool, behind a sign advertising the airport. Last year, after police rousted him and a friend from the sign, they ran into a homeless guy who directed them to the tunnels.
Beneath the glossy Strip and a vast expanse of suburbs in the arid Las Vegas Valley are hundreds of miles of crisscrossing flood-control tunnels that stay dry most of the year. The tunnels are thought to shelter about 300 vagabonds from the Mojave Desert's unrelenting weather.
The pitch-black passages breed mosquitoes and, where shallow pools of water collect, even crayfish. They reek of sodden trash and urine.
But in the tunnels, you can disappear. And for a time, Harrington desperately wanted to disappear.
So, last fall, he and his friend Thomas Kruse headed over to a culvert west of the Strip leading into the tunnels. For a few nights they slumbered outside. They started plying the handful of tunnel residents with weed and, eventually, were given the OK to move in.
Harrington paid two guys $20 each to lug a red leather couch from a nearby apartment complex into an offshoot of the main corridor, nicknamed the Caesars tunnel. His new neighbors included a man who decorated the concrete walls with pages torn from nudie magazines and a couple who had hauled in a studio apartment's worth of furniture.
Harrington waded into the darkness. He squinted. At the time, he couldn't see any clear way out.
The vast majority of the Las Vegas region's homeless population, estimated at more than 13,000, favors the typical homeless haunts -- cars, abandoned buildings, parks. They find tunnel-dwellers disquieting: What drives someone underground?
Some stay awhile, then struggle to get out. Some never leave.
Harrington, 44, is a slight, affable man with brown eyes, receding dark hair and a nervous laugh. The youngest of eight kids in Buffalo, N.Y., he joined his mom and a sister here almost three decades ago. He worked at casinos and once was promoted to assistant food and beverage manager. He had a girlfriend and a daughter, Caylee, and liked the desert's ceaseless sunshine.
But the relationship was tempestuous. Money was tight: For years, Harrington had taken and quit jobs -- and occasionally left town -- on a whim. He often ended up on the couch of a sister, playing both the kind uncle her kids adored and the wayward soul who pleaded for money, then vanished.
As he tells it, his girlfriend, who was wrestling with her own addictions, left him and their daughter; her mother eventually took Caylee, then 3, with her back to Montana. He went there to fight for custody, but lost, and returned to Vegas a woeful man. He started blowing money on drugs and slot machines and eventually ended up on the streets.
Other residents of the tunnels tell similarly glum stories, if they share them at all. Part of the tunnels' appeal is a tacit code that your past sins may remain unspoken.
The passageways begin in a number of low-lying spots around town, including near the iconic "Welcome to Fabulous Las Vegas" sign. Many tunnels are the size of hallways, with cobwebbed ceilings and the occasional pool of ankle-deep water. Las Vegas averages only 4 inches of rain a year, but floodwater can blast through so quickly that, when storm clouds loom, some residents temporarily clear out.
The labyrinthine corridors are eerily hushed. Your conversation will arrive at the end of a tunnel far before you do, which offers residents some peace of mind. Approaching footsteps can stir panic: Is it the police? A drug dealer with a grudge?
Encampments are sometimes littered with the plastic bags and party balloons synonymous with meth and cocaine. The only light comes from flashlights or the sun streaming through street grates.
The light that sneaks through illuminates walls inked with graffiti: bubble letters, bare-chested women, thoughts morose and poetic. In the Caesars tunnel, someone scrawled: Thank you for the knowledge of heartbreak.
Most days, after Harrington and the others woke up, they made their way into the blinding sun and hustled for dope and food -- usually, by "silver-mining." They hovered at casinos, hoping slot players left them credits to play or winnings to cash. Back in the tunnel, Harrington couldn't bear the shame of stealing or, even worse, the fading memories of Caylee, whom he hadn't spoken to in years. So he smoked his troubles away. Or tried to.
He slept fitfully, wracked by fears: surging storm water, bugs inching across his face, a fellow itinerant stealing the black duffel bag with his sole change of clothes. After a few months, he started squabbling with tunnel neighbors. Survival was so much harder here.
He wasn't worried about interlopers, at least. They rarely braved the concrete maze.
But a few years back, journalists Matthew O'Brien and Joshua Ellis had written about the storm-drain society for the local alternative weekly CityLife. O'Brien expanded the stories into a book, "Beneath the Neon: Life and Death in the Tunnels of Las Vegas," which caught the attention of homeless outreach workers at the nonprofit HELP of Southern Nevada.
This March, they intensified their efforts in the tunnels. Several times a month, former corrections Sgt. Rich Penska and others headed underground, armed with flashlights and offers of housing and medical help (a potentially fatal staph infection named MRSA was common in the tunnels).
It was grueling work. Once, Penska had nearly persuaded a woman to leave when her dope supplier showed up. Another time, a heroin addict charged at him with a syringe. But since March, the group has coaxed about 18 people out of the tunnels, each success prodding the team to return.
In recent months, they visited the Caesars tunnel repeatedly and often chatted with Steve and Kathryn, an amiable couple who'd survived underground for more than a year. The pair showed off their living quarters: a hotel-size bed, a flowered bedspread, sheets swiped from a laundry service. Dean Koontz books. Perfume bottles. Discarded tickets for shows Kathryn dreamed of seeing, including Terry Fator, a ventriloquist at the Mirage.
The outreach team's pleas to Steve and Kathryn pinged off walls, and Harrington found himself listening. He grew more and more intrigued.
On a sweltering afternoon in June, Harrington planted himself outside the Caesars tunnel, waiting for Penska, duffel bag in hand. His neighbors had been mocking him: Why was he leaving? Was he too good for the tunnels now?
A few days before, Harrington had approached Penska during one of the team's visits, convinced they truly wanted to help. Get me out of here, Harrington begged.
Penska, 49 and the father of two adult sons, also grew up in Buffalo. He has blue eyes, an offensive lineman's build and an office lined with scuba-diving pictures. He juggles more than 20 clients and can switch between brusque and kind, though it's obvious he prefers the latter.
He sized up Harrington, who initially swore he wasn't using drugs. Penska assumed -- correctly -- that was bunk, but that didn't mean Harrington's plea wasn't sincere.
Harrington's friend Kruse, 52, had recently accepted help from the group after getting sloshed, falling down a hill and breaking his right ankle. Another man from the Caesars tunnel had moved out, too. Penska realized Harrington was struggling far more than Steve and Kathryn, who made subsistence living look oddly effortless.
Yes, Penska thought, this guy wants to go.
That summer afternoon, Penska shuttled Harrington to Deer Valley Recovery, where he bunked with seven men and got intensive counseling -- the first time his sister could remember him seeking help.
While some homeless are slowly weaned off their addictions, Harrington was deemed ready to quit everything at once. For weeks, he tossed and turned instead of sleeping, with melancholy thoughts overwhelming his mind and no meth to shoo them away.
Each morning, sunlight startled him.
Penska figured living aboveground would be tough for Harrington. He was reminded of how much each time he returned to the tunnels. One day, Penska, O'Brien and HELP co-worker Louis Lacey visited Steve and Kathryn, who promised they hadn't been using drugs.
Penska mentioned how well Harrington and Kruse were doing. Kathryn, with blue eyes and a pixie's build, wore a red hoodie, pink shorts and an expression indicating she wasn't swayed.
Steve faced arrest warrants related to drug charges, and the couple feared that, should they accept housing, he'd be locked up. (That's also why they asked their last names not be used.) Didn't matter that, during a recent storm, an ankle-deep torrent had ripped through the tunnels. They rode it out, Kathryn said, by playing Scrabble and Trivial Pursuit atop the bed.
Back at Deer Valley, his head clearing, Harrington started to catalog the things his old neighbors were missing. A refrigerator. Old Spice deodorant. Hot food, hot showers, hot coffee. The sense of dignity that came with it all.
He ultimately moved to a two-man room, with a twin bed, two pillows and an entire drawer of socks. He sometimes visited Kruse, who had moved into his own apartment.
Harrington also warily reconnected with family. Another of his sisters, who had called jails and hospitals looking for him and considered filing a missing persons report, drove over packs of Gold Coast 100 cigarettes.
His new routine: making sure his housemates finished their chores, and counting down the days until Penska and other counselors determined that Harrington, too, was ready for his own place.
He occasionally talked to Caylee, now 9, who still lives with her grandma in Montana. She told him she likes Scooby-Doo and SpongeBob SquarePants. He decorated his half of the room with e-mailed pictures of her, smiling and in a pink princess dress.
He never could have hung them on tunnel walls.
One windy October morning, Penska pulled up to Deer Valley Recovery in his silver Hyundai Santa Fe to take Harrington to his new apartment. Harrington stood outside, beaming.
The facility door had been propped open with phone books, and Harrington zipped in and out with garbage bags of stuff. He tossed his duffel bag into the vehicle and hugged his housemates goodbye.
He hadn't called any place his own in almost five years. But now a county program run through HELP of Southern Nevada will help him cover $650 a month in rent and utilities, though Harrington was eager to start looking for restaurant work.
He and Penska pulled up to the beige stucco complex with huge palms, azure pools and, at some doors, welcome mats. In the office, the manager smiled warmly as she handed Harrington a checklist explaining the complex's rules. He clenched it as if it might blow away. She handed him a roll of toilet paper and a box of Chocolate Parfait Nips tied with a white ribbon. She handed him the keys. He shook them ever so slightly. He exhaled. They were real.
Across the complex, he opened the door to Apartment No. 44. He opened the refrigerator. He opened the freezer and touched the ice cube trays. His surroundings were austere: dark brown carpet, a bed with no frame, a TV with no stand and a musty odor.
But Penska, who also received a key, had set the round table with a pair of white plates and cups, and that small gesture made Harrington feel at home.
Penska knew so many things could go wrong. Harrington could suffer tragedy and seek solace in meth; he could start feeling euphoric and crack open some beers. He could balk at his new responsibilities and slide back onto the streets.
Kruse, who had been living at the complex for some time, came by. For Penska, it was an affecting scene: The old neighbors sat on Harrington's black couch, laughing, their faces warm with sunlight. The tunnels seemed a long time ago.
Must-read stories from the L.A. Times
Get the day's top news with our Today's Headlines newsletter, sent every weekday morning.
You may occasionally receive promotional content from the Los Angeles Times.