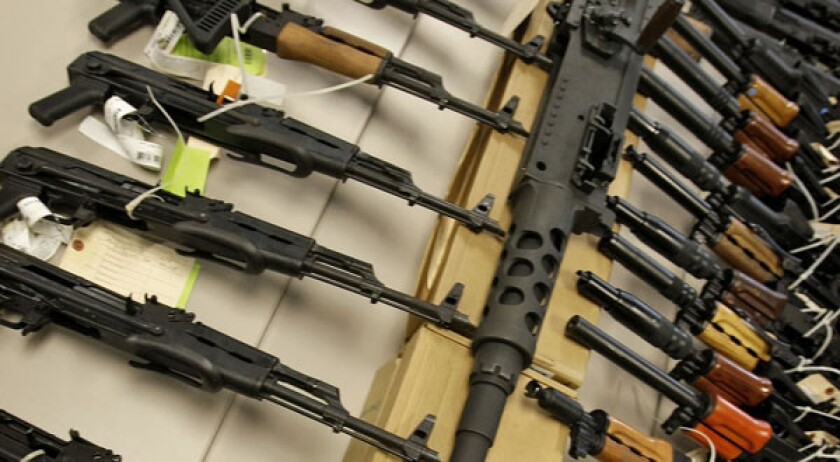 PHOENIX — A federal judge sentenced a Phoenix man Wednesday to nearly five years in prison for purchasing firearms for a Mexican drug cartel, triggering a chain of events that included the death of an elite Border Patrol agent and the unraveling of the failed federal gun-tracking operation called Fast and Furious.
Jaime Avila Jr., 25, was a "straw purchaser" of the firearms for the cartel, and his purchases included two rifles found at the scene of the death of Border Patrol Agent Brian A. Terry, who was killed two years ago this week in the desert south of Tucson.
Avila purchased 52 firearms over 10 months. Judge James A. Teilborg sentenced Avila to 57 months in prison for what he called running "weapons of war." Avila struck a deal with the federal government and pleaded guilty to a variety of weapons charges.
FULL COVERAGE: Fast and Furious
At the hearing, a cousin of Terry spoke for the slain agent's family, asking the judge to make an example of Avila.
"We believe that Mr. Avila initiated a deadly domino effect when he illegally bought those weapons and then delivered them to people who would ultimately put them in the hands of Brian's killers," said the cousin, Robert Heyer, reading from a statement.
In turn, Avila's attorney pleaded with the judge to give her client a lighter sentence, saying he was remorseful and only dabbled in drug running to feed his methamphetamine addiction.
"At the point that Mr. Avila became aware of his connection to the incident I think he was shocked and dismayed.... He had no idea his behavior would lead to such great lengths," defense attorney Candice Shoemaker said.
Avila was one of about 20 straw buyers that were the focus of Fast and Furious, an investigation conducted by the Phoenix office of the federal Bureau of Alcohol, Tobacco, Firearms and Explosives. The investigation allowed weapons to be illegally sold in the United States so they could later be tracked across the border to Mexican drug cartels. The intent was to arrest cartel leaders, but most of the firearms disappeared. The program eventually was shut down.
During and after the court hearing, family members of Avila and Terry painted pictures of their loved ones and how their lives had collided. One, the father of a 19-month-old boy, had a drug addiction. The other, described as the backbone of his family, was nicknamed "Superman" by his Border Patrol colleagues.
On Jan. 16, 2010, Avila walked into the Lone Wolf Gun Club in Glendale, Ariz., and illegally purchased three rifles, plopping down $1,500 in cash. Nearly a year later, two of the weapons were found in a desolate section of the Arizona desert after they were dropped by the men who are suspected of killing Terry on Dec. 14, 2010.
Heyer, also chairman of the Brian Terry Foundation, described Terry as a strong, competitive, courageous and handsome man who was very patriotic. The Michigan native served in the Marine Corps after high school and went to college, where he received a degree in criminal justice. He went on to become part of the elite Tactical Unit for the Border Patrol, known as BORTAC.
"At age 40, he had much to look forward to, which included getting married and starting a family; but for now, he was living his dream," Heyer said.
Terry was supposed to fly back to Michigan for Christmas after completing his shift the night of his death. True to his meticulous attention to detail, Terry had already mailed his family's Christmas gifts. The presents trickled in the same week his family received his body for burial.
"With each delivery, we felt the indescribable pain of Brian's death," Heyer said.
Avila's family made no excuses for him and described Avila as a son and brother with a "good heart" who ended up running with the wrong crowd and battling a meth habit. They said they made no excuses for their loved one but stated that Avila didn't know that the consequences to his drug running would lead to death.
"My son is not an assassin," Avila's mother, Irene Rodriguez, said after the hearing.
Avila left behind a 19-month-old son, Jayden, and his family said he had vowed to clean up his life while in prison to serve as a role model for his boy.
"His son is his pride and joy at this moment," sister Beatriz Avila said. She extended her condolences to the Terry family and said she was glad that the sentencing was over.
ALSO:
Whites to lose majority status by 2043, the census projects
Suspect in Etan Patz case pleads not guilty to murdering boy
Oregon mall shooting survivor awake, 'a fighter,' surgeon says
---