Obama, Romney address Clinton Global Initiative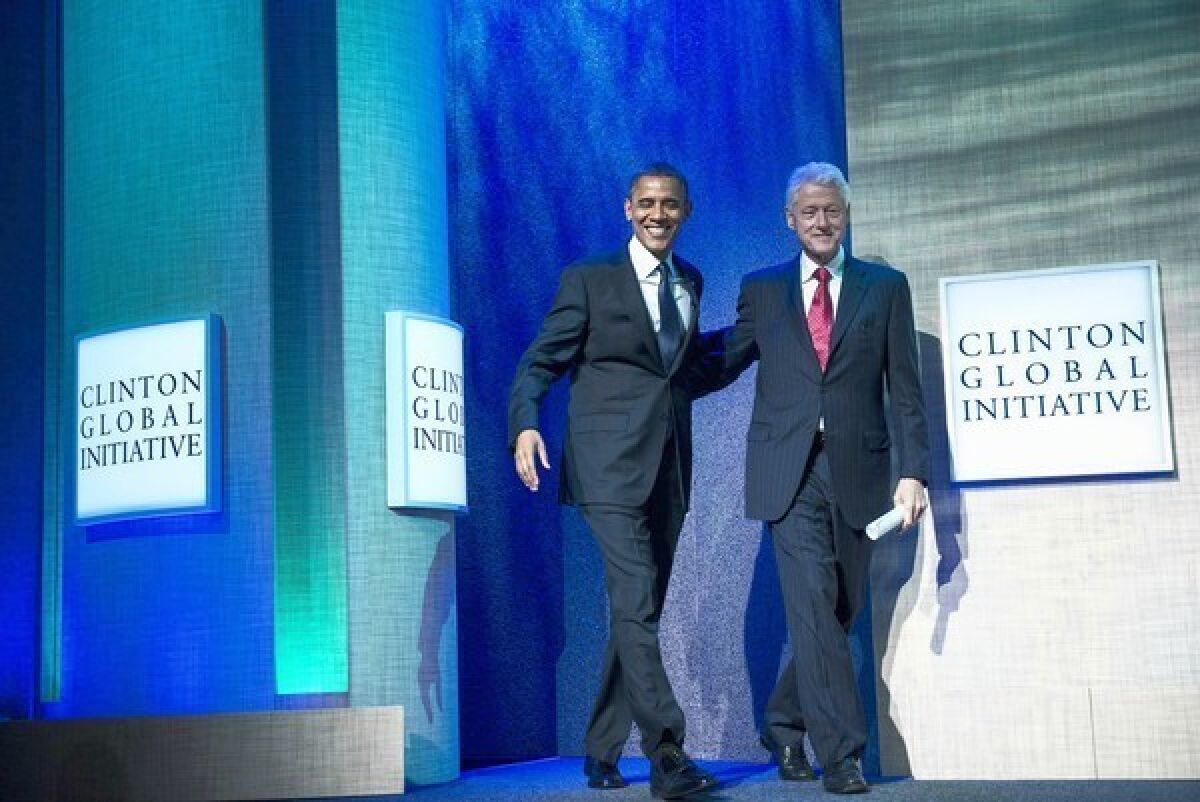 NEW YORK — On a day when President Obama addressed the United Nations about turmoil in the Mideast and defended free speech, Mitt Romney called for the United States to rethink how it awards some foreign aid by requiring governments to work with the private sector to nurture free enterprise.
"Nothing we can do as a nation will change lives and nations more effectively and permanently than sharing the insight that lies at the foundation of America's own economy — free people pursuing happiness in their own ways build a strong and prosperous nation," the GOP presidential nominee told the Clinton Global Initiative annual meeting in New York on Tuesday in a speech on foreign policy.
Obama, who was in New York to address the U.N. General Assembly, spoke later to the international development foundation started by former President Clinton. Although the venue was not intended for political sparring, the unusual spectacle of the two candidates talking to the same audience drew out obvious contrasts.
Romney spoke to the crowd of celebrity advocates, policy wonks and dignitaries about the role of private enterprise in development, while Obama spoke against human trafficking.
"It ought to concern every person, because it's a debasement of our common humanity," the president said. "It ought to concern every community, because it tears at the social fabric. I'm talking about the injustice, the outrage, of human trafficking, which must be called by its true name — modern slavery."
As Obama spoke, he exercised a significant advantage he holds: control of government. He announced new initiatives to combat human trafficking, including an executive order tightening restrictions on companies that secure federal contracts, improved training for federal prosecutors and law enforcement officials, and a $6-million grant program for communities that seek to prevent trafficking.
Human trafficking, he said, "goes on right here in the United States." Obama brought some survivors with him, described what they had endured and asked them to stand and be recognized.
"In their unbreakable will, in their courage, in their resilience, they remind us that this cycle can be broken," he said. "Victims can become not only survivors, they can become leaders and advocates, and bring about change."
Romney did not mention the president as he highlighted distinctions between their approaches to foreign policy, but suggested that Obama's leadership in the Middle East was inadequate and reactive.
"As an example, a lot of Americans, including myself, are troubled by developments in the Middle East," he said. "Syria has witnessed the killing of tens of thousands of people. The president of Egypt is a member of the Muslim Brotherhood. Our ambassador to Libya was assassinated in a terrorist attack. Iran is moving toward nuclear weapons capability. We somehow feel that we're at the mercy of events, rather than shaping events."
Clinton, who created the initiative in 2005 to help address global problems, introduced both candidates. But he is campaigning forcefully for Obama, and his endorsement at the Democratic National Convention in Charlotte, N.C., was credited with helping the president gain in the polls.
"If there's one thing we've learned this election season, it's that a few words from Bill Clinton can do a man a lot of good," Romney said. "All I got to do now is wait a couple days for that bounce to happen."
Clinton's convention speech was also noted for its detailed analysis and expansive length. When he introduced Obama, he joked that he wanted to make one comment. "I want to finish that speech I started in Charlotte," Clinton said.
Foreign aid — often a target of Republican budget-cutters — tends to be unpopular with voters who believe the United States has been wasting billions without receiving sufficient appreciation in countries such as Pakistan, Afghanistan and Iraq.
Romney said the United States was the world's most charitable nation, but had sometimes used its aid money ineffectively.
"We see stories of cases where American aid has been diverted to corrupt governments," he said. "We wonder why years of aid and relief seem never to extinguish the hardship, why the suffering persists decade after decade."
Romney is proposing what he calls "prosperity pacts," in which U.S. aid would be partly contingent on the receiving government working with private businesses to overcome obstacles to a flourishing economy.
"In exchange for removing those barriers and opening their markets to U.S. investment and trade, developing nations will receive U.S. assistance packages focused on developing the institutions of liberty, the rule of law, and property rights," Romney said.
Must-read stories from the L.A. Times
Get the day's top news with our Today's Headlines newsletter, sent every weekday morning.
You may occasionally receive promotional content from the Los Angeles Times.