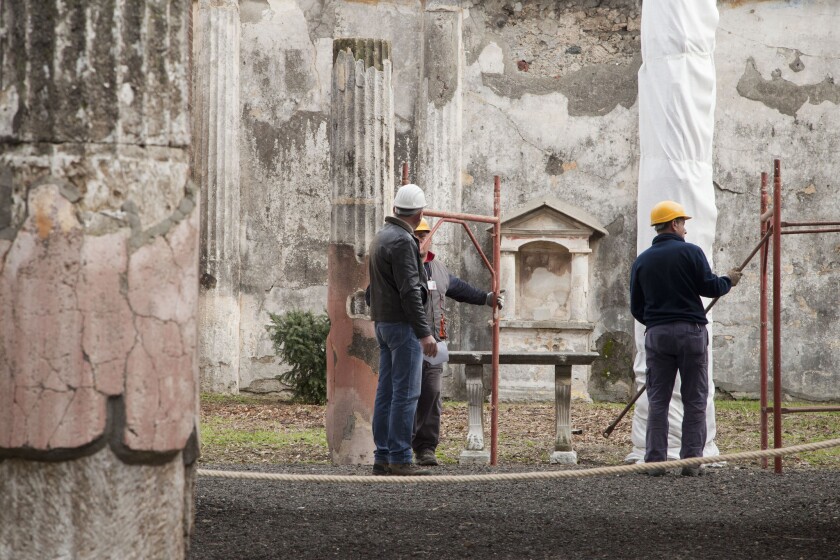 ROME -- Conservation work at the crumbling ancient Roman city of Pompeii began Wednesday, a day after police announced a corruption probe into previous restoration work at the site.
The new preservation campaign, funded in part by $142 million from the European Union, follows a series of structural collapses at the popular tourist site near Naples -- including at the House of Gladiators, a building used for training the arena warriors, which collapsed into a heap of rubble in 2010.
The collapses have been blamed on years of mismanagement and underfunding.
Buried by falling ash when nearby Mt. Vesuvius erupted in A.D. 79, buildings, streets and even curled-up corpses were found preserved when Pompeii was rediscovered in 1748. Today, the site draws 2.3 million visitors a year.
But its deteriorating condition prompted the Italian government to declare a state of emergency in 2008, and experts have reported that custodians collect pieces of crumbling wall and hide them before tourists arrive each morning.
"About 55 years ago, it was possible to visit 50 areas at Pompeii, but only five today. We need a change," said Johannes Hahn, a regional policy commissioner for the EU who launched the new project at Pompeii on Wednesday alongside Italian ministers.
Work is beginning on two buildings, known as the Criptoportico and the Casa dei Dioscuri.
The fresh funding will be used to help protect the site from heavy rains that have contributed to the collapses, and to restore frescoes and increase security, officials said.
Hahn said checks would be in place to ensure that no money is siphoned off by powerful local Mafia clans. Contracting would be carried out with "full transparency," he said.
On Tuesday, police placed Marcello Fiori, a former site director, under investigation for possible abuse of office. Fiori, who was given special powers to save Pompeii in 2009 by then-Prime Minister Silvio Berlusconi, is accused of improperly diverting restoration funds to the rebuilding of the city's ancient amphitheater using modern stone and concrete so that it could host open-air operas.
Also, a former contractor, Annamaria Caccavo, was placed under house arrest on suspicion of inflating costs by 400%.
Pompeii's decline is part of a problem shared by numerous archaeological and historical sites across Italy, due to slashed budgets and lack of personnel and safekeeping. On Wednesday, a small portion of a 16th century ceiling fresco at the Uffizi Gallery in Florence caved in when a workman put his foot through a floor above the room.
The fitful restoration and maintenance work at Pompeii contrasts with a different approach at Herculaneum, a Roman city also buried when Vesuvius erupted and where archaeological digs have been supported by the Packard Humanities Institute of Los Altos, Calif.
Restorers at Herculaneum have focused on continuous and less spectacular maintenance, including improving drainage to stop water infiltration, which has helped preserve the site.
ALSO:
Scientists identify remains as those of King Richard III
Ireland: State involved in harsh system of Magdalen laundries
Tunisian opposition leader Chokri Belaid shot dead outside his home
---