U.N. expert launches investigation of drones, targeted killings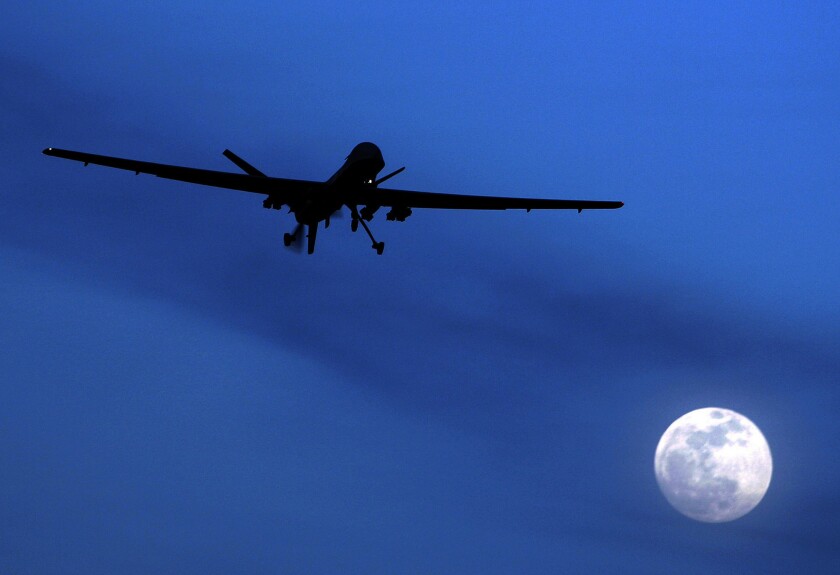 A United Nations expert has launched an investigation of drone attacks and targeted killings, scrutinizing a deeply controversial tool in the United States' battle against Al Qaeda.
"The plain fact is that this technology is here to stay," U.N. special rapporteur Ben Emmerson announced Thursday in London, "and its use … is a reality with which the world must contend."
Drones are not the only way to carry out targeted killings, but the relative ease with which they are used and their devastating effects have spotlighted the legal unease around them, the U.N. expert said. The world urgently needs ways to regulate their use and keep it in line with international law, which has yet to settle how to handle such killings, he stated.
"To shine the light of factual truth on some of these very abstract debates," a team of investigators will delve into targeted killings, Emmerson told the Los Angeles Times. The experts will scrutinize 25 attacks in Pakistan, Yemen, Somalia, Afghanistan and the Palestinian territories, the U.N. rapporteur said at the London press briefing.
Though other countries are believed to have drones or the technology behind them, the debate over the unmanned aircraft most often swirls around the United States, which has intensified drone use under the Obama administration.
U.S. officials have defended drone strikes as a justified use of force against Al Qaeda and its allies that has spared pilots' lives and forestalled deeper military involvement abroad. Such strikes have killed major militants, including Abu Yahya al Libi, the second-in-command in Al Qaeda.
However, the rising use of drones as a tool of war has alarmed human rights groups around the world, who argue that the secretive practice of targeted killings runs afoul of international law. The U.S. has been sued over drone killings of three U.S. citizens in Yemen, including an Al Qaeda cleric and his 16-year-old son.
"The Obama administration seems to have decided that wherever it conducts a targeted killing, it is by definition engaged in armed conflict, even far from any obvious battlefield," James Ross of Human Rights Watch said last year. "What would the U.S. say if Russia or China took the same approach to attack perceived enemies in the streets of New York or Washington?"
The New America Foundation estimates that since 2004 as many as 3,279 people have been were killed by U.S. drone strikes in Pakistan, including as many as 305 civilians and hundreds of others "unknown." U.S. lawmakers have challenged the accuracy of such tallies, The Times reported in June.
Emmerson said investigators will gather evidence until May, probably visiting Pakistan, Yemen and the Sahel, then seek reactions from the countries involved. In October, Emmerson plans to make recommendations to the U.N. about nations' duty to investigate such attacks.
He was optimistic that the U.S., Britain, Pakistan and Yemen would cooperate. "I approach this inquiry with an entirely open mind," Emmerson said.
ALSO:
Trial in Indian gang-rape case begins
China calls for talks after North Korean threat
---
Must-read stories from the L.A. Times
Get the day's top news with our Today's Headlines newsletter, sent every weekday morning.
You may occasionally receive promotional content from the Los Angeles Times.