Chinese President Xi Jinping no reformer so far, analysts say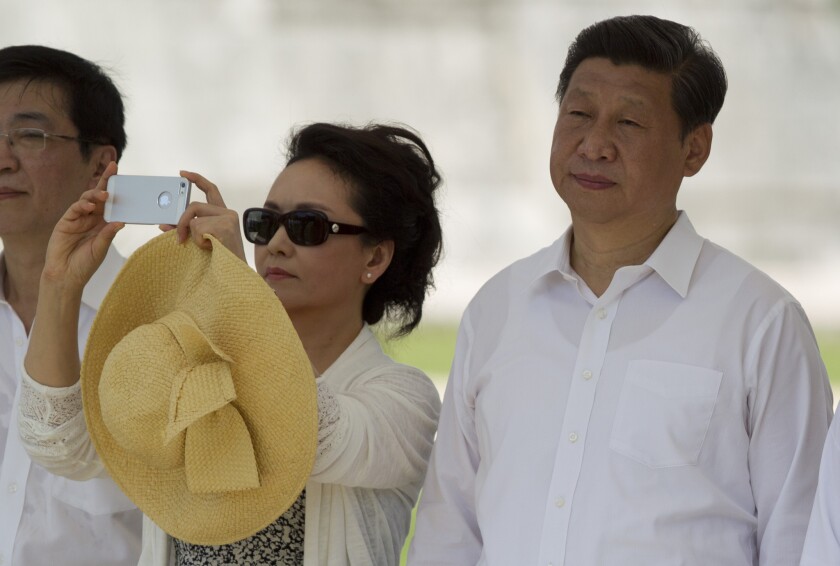 BEIJING — With his photogenic wife at his side and his willingness to make eye contact and small talk, President Xi Jinping looks more like an American politician than the gray suits who populate the upper ranks of Chinese politics.
One of his first acts as head of the Chinese Communist Party last year was to ban long speeches, banquets and red carpets.
But in his first months as Chinese leader, Xi has proved himself more hardline than his recent predecessors on a number of issues. He has tightened the grip of censorship in academia and media and spearheaded China's territorial assertions in the South China and East China Seas. His first trip upon ascending to the presidency was to Russia.
The Chinese president begins two days of meetings with President Obama Friday in Southern California.
Many analysts predict that Xi will press for reforms as he establishes himself in office. But so far, the reformist side of the Communist Party is disappointed.
At times, Xi seems to echo American political rhetoric, the "Chinese dream" being his latest slogan. But he refers not to the aspirations for individual wealth, but for a revival of a strong, Chinese nation.
"He is falling back on nationalism, talking about making China the number one superpower of the world,'' said Zhang Lifan, a Communist Party historian with ties to the leadership. "My generation has heard all these slogans before, and it really makes him sound like Mao again.''
At a Politburo meeting in April, Xi announced a campaign to reeducate party cadres, using language that harked back to Mao's "rectification" efforts of the 1940s, when he was consolidating power at his revolutionary base in Yanan.
Trying to boost morale in the military, Xi decreed in April that all generals and officers above the rank of lieutenant colonel must do stints of at least 15 days as rank-and-file soldiers. Mao used almost exactly the same tactic in 1958.
In public speeches, Xi tends to elevate the Communist Party above the nation and even above the Chinese people. He's tried to clamp down on criticism of Mao.
Xi's predecessor for the past decade, Hu Jintao, was a bland figure whose rigidity impeded the personal chemistry hoped for out of this weekend's summit in Rancho Mirage.
And yet Hu, political analysts believe, may have been far more pro-Western in his thinking.
"Xi Jinping is very good at public relations, much better than Hu, who acted like a robot,'' said Willy Lam, a political analyst based in Hong Kong. "But ideologically he is really a Maoist, who wants to maintain tight control over the party and the military and to put a freeze on western values.''
ALSO:
A Hezbollah fighter recounts battles in Syria
Putin divorce announcement spurs debate, quips in Moscow

North and South Korea name date for talks on restoring ties
---
Must-read stories from the L.A. Times
Get all the day's most vital news with our Today's Headlines newsletter, sent every weekday morning.
You may occasionally receive promotional content from the Los Angeles Times.