Snowden alleges U.S. hacking against China, Hong Kong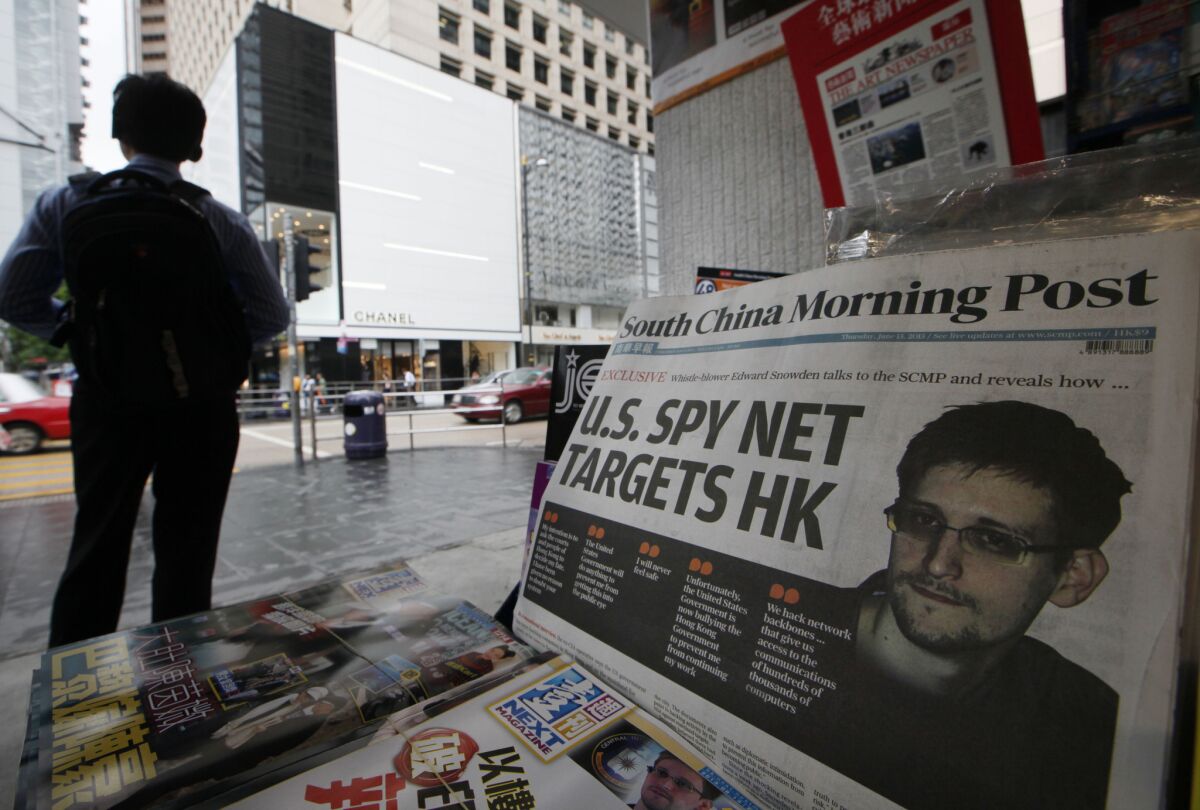 BEIJING -- Edward Snowden told Hong Kong media that the United States is involved in extensive hacking operations directed against China and Hong Kong.
In an interview with the South China Morning Post published on the newspaper's website early Thursday, Snowden said he wanted to demonstrate "the hypocrisy of the U.S. government when it claims that it does not target civilian infrastructure, unlike its adversaries.''
The accusations throw a new wrench into the Obama administration's campaign against extensive hacking operations by the Chinese military. From the U.S. perspective, cyber security was near the top of the agenda during last weekend's summit in California between President Obama and Chinese President Xi Jinping, but there was no progress on the issue.
Snowden, 29, a former contract employee for the National Security Agency, told the Hong Kong newspaper that he believed the agency ran 61,000 hacking operations, with "hundreds of targets" in China and Hong Kong. The operations, he said, had been in place since 2009 and targeted the Chinese University of Hong Kong, public officials, businesses and students.
"We hack network backbones -- like huge Internet routers, basically -- that give us access to the communications of hundreds of thousands of computers without having to hack every single one," he said.
The interview was the first public word from Snowden since midday Monday, when he checked out of the Hong Kong hotel where he had been staying.
On Sunday, Snowden had revealed himself as the primary source of unauthorized disclosures of highly classified U.S. telephone and Internet surveillance systems, calling America's spying capabilities "horrifying."
He is now believed to be staying in a private home.
Snowden told the newspaper that he intended to fight extradition and remain in Hong Kong as long as possible.
"I have had many opportunities to flee Hong Kong, but I would rather stay and fight the United States government in the courts, because I have faith in Hong Kong's rule of law," he said. "My intention is to ask the courts and people of Hong Kong to decide my fate. I have been given no reason to doubt your system."
Snowden's strategy in Hong Kong appears to be a high-risk geopolitical play in a most unique place, where the British common law overlaps with the dictate of the Chinese Communist Party.
The former British colony is a special administrative zone that, unlike mainland China, has an extradition treaty with the United States. But Beijing gets final say in cases where "surrender of a fugitive would harm defense, foreign affairs or essential public interest or policy."
Despite the rivalry between the United States and China, and the mutual recriminations over hacking and cyber espionage, few experts expect that Beijing will intervene on Snowden's behalf. Unlike the situation with the Soviet Union during the Cold War, few Americans have ever tried to defect to China.
"The Chinese leader is pretty new and has just had an amicable round of chats with President Obama," said Martin Lee, one of Hong Kong's most respected democracy advocates and a senior lawyer.
However, Lee acknowledged that Snowden could keep the case tangled up in the courts for years if he pressed his appeals. Snowden's advocates are expected to argue that extradition to the United States could subject him to cruel and unusual punishment, citing the treatment of Bradley Manning, the 24-year-old Army private accused of giving documents to WikiLeaks.
Snowden might be counting on Hong Kong's activists -- who zealously treasure their rights to hold commemorative marches over the Tiananmen Square massacre and to protest against China -- to rally in his defense. Their involvement could make it a political headache for Beijing to kick him out.
Beijing faces powerful opposition from Hong Kong activists who allege the Chinese Communist Party is encroaching on the freedoms it promised.
Eleven activist groups are planning a rally Saturday in support of Snowden, with a number of prominent pro-democracy figures to speak.
In a preview of what is to come, rally organizers on Wednesday suggested slogans for posters, such as "Defend Free Speech, Protect Snowden"; "No Extradition"; "Respect Hong Kong Law"; "Shame on NSA"; "Stop Internet Surveillance"; and "Betray Snowden = Betray Freedom."
ALSO:
Decades after a Mexican kingpin's arrest, his fortune echoes
Turkey's leader may consider referendum on park development
Snowden tells Hong Kong media he'll fight extradition to the U.S.
---
Must-read stories from the L.A. Times
Get the day's top news with our Today's Headlines newsletter, sent every weekday morning.
You may occasionally receive promotional content from the Los Angeles Times.