Mexico releases 11 protesters from prison after international outcry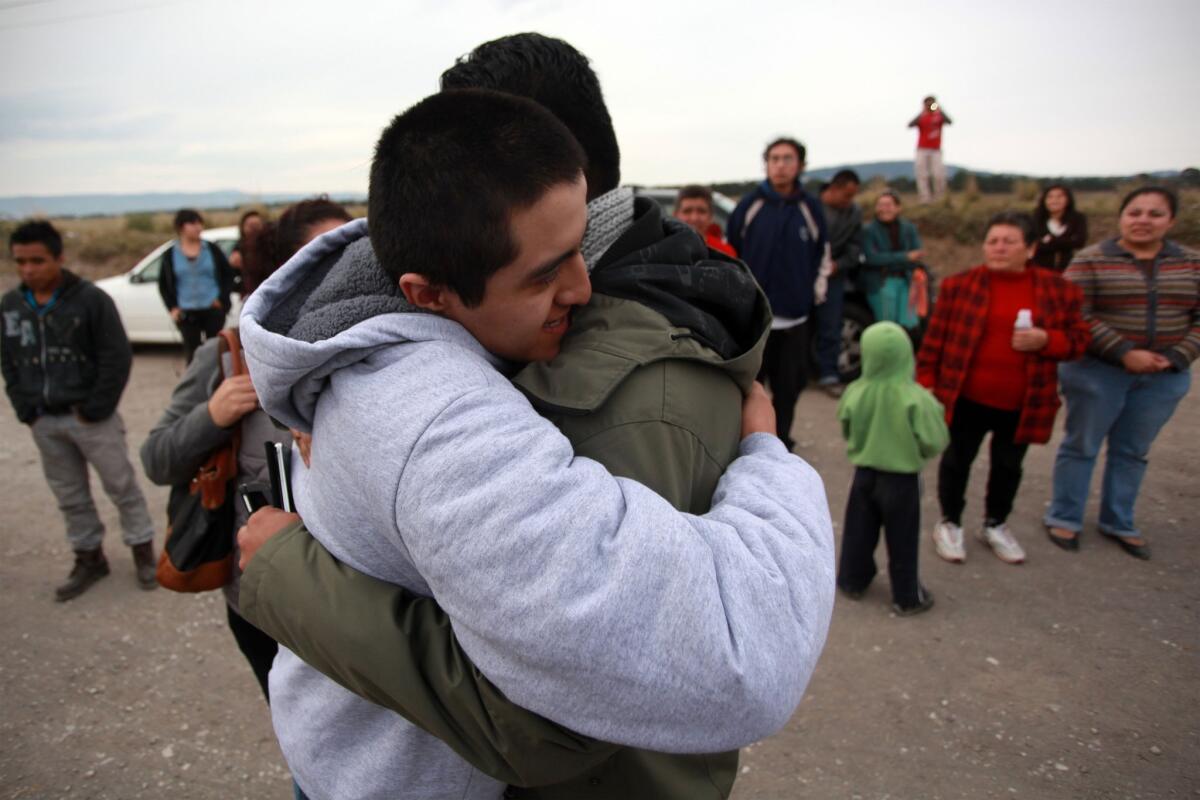 Reporting from Mexico City —
Eleven people arrested in recent anti-government demonstrations and sent to maximum-security prisons have been released without charges after their detention created an international uproar.
A 12th person arrested separately in connection with the same case was also freed, and publicly denounced what he described as beatings and threats by state security services.
Mostly peaceful marches against the government of President Enrique Pena Nieto have become a mainstay since the Sept. 26 kidnapping and likely massacre of 43 college students in Iguala in the state of Guerrero. The students were attacked by local police working with a drug cartel in cahoots with the mayor of Iguala and his wife, the government says.
The case exposed deep levels of official corruption that have galvanized the public into expressions of outrage and demands for justice and changes in the government. On occasion, including on Nov. 20 in Mexico City, scene of one of the largest demonstrations, a handful of protesters have clashed with police.
At the Nov. 20 clash, when masked demonstrators hurled objects at heavily armed riot police, more than 20 people were arrested. Most were released, but, unusually, eight men and three women were sent to maximum-security prisons in Veracruz and Nayarit. In most recent demonstrations, detainees have been routinely freed after a few days in local jails.
Parents of some of the detainees were joined by Amnesty International and numerous local and overseas groups, as well as the rectors of major Mexican universities, to demand freedom for the 11.
Amnesty International said the charges that the detainees would have probably faced -- including attempted murder and incitement to riot -- were "disproportionate."
"The evidence against the 11 demonstrators is so weak that it is difficult to understand why they are still in prison -- especially in high-security installations, being treated as highly dangerous criminals," Erika Guevara Rosas, director of the Americas section of Amnesty International, said in a statement Friday. "Such treatment begs the question of whether there isn't a deliberate effort to discourage legitimate protest."
On Saturday, a judge ordered that the 11 be freed, citing a lack of evidence. By Sunday, they were out from behind bars and heading home.
Six of them gave a news conference Sunday, in which they said police beat and psychologically tortured them, threatening to burn them alive -- an apparent allusion to how it is believed the 43 students were killed.
Though most of the detained probably participated in the march, one was a filmmaker and several were people who happened by the scene, Mexican media have reported. One was a Chilean national.
Separately, Sandino Bucio, a Mexican university student, was snatched from the streets by plainclothes police Friday, purportedly suspected of having also participated in "acts of vandalism" during the Nov. 20 protests. He was trundled away in an unmarked car. His captors beat him, grabbed his testicles and threatened to rape him, he told reporters later, after he too was released.
His captors took him to the headquarters of drug-cartel investigators, he said, where one officer told him that "making a student disappear" was no big challenge.
"The four hours of terror I lived were the worst in my life," Bucio said.
In response, the office of the National Security Commissioner, which oversees law enforcement, apologized for Bucio's treatment, saying the agents who detained him did not follow procedure and had been suspended pending investigation by an internal affairs unit of the federal police.
For more news out of Mexico, Latin America, follow @TracyKWilkinson
Sign up for Essential California for news, features and recommendations from the L.A. Times and beyond in your inbox six days a week.
You may occasionally receive promotional content from the Los Angeles Times.