In Brazil, Carnival-goers won't let Zika or economic woes ruin the party
Reporting from Rio de Janeiro —
It's been a rough year for Andreza Souza's home-based clothing business. She had to stretch her finances to make the trip from the Amazonian city of Belem to Rio de Janeiro, paying for a plane ticket on an installment plan.
But as the sun set over Copacabana beach, and drummers roused thousands of costumed revelers at one of this year's first Carnival parties, the last thing on the 21-year old's mind were her financial woes.
"It's absolutely worth it to be here, dance and enjoy the festivities with my family," Souza said, as friends flirted on the sand.
"Of course, the bill comes later," she laughed.
Brazil is facing its worst recession in decades. But despite some belt-tightening, the five-day Carnival extravaganza that started Friday is soldiering on, providing some much-needed distraction from economic troubles, a political crisis and an outbreak of the Zika virus that has been linked to a worrying spike in birth defects.
"The crisis is here, companies are feeling it, and Rio is feeling it," acknowledged Heron Schneider, a coordinator for the city's league of samba schools, which put on the famous televised Carnival parades. "But throughout Brazil's history, crises like these have happened many times before ... And the samba schools are extremely creative. They'll be able to surprise the world again with a grand spectacle."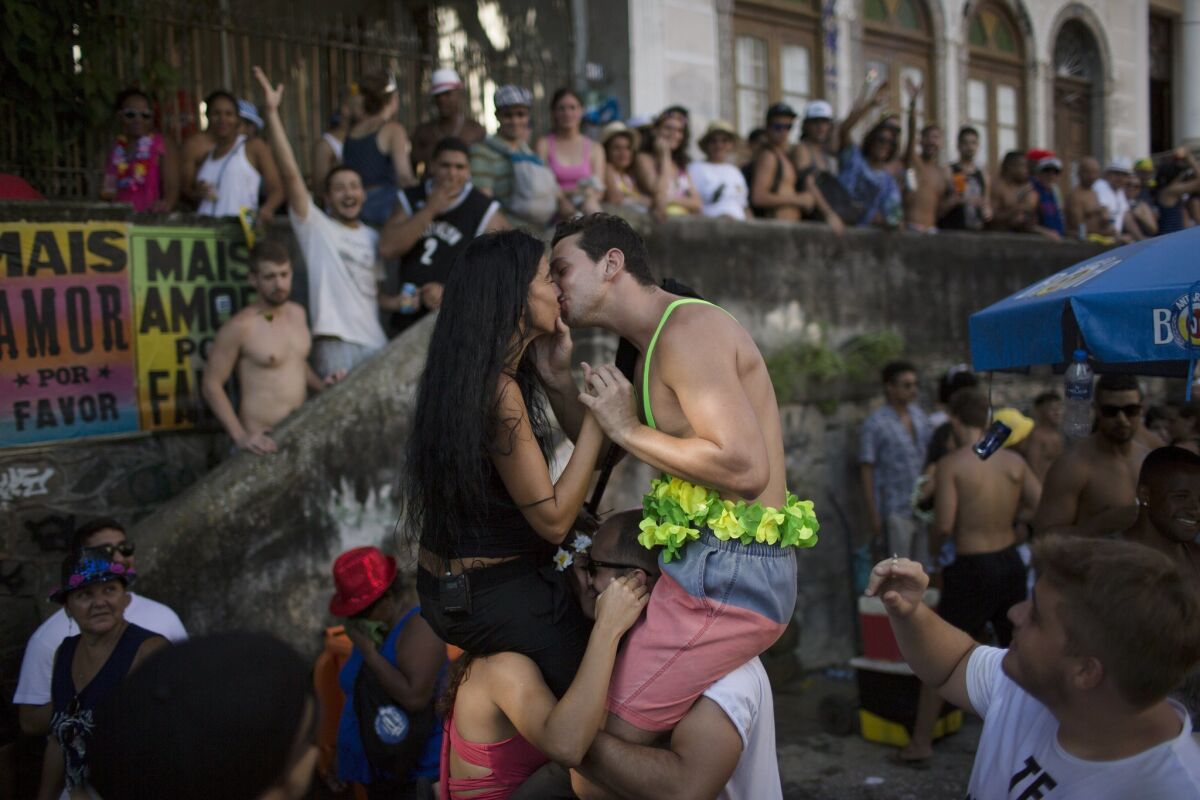 Celebrations take place all across the country during the days preceding Ash Wednesday. Due to cutbacks, however, some smaller cities such as Cruz Alta and Santo Angelo in southern Brazil have had to cancel their festivities. In Sao Paulo, Brazil's largest city, party organizers said they had to find ways to cut down on expenses.
After a decade of strong economic performance, Brazil has fallen into a painful slump in recent years.
Demand for its commodities, which was largely driven by China, has dropped. The state-run oil company Petrobras is embroiled in a multibillion-dollar corruption scandal that has led to arrests of high-level business and government figures. And President Dilma Rousseff faces impeachment charges over accusations that her government violated budgetary rules.
"Brazil is in a very difficult situation," said Jason Marczak, deputy director at the Atlantic Council's Adrienne Arsht Latin America Center in Washington. "The continued political question and financial questions have sapped consumer confidence."
There were also warnings this year from health officials urging pregnant women to think twice before kissing anyone other than a regular partner, or sharing plates, glasses and cutlery with someone showing symptoms of Zika.
"This is not a generalized public health measure, for the love of God," said Paulo Gadelha, president of the Oswaldo Cruz Foundation, at a news conference Friday.
But he said researchers at the foundation had found live virus in saliva and urine samples, and the possibility that it could be spread through the two fluids required further study.
Since kissing as many people as possible is a top activity at some Carnival parties, the announcement has generated plenty of dark humor. Some Brazilians posted photographs of themselves on social networks with condoms covering their mouths or said they would stay away from the festivities this year.
Still, Saturday's parade by the Cordao da Bola Preta troop brought throngs into the streets of Rio, where costumed locals danced their way through the old city center chanting traditional but bawdy lyrics. Kissing appeared as prevalent as ever, at least in the first 24 hours of Carnival.
Rio's samba school parades will be broadcast around the world. But for many locals and tourists, Carnival is all about the blocos – neighborhood street parties and parades that take place all over the city. Attendants said this year's festivities were shaping up to be as joyous as any other, even if they've had to make some adjustments.
"Look here, we had to bring our own warm beer from the store," said Flavia Lima, 40, who recently lost her job at a bank and now earns about $200 a month as a hospital administrative assistant in Rio. "I used to buy cold ones from vendors. I would have never done this before I got laid off."
She and a dozen or so friends were celebrating on the sidelines of the Cordao da Bola Preta parade, where they would wait for people to pass by, then try to draw them into their dance circle.
"This party is great," she said, smiling. She is also looking forward to the summer Olympic games, which Brazil will be hosting.
"But there are other priorities for this year, of course," she said. "With Zika, we have a health crisis, and the government wasn't prepared, and I know people who are unemployed and can't support themselves."
Regional experts warn that it will be difficult to resolve the country's economic problems until it becomes clear whether Rousseff will continue to govern.
See more of our top stories on Facebook >>
After Carnival ends, members of Congress and the Supreme Court will reconvene to decide on the impeachment procedures. Rousseff may very well stay in office, analysts say, but the process could take months to reach a resolution.
"They should throw the crooked politicians in jail, and everybody else should stop fighting and get back to work," said Wallace Nascimento, a 40-year-old legal consultant, as he arrived at a party near the beach Friday night.
He has seen the value of his wages eaten away by inflation and won't be able to go away on vacation this year. Still, being stuck near home is not so bad, he said, as he watched two young men awkwardly suggest to women that they were required to kiss them, since -- as their modified lifeguard outfits proclaimed -- they were "Babe Guards."
For blocks and blocks along the Atlantic, giddy and scantily clad teenagers mixed with musicians and dancers, mobile beer salesmen, women dressed as superheroes and men in gaudy wigs and dresses.
"I've been enjoying Carnival for a long time," Nascimento said. "And this is not my first Carnival during a crisis."
Bevins is a special correspondent.

MORE FROM WORLD
North Korea fires rocket seen as covert missile test
More than 150 people missing after Taiwan earthquake
Vatican critic says only Pope Francis can dismiss him from sex abuse panel
Must-read stories from the L.A. Times
Get the day's top news with our Today's Headlines newsletter, sent every weekday morning.
You may occasionally receive promotional content from the Los Angeles Times.