The debate over saving rain forests has gotten ugly. Now a Brazilian environmental official is dead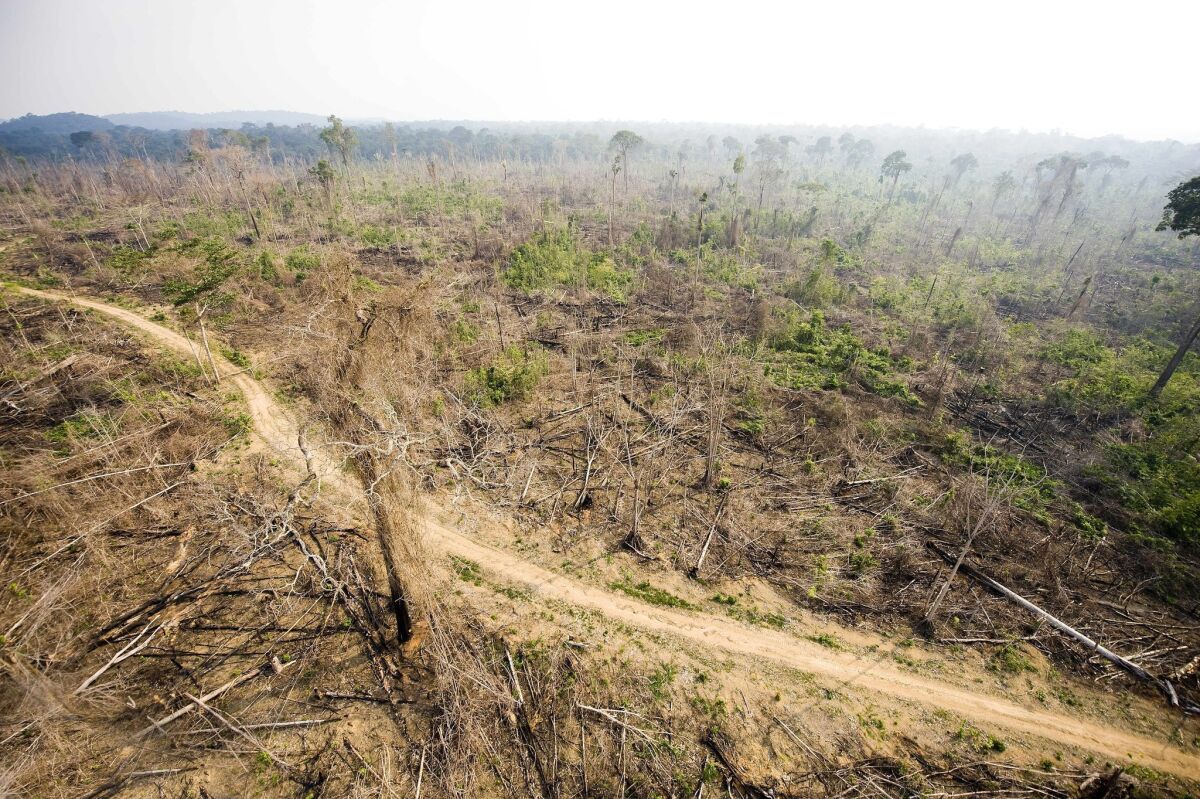 Reporting from Sao Paulo, Brazil —
Gunmen have killed a city official known for strongly enforcing environmental laws in a Brazilian state where conflicts over ongoing, wide-scale Amazon deforestation have led to bloodshed.
Luiz Araujo, environmental secretary for the city of Altamira, was killed in his home in front of his family Thursday night, the city announced. The two men fled on a motorcycle without taking anything, leading to speculation that they were paid assassins.
Altamira is located the northern Amazonian state of Para, where environmental crime continues to be a major problem, with landowners often employing violence to silence threats to their business. Journalists, activists, and locals who collaborate with environmental authorities have been killed.
Araujo was known as a strict enforcer of environmental law.
"The government of Altimara has lost a dedicated servant and important figure in the fight for better environmental policies in the region," said a statement released by Altamira City Hall. "Since 2014, he has performed his duties with brilliance and enormous competence and intelligence. He was admired by all."
According to satellite data gathered by the Brazilian government, more than 2,300 square miles were deforested from August 2014 to July 2015 — a 24% increase on the previous year — and over a third of the loss took place in Pará. Altamira is only one city in the vast Brazilian Amazon, but with an area of 62,000 square miles, the single municipality Araujo oversaw is larger than the state of Georgia.
In a series of interviews with the Los Angeles Times last year, residents of Pará and environmental authorities said they believed those who spoke or acted out against deforestation faced the risk of death. Hired gunmen known as "pistoleiros" are often the chosen method of enforcement.
In addition to overseeing rules concerning deforestation — often for the production of beef and soy — Araujo also helped enforcement of prohibitions on illegal mining. A culture of lawlessness and the beef trade sometimes draw comparisons to days of the Wild West in the United States.
"There are a number of serious environmental problems in the Altamira area, including large-scale deforestation, illegal mining and the theft of land," said Olavo Perin Galvao, 33, an agent with Brazil's IBAMA, or Brazilian Institute of Environment and Renewable Natural Resources. He has worked extensively in the region enforcing environmental laws and says his agency has suffered from serious budget cuts over the last year.
"We do not know what happened to [Araujo], but it's a constant occurrence in this country that people attempting to defend the environment are murdered by pistoleiros," he said.
Bevins is a special correspondent.
ALSO
Turkey pushes for extradition of U.S.-based cleric who they say directed failed coup
Thailand begins year of mourning after the death of its beloved king
21 Nigerian schoolgirls released by Boko Haram will receive medical treatment, trauma counseling
Must-read stories from the L.A. Times
Get the day's top news with our Today's Headlines newsletter, sent every weekday morning.
You may occasionally receive promotional content from the Los Angeles Times.