Thousands protest ruling to overturn ban on 'conversion therapy' for gays and lesbians in Brazil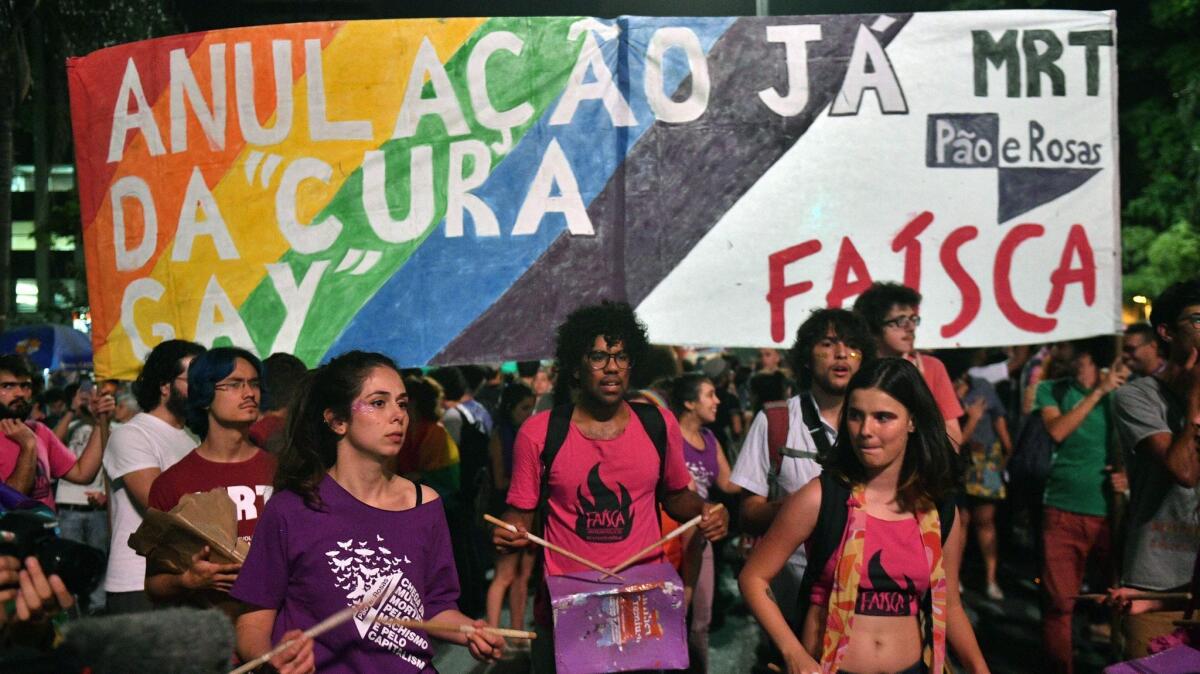 Reporting from sao paulo, Brazil —
Thousands of demonstrators gathered in downtown Sao Paulo on Friday to protest a court's recent decision to overturn an 18-year ban on conversion therapy meant to "cure" gay people.
Chants of "it's not a disease" could be heard over songs including Lady Gaga's "Born This Way" as protesters flew rainbow flags and held banners demanding human rights be respected.
"We have to help people understand that this decision wasn't something small," said Carlos Daniel, one of the demonstration organizers. "These types of thoughts are what get us killed here in Brazil every day. We are dehumanized and treated like objects. We have to show everyone that we exist and that the future is ours."
The challenge to the ban — which was instituted in 1999 by Brazil's Federal Council of Psychology — came in a lawsuit this year from Rozangela Justino, a psychologist and evangelical Christian who had her license revoked in 2016 for offering the therapy and referring to homosexuality as a "disease."
Ruling in her favor last week, Judge Waldemar de Carvalho wrote that people who want help in relation to their sexuality should not be prevented from voluntarily pursuing the therapy.
The judge has since released a statement saying that his ruling was misunderstood and that he does not believe homosexuality is a disease. He did not address the fact that experts have deemed the therapy ineffective and harmful.
Celebrities have led an immediate and widespread public backlash using the slogan "love is not a disease, it's the cure" and the hashtag #curagay to discuss the decision.
Ivete Sangalo, one of Brazil's most popular singers, wrote on Instagram: "The sick ones are those who believe in the great absurdity."
Pop star Anitta posted a video on Instagram that has been viewed by almost 1.5 million people. "That's what happens in my country," she says in it. "People dying, hungry, the government killing the country with corruption, no education, no hospitals, no opportunities ... and the authorities are wasting their time to announce that homosexuality is a sickness."
The Federal Council of Psychology said in a statement that the decision "opens the dangerous possibility of the use of sexual reversion therapies."
"We consider it a huge setback to need to reaffirm, in the 21st century, that homosexuality is not a disease, disorder or perversion," it continued. "Brazilian psychology will not be an instrument to promote suffering, prejudice, intolerance and exclusion."
A joint statement issued in 2015 by 12 United Nations agencies called for an end to "unethical and harmful so-called 'therapies to change sexual orientation.'" The World Psychiatric Assn. also condemned such treatment, calling it "wholly unethical."
Brazil is far more liberal than many other Latin American countries when it comes to sexuality and gender.
It legalized same-sex marriage in May 2013 in a 14-1 vote by the National Justice Council — a public institute that serves as a watchdog of the judicial system — that banned public notaries from refusing to perform such ceremonies and required them to convert existing civil unions to marriages upon request.
The country's largest city and business capital, Sao Paulo, hosts the biggest pride parade in the world, with more than 3 million attending this year's celebration.
But violence targeting gay, lesbian and transgender people has been on the rise nationwide.
According to Grupo Gay da Bahia, a nonprofit that tracks such deaths in the news, some 1,600 people were killed in hate-motivated attacks from 2012 to June 2016.
Rede Trans Brasil, which monitors the killings of transgender people, has 127 deaths registered on its site so far this year. It also lists 49 attempted homicides and 82 cases of violations of human rights.
Evangelical Christians have been avidly protesting the novela, "A Força do Querer," or "Willpower," because of its storyline that depicts the struggles of transgender people in their day-to-day lives.
At the demonstration Friday, Cibele Camargo de Oliveira, a retired librarian who had come to support several friends, said she resented such groups interfering in the lives of others.
"Everything that is discrimination is a disease," she said.
Langlois is a special correspondent.
Sign up for Essential California for the L.A. Times biggest news, features and recommendations in your inbox six days a week.
You may occasionally receive promotional content from the Los Angeles Times.