Who ordered the assassination of Marielle Franco? A year after her death, Brazil still grieves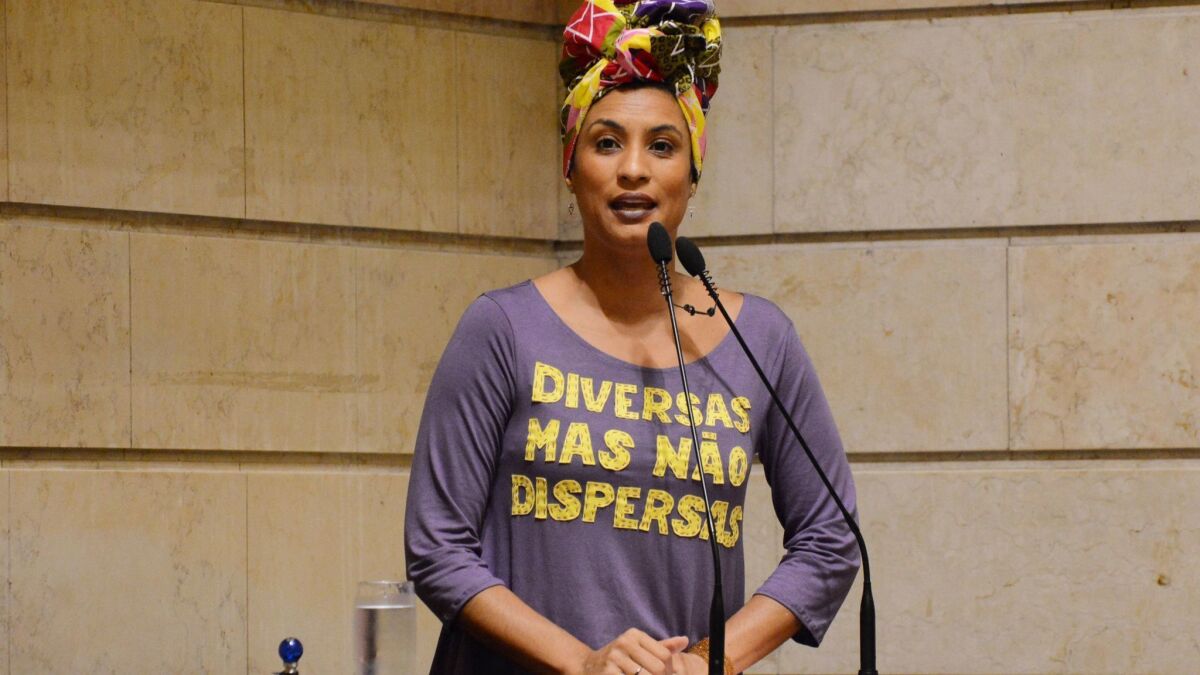 Reporting from SAO PAULO, Brazil —
One year after the killings of Rio de Janeiro city councilor Marielle Franco and her driver, Anderson Gomes, police have arrested two former military police officers suspected of being involved in the shootings, but have yet to discover who ordered the assassination of the outspoken politician.
Ronnie Lessa, a retired officer suspected of pulling the trigger, and Elcio Vieira de Queiroz, who was ousted from the police force and is accused of driving the vehicle used in the drive-by shooting, were arrested Tuesday.
Prosecutors from the organized crime unit investigating the case said in a statement that both men were arrested in their homes around 4 a.m., earlier than initially planned because there were suspicions they may have been tipped off. Thirty-four search warrants led to the seizure of laptops, cellphones, documents, weapons and ammunition, as well as other items. The first phase of the investigation, which lasted a year, involved 5,700 pages of documents, 760 gigabytes of data and 318 wiretaps.
The use of metal detectors helped police find a gun in Lessa's home. Officers also found pieces of 117 unmounted rifles, three silencers and 500 rounds of ammunition in the home of a childhood friend of the suspected shooter. It was the biggest gun bust in Rio's history.
An additional 16 search warrants were carried out Wednesday and three people were brought in for questioning. Prosecutors also noted that there was evidence the shooting was methodically planned for three months before it was carried out.
"It is incontestable that Marielle Franco was summarily executed for her political activity in the defense of the causes she defended," the statement said.
Outspoken Rio de Janeiro councilwoman who fought for the marginalized is shot to death »
Franco, a vocal defender of human rights since a stray bullet killed a friend during a shootout between police and drug traffickers in 2005, was known for standing up for the marginalized. Franco, who grew up in the Mare complex of slums known as favelas, where police violence is persistent, defied the odds and won the fifth-highest vote count of any city councilor when she was elected in 2016.
The day before her death Franco took to Twitter to question the involvement of police in the killing of a young man in the Acari favela.
"Another homicide of a young man that could be credited to the police. Matheus Melo was leaving church when he was killed. How many others will have to die for this war to end?" she wrote.
Franco also took part a decade earlier in a state legislature inquiry into paramilitary groups, often made up of police officers and known for controlling large portions of Rio state. The month before her death, she was named rapporteur of a special commission that was to serve as a watchdog over a controversial federal intervention in Rio's public security.
Investigating officer Giniton Lages said during a news conference related to the arrests of Lessa and Queiroz that the investigation would now enter its second phase and continue in its search for those responsible for ordering Franco's assassination and the reason for the crime, which is suspected to be politically motivated. The details of the massive operation, he said, would be kept under wraps, but no lines of investigation have been discarded yet.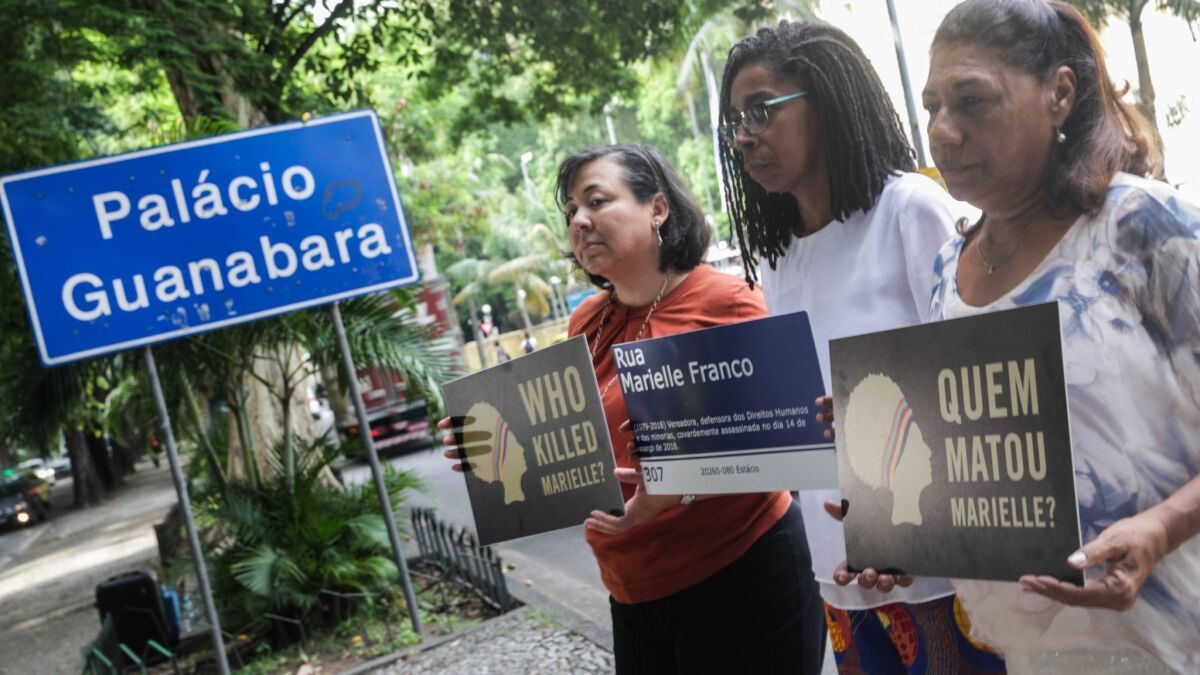 Soon after Tuesday's arrests, a photograph was shared on social media supposedly showing Brazil's President Jair Bolsonaro with Queiroz, suspected of driving the car during the killings. That same afternoon, Bolsonaro brushed off the photo as a coincidence.
"There are photos of me with thousands of police officers," the former army captain said.
Police also confirmed that one of Bolsonaro's sons once dated the daughter of the alleged shooter, Lessa, who owns a home on the same street as the president's inside a gated condominium complex, but said they didn't suspect the relationship had any link to the killings.
Bolsonaro denied knowing Lessa, saying he doesn't socialize with his neighbors.
Franco's assassination led to outrage across Brazil and around the world, creating an international outpouring of support for the family and friends of the slain politician.
Organizations like Human Rights Watch and Amnesty International condemned the killings of Franco and Gomes, and protests demanding those responsible for their deaths be brought to justice were held in cities around the world, including New York, Paris, London and Lisbon. Franco's photo is still displayed in front of Paris City Hall and the city is currently considering naming a street after her.
Images of Franco — some showing her wide smile, others reminiscent of an incident where she insisted she would be heard during a City Council meeting — can also still be seen on every corner of Brazil. During this year's Carnival celebrations, samba schools Mangueira and Unidos da Vila Isabel paid tribute to the politician, and cries of "Who killed Marielle and Anderson?" could be heard at International Women's Day marches.
On Thursday — the one-year observance of their deaths — thousands are set to protest again.
"Marielle showed us that if we come together and raise our voices, we can do anything," said Thalita Sousa, a 23-year-old cashier who plans to attend Sao Paulo's march. "She did that for us and we need to keep doing it for her and Anderson. We need to get justice for them both."
---
Must-read stories from the L.A. Times
Get the day's top news with our Today's Headlines newsletter, sent every weekday morning.
You may occasionally receive promotional content from the Los Angeles Times.