Fearful that the president will change the law, same-sex couples in Brazil rush to the altar
Reporting from SAO PAULO, Brazil —
The wedding wasn't supposed to take place for more than a year.
Then the presidential election happened. The winner, Jair Bolsonaro, is widely known for his hateful comments about gay people and his opposition to same-sex marriage, which has been legal in Brazil since 2013.
And so Stefany Daltro and Debora de Cassia Brandao Silva, who have been together for four years, gathered with a few guests on the first Saturday of December for a simple ceremony at the office of a public notary here.
"We're in the dark," said Silva, 30. "We don't know what's ahead of us now, what rights we could lose."
That kind of unease has fueled a surge in same-sex weddings in Brazil as couples, fearful that the new administration will try to block their unions, rush to get married before Bolsonaro's Jan. 1 inauguration.
The boom began in September, when the front-runner at the time, the leftist former President Luiz Inacio Lula da Silva, was deemed ineligible, catapulting Bolsonaro to the top of the polls. It accelerated as his lead grew on the way to a resounding victory in late October.
That month, according to Arpen, the national association of notaries, there were 831 same-sex marriages in Brazil, 54% more than in October 2017. The year-to-year November total jumped 66% to 986.
Gay rights supporters from businesses that rely on weddings — including disc jockeys, photographers and bakers — have begun offering their services for free to same-sex couples who get married before Bolsonaro takes office.
"This campaign is to show our solidarity," says Rossanna Pinheiro, who owns Riot Karaoke in Rio de Janeiro and started the Facebook page Casamento LGBT, where merchants from around the country volunteer their services. "These people are feeling embraced and will have the opportunity to have a celebration they otherwise wouldn't have been able to afford."
Bolsonaro, a former army captain and longtime congressman, has made no secret of his longtime disdain for gay people.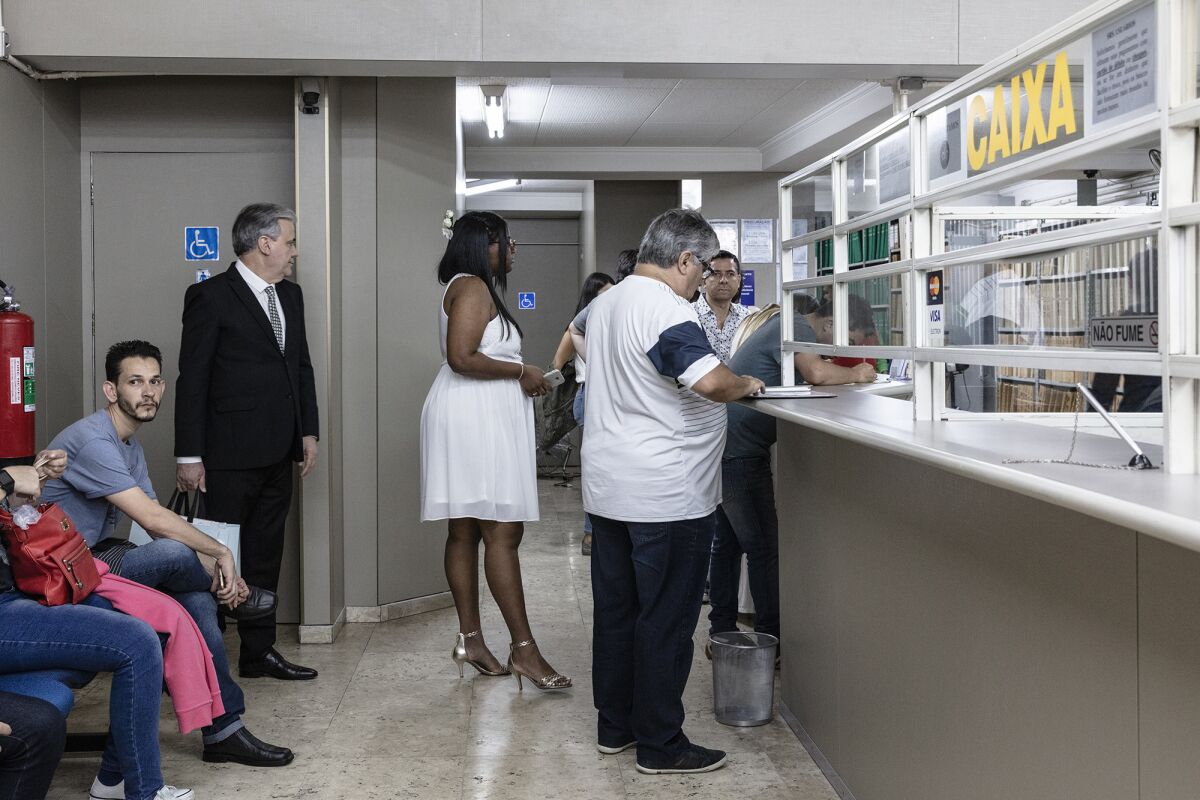 Back in 2002, after seeing a photo of the Brazilian president holding a rainbow flag at an event in support of gay marriage, Bolsonaro issued this threat: "I won't fight against it or discriminate, but if I see two men kissing each other on the street, I'll beat them up."
In a 2011 interview with Brazil's edition of Playboy magazine, he said he would make no exceptions for family.
"I would not be able to love a homosexual son. I'm not going to be a hypocrite here," he said. "I'd rather have a son of mine die in an accident than show up with someone with a mustache. To me he would be dead anyway."
Bolsonaro also told the interviewer: "If a homosexual comes and lives next door to me, it will devalue my house! If they walk hand in hand and kiss, it will lose its value."
During the campaign, Bolsonaro did not make same-sex marriage an issue.
But his views are widely known, based on a history of statements expressing outrage over Brazil's marriage laws and arguing that gay couples have ruined the traditional family.
"They don't want equality," he said in 2013. "They want privileges."
"A child adopted by a gay couple has a 90% chance of being gay too," he continued, with no evidence to support that claim. "Do you think I'm going to let my 6-year-old son play with another 6-year-old boy adopted by a gay couple? I won't let him! The law is not going to make my way of thinking any different."
Bolsonaro and his team did not respond to requests for comment about his intentions. The big question for same-sex couples may not be whether he wants to undo their ability to marry but whether politics and the law would allow him to do so.
Experts say it's highly unlikely, but still possible.
The legality of same-sex marriage rests on two decisions. In 2011, the Supreme Court changed the country's civil code to give same-sex couples the same rights as heterosexual couples when it came to recognition of common-law relationships.
Then, two years later, the National Justice Council, a public institution that promotes transparency and can issue legal opinions, affirmed that those rights included the ability to convert common-law relationships to marriages.
Those decisions cannot simply be overturned by presidential decree. Same-sex marriage could be banned only if Congress passed a law and the Supreme Court upheld it. None of that could happen quickly.
But Renata Carraro, a law professor at Faculdades Rio Branco, said there are no guarantees, given the current political climate: "The fear that the right to same-sex marriage in Brazil could be reversed during Jair Bolsonaro's government is, in my point of view, very justified."
Things had been moving in the other direction, as a bill to legalize same-sex marriage — by removing any mention of gender in the marriage code — had been under consideration by the Senate. But that effort now appears dead.
When the new Congress takes office next month, it will shift decidedly to the right, with the number of seats held by Bolsonaro's Social Liberal Party jumping from eight to 52. Only the leftist Workers' Party, with a total of 56 seats, will have more.
The election and the legal precariousness of same-sex marriage were ample reason for Aline Ferreira, a 28-year-old screenwriter, and Michelle Avila, a 29-year-old physiotherapist, to decide to get married. Their wedding in Sao Paulo was scheduled for Saturday.
The two have been together for 12 years and had no plans to get married.
"After Bolsonaro was elected I started doing some research into same-sex marriage and found out that there isn't an actual law in place to guarantee us that right," Ferreira said. "Without that law, our right could be revoked. That's when I realized there was this threat, and that the time to get married was in these last two months of the year."
The same day they marry, 100 same-sex couples were set to exchange vows in a group wedding in Sao Paulo organized by the LGBTQ group Casa 1.
For their nuptials, Daltro and Silva and several friends crammed into a windowless room in the back of the notary. The rush meant just one relative — Daltro's sister — could make it.
But in other ways, it was a traditional wedding. The two women, both teachers, exchanged vows and rings and wore white.
"We used to be more worried about how we felt about marriage, about what some of our family members would think about our relationship," said Daltro, 25. "But now we're more worried about our rights."
Langlois is a special correspondent.
---
Must-read stories from the L.A. Times
Get the day's top news with our Today's Headlines newsletter, sent every weekday morning.
You may occasionally receive promotional content from the Los Angeles Times.