Brazil's current and former presidents face trials. And the interim president is in hot water too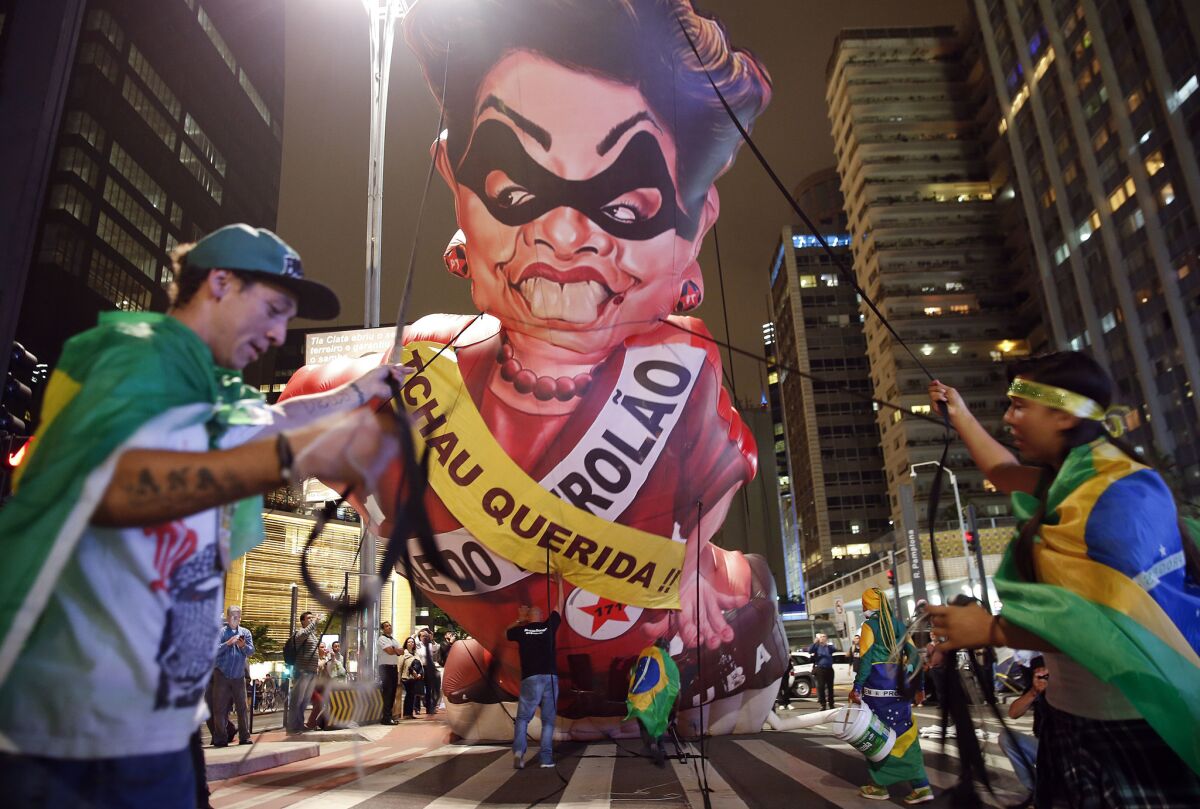 Reporting from Rio de janeiro —
The Rio 2016 Olympics are taking place in the middle of a tumultuous political crisis, and it's still not fully clear who will be the president at the end of the month. Three Brazilian leaders have been involved in putting on these Games, and they all face serious accusations of some kind. Here's our guide to the ongoing scandals:
Luiz Inacio "Lula" da Silva
Background: The charismatic former metalworker and union organizer was the first person to take Brazil's presidency left of center since the fall of Brazil's dictatorship in the 1980s. During his two terms, from 2003 to 2010, the economy powered forward. As prices for Brazilian exports rose and the government implemented moderate welfare programs, Lula proudly represented Brazil on the world stage as tens of millions at home rose out of poverty.
He was born poor in Brazil's parched northeastern hinterland, lost a finger in a machine accident, then left office with sky-high approval ratings.
His role in the Olympics: He was president in 2009 when Brazil took on the rest of the world, including the U.S., to win the right to host the Olympics in 2016. His charm and the success of his government almost certainly helped Brazil win the Olympics. Ebullient crowds stormed Copacabana beach when Rio was selected.
Accusations against him: Over the last two years, investigators in Brazil have uncovered a multibillion dollar bribery scheme revolving around the state-run oil company, Petrobras. The so-called Operation Car Wash probe has led to the arrests of large numbers of Brazil's business and political elite, including members of Lula's center-left Workers' Party. But despite suspicions this year that properties linked to Lula may have received favorable deals from construction companies involved in the scheme, he had never been formally accused of anything until a week before Rio 2016 began. He will now face obstruction charges on suspicion that he tried to pay a former Petrobras executive to stop him from giving information to authorities.
Dilma Rousseff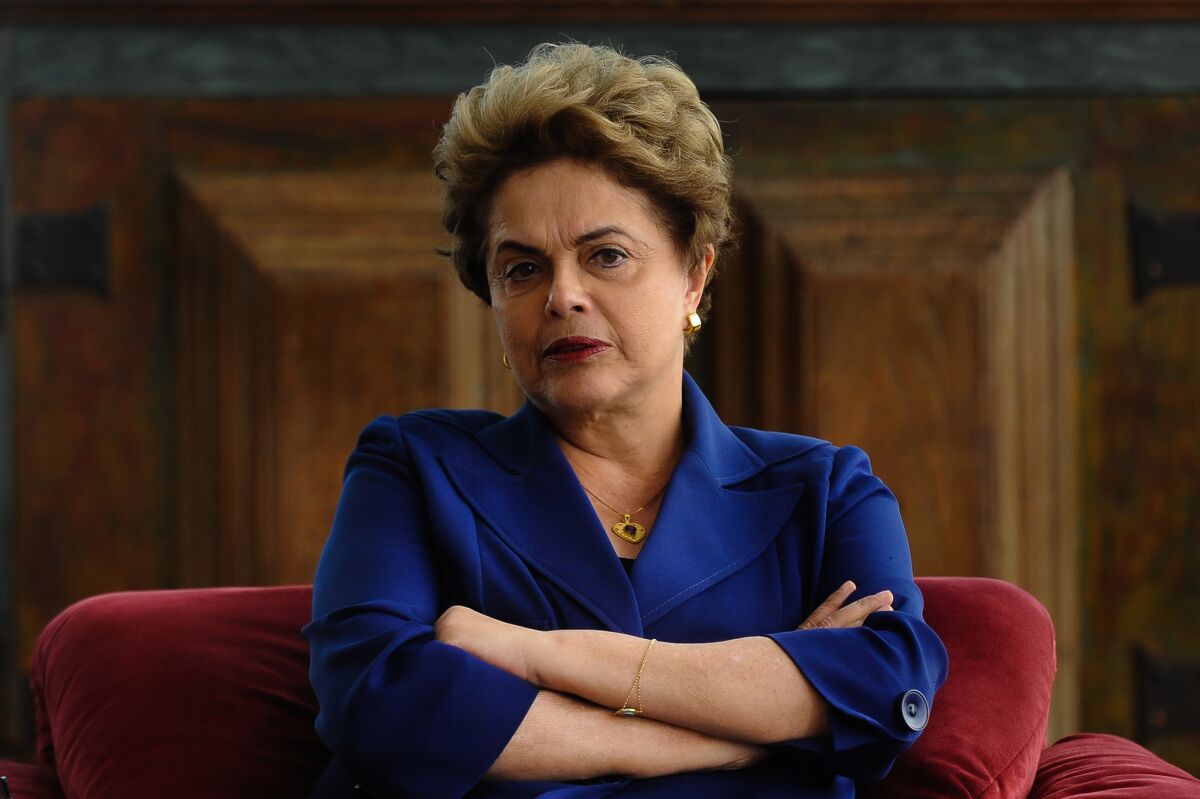 Background: A former left-wing guerrilla who was tortured under the 1964 military dictatorship and later became an economist, Rousseff was put forward as the candidate of Lula's left-leaning Workers' Party in 2010 and won handily. Brazil's first female president enjoyed a few years of healthy popularity, even as the economy slowed and market players warned that her interventions were doing the opposite of helping.
But soon after being reelected in late 2014, the true extent of Brazil's economic troubles became clear – critics say Rousseff hid the details during her campaign – and her popularity dropped precipitously. She also lost the crucial support of Brazil's Congress, a tumultuous arm of government that constantly forms and re-forms coalitions among more than 25 parties. Two-thirds of the members of the lower house and Senate themselves face formal accusations of corruption or other serious crimes.
Her relationship to the Olympics: Rousseff oversaw the federal government from 2011 to 2016, and dealt with funding and congressional involvement in the Games, while Rio Mayor Eduardo Paes handled most of the organization at the city level. She was removed from office in May while awaiting her impeachment trial in the Senate. Rousseff said that a "coup" barred her from rightfully opening the Games, which she and her party brought to Brazil, and that she would not attend to play second fiddle to her vice president, Michel Temer, who had openly turned on her.
Accusations against her: Rousseff is one of few major Brazilian politicians who is not accused of being personally corrupt, or having committed any criminal offense. She has, however, been put on impeachment trial on suspicion of breaking budgetary rules by shifting money around to cover short-term deficits.
This is not a criminal offense, and many experts believe the impeachment is not primarily about the fiscal maneuvers, but her government's economic performance, loss of support in Congress – where some lawmakers may be looking for a way to save their own skins – and the political climate created by Operation Car Wash. There has been fierce debate this year over whether Congress actually has the right to impeach for this kind of offense, but the Supreme Court has allowed the process to move forward, and the Senate looks poised to vote to permanently remove her from office just after the Games end.
Michel Temer
Background: A 75-year-old lawyer and political insider from the broad-based Democratic Movement Party, Michel Temer was unknown to most Brazilians until it became clear he might actually take over the country. When he first appeared, he puzzled many with his use of an antiquated, highly formal version of Portuguese.
He has since ushered in the most drastic right-wing turn Brazilian politics have seen in decades appointing socially conservative figures and pushing for spending cuts. He also immediately replaced Rousseff's Cabinet with a group entirely composed of white men, in a country where whites are less than half the population.
Polls before impeachment suggested only 8% of Brazilians wanted him in office, and more recent polls suggest most Brazilians favor new elections to resolve the political crisis, but Temer at least has the support of Congress and many market participants who are relieved at the prospect of relative stability.
His relationship to the Olympics: It was widely suspected he would be booed at the opening ceremony Aug. 5, and he skipped his scheduled appearance at the beginning of the festivities. Later, when required to open the Games, he began to speak quickly without being introduced. But it didn't work. He was booed.
Accusations against him: Three members of Temer's Cabinet were immediately forced to resigned amid scandal. During the Car Wash probe, accusations had surfaced that Temer himself was involved in an illegal ethanol-purchasing operation. Electoral authorities in Sao Paulo convicted him of making illegal campaign donations, which would make him unable to run for any elected office for eight years. Then, the first weekend of the Olympics, local magazine Veja published allegations that Temer may have participated in an illegal scheme to request millions in donations. The report also implicated new Foreign Secretary Jose Serra, with whom Secretary of State John F. Kerry met during the Olympics, despite the implicit objections of unions and liberal Democrats in the House.
Bevins is a special correspondent.
ALSO
Third French city bans 'burkini' after brawl at beach leaves 5 injured
Wary of losing tourists, Mexico says mass abduction in Puerto Vallarta was likely a gang-on-gang crime
In India, a journalistic expose leads to a criminal complaint — against the journalists
Must-read stories from the L.A. Times
Get the day's top news with our Today's Headlines newsletter, sent every weekday morning.
You may occasionally receive promotional content from the Los Angeles Times.