Wanted for murder for decades, two ex-Chilean guerrillas hid in a Mexican town. Then their double lives began to unravel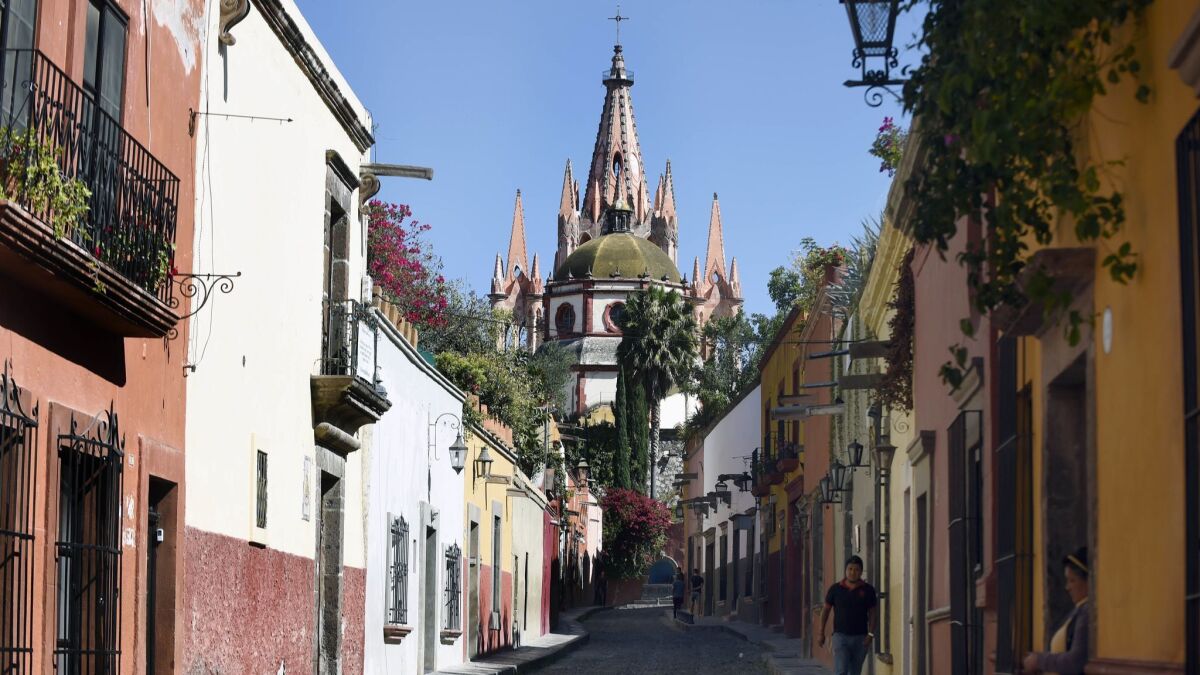 Reporting from Mexico City —
They were a couple of middle-aged guys with odd accents who bought and sold properties, doted on their children, loved soccer and frequented galleries in an artsy expatriate haven in central Mexico.
"Ramon and Esteban never got into problems," recalled Jose Luis Vargas Ramirez, a lawyer who knew both men socially in San Miguel de Allende and is still bewildered at their fate. "Everyone said, 'How is it possible?'"
A pair of arrests in Paris last month has shed new light on the shadowy histories of Ramon and Esteban, as the two were known in San Miguel.
They weren't the low-key, somewhat bohemian photographers and real estate speculators they seemed to be.
Their names weren't Ramon and Esteban. And they weren't Mexican.
They actually were clandestine ex-revolutionaries from Chile who had been on the run for more than 20 years — a lethal duo who, Chilean authorities say, once carried out meticulously planned assassinations as the country was recovering from years of military dictatorship. The pair also famously orchestrated a cinematic jailbreak — the 1996 escape from a maximum-security prison via helicopter.
Mexican authorities suspect the onetime leftist guerrillas of running a lucrative kidnap ring linked to some of the country's most high-profile abductions, including the 2010 seizure of former presidential candidate Diego Fernandez de Cevallos — who was released after seven months following reported payment of a multimillion-dollar ransom.
Their arrests have rekindled uneasy memories of a violent era in Chilean history and cast a revealing spotlight on the booming kidnapping-for-profit trade in Mexico. The latest act in the pair's long-running drama played out, improbably, in France.
On Feb. 15, French police responding to murder and kidnap charges in Chile arrested "Esteban," whose real name is Ricardo Palma Salamanca, 48. He also goes by the nickname "El Negro."
A few days later, police detained Palma's longtime female companion and alleged accomplice, Silvia Brzovic, a Chilean national who was known in Mexico as Pilar Quezada Moreno.
Their detention follows the May arrest in Mexico of "Ramon," whose real name is Raul Julio Escobar Poblete, 54, a legendary Chilean guerrilla who went by the moniker "Comandante Emilio."
Unlike Escobar, who evaded capture until last May, Palma is no stranger to the jailhouse.
Palma was arrested in Chile in 1992 and convicted of murdering a right-wing senator, Jaime Guzman, a year earlier.
Palma also was found guilty of participating in the 1991 kidnapping of the heir of the owner of Chile's largest newspaper, El Mercurio. The paper had supported the rightist dictatorship of the late Gen. Augusto Pinochet and, according to declassified U.S. documents, received secret CIA funding, although the newspaper denies this. The heir, Cristian Edwards, was released after almost five months of captivity and the payment of a ransom.
Palma received a pair of life sentences.
But on Dec. 30, 1996, a hijacked Bell 206 helicopter normally used for tourist excursions swooped down on the yard of a maximum-security prison in Santiago, the Chilean capital, and whisked away Palma and three other militants in a specially crafted metal basket, lined with bullet-resistant material, that dangled from the aircraft.
The stunning prison break — which garnered global headlines and was dubbed Vuelo de Justicia, or Flight of Justice, by militants — was a humiliation for Chile's still-fragile government.
Escobar and Palma dropped from sight. Interpol alerts did not prevent them from embarking on international kidnapping careers, law enforcement authorities say.
Brazilian police say Escobar plotted the seizure of an advertising executive who was held for almost two months in Sao Paulo in 2001-02 before escaping. Among those still imprisoned in Brazil for that crime is Mauricio Hernandez Norambuena, one of the four militants airlifted to freedom in the helicopter episode.
Authorities suspect that Escobar and Palma settled in Mexico more than a decade ago — Escobar as "Ramon Alberto Guerra Valencia" and Palma as "Esteban Solis Tamayo."
The fugitives put down roots in colonial San Miguel de Allende, the trendy, foreigner-friendly haven 175 miles northwest of Mexico City.
By all accounts, the hip renegades with cash to spare mingled seamlessly into the town's cosmopolitan society, where their South American accents didn't arouse suspicions, despite their improbable assertions of having been born in Mexico. Their kidnap targets apparently included well-to-do residents of the San Miguel area, which is home to affluent Mexicans and U.S. retirees.
"These Chileans totally blended inside the society of San Miguel," said Eduardo Garcia Valseca, a businessman and former long-time resident of the San Miguel area who was kidnapped outside town after dropping his children off at school.
Garcia Valseca spent more than seven months in a wooden cage — enduring physical abuse and paltry food allotments and with barely enough room to move — before being released after payment of an undisclosed sum. He suspects that the Chilean-led gang was behind his seizure. The accents and appearance of some of his captors suggested they were South American, he said.
The ring, he said, likely had surveilled his family's movements for some time before striking. At least 10 people in five vehicles ambushed him and his wife on a rural road on June 13, 2007.
"They worked like the military," said Garcia Valseca, who now resides in the Washington, D.C., area with his three children. "Some did the kidnapping, some guarded the victims, others were in charge of communications."
During his captivity, he said, he was regularly beaten and shot twice. He suffered broken ribs and head wounds. Garcia Valseca weighed less than 100 pounds when he was released on Jan. 24, 2008. He could hardly move or speak.
His U.S.-born wife, Jayne Rager, died in 2012 of a cancer that, her husband said, was likely aggravated by the stress of the kidnapping. Her 2011 book, "We Have Your Husband" — after the initial note from her spouse's captors — was made into a Lifetime TV docudrama.
Some of the accumulated ransom fortune likely went into the Chileans' comfortable, albeit not outwardly lavish, lifestyle.
At one point, Escobar and Palma, using their Mexican aliases, opened a cafe in town, said Vargas Ramirez, who was Escobar's lawyer for several months after his detention. The pair's unmasking as absconded guerrilleros and alleged kidnap profiteers was a shock.
"People were taken aback," Vargas said in an interview. "Here, they behaved well, they were good neighbors."
It was shoddy tradecraft by the normally scrupulous outlaws that led to their downfall, authorities say.
The kidnappers had been holding a French-American woman captive for more than a month and were becoming impatient waiting for a $1-million ransom, according to law enforcement and media accounts. They decided to slice off one of her fingers and ship the severed digit to her family as a warning, prosecutors say. The delivery was arranged in slapdash fashion, however.
One of the plotters, wearing sunglasses and a hat as a rudimentary disguise, hailed a taxi in San Miguel on May 30, Mexican authorities say. He handed the driver a package and asked him to deliver it to a nearby restaurant, where a representative of the seized woman was waiting. But the cabbie became suspicious and alerted police. Cops opened the package and discovered the finger and several letters from the captive woman, written in English and French.
Mexican police soon rescued the woman and arrested a suspect, who had been following the taxi in a white Toyota Tacoma pickup. The pickup driver was identified days later as Escobar.
Other arrests soon followed as associates of Escobar fled San Miguel. His wife was arrested in Spain and a former female companion captured in Chile.
Authorities say Palma and his female partner, Brzovic, along with two minor children, flew initially to Cuba and then in mid-June to France with false Mexican IDs. For reasons not entirely clear, they were detained for 12 days at Charles de Gaulle Airport and released. They were finally arrested last month.
Palma and Brzovic are seeking political asylum in France, alleging that a fair trial is impossible in Chile. Both have been released but must report daily to police and can't leave the country.
Escobar, meanwhile, sits in a Mexican high-security prison on kidnapping charges. The former Comandante Emilio has publicly proclaimed his innocence and blamed "local mafia" for framing him in the woman's abduction.
Chile is now seeking to extradite Escobar from Mexico and Palma from France to stand trial. Extradition could take many months, but in the eyes of one former kidnap victim it's at least a step toward life behind bars for a pair of ruthless profiteers accused of depriving others of their freedom.
"These Chileans were complete hypocrites," Garcia Valseca said. "They seemed like anyone else in the town San Miguel de Allende. But they destroyed the lives of many people."
To read this article in Spanish click here
Twitter: @PmcdonnellLAT
Special correspondents Jorge Poblete in Santiago, Chile, and Cecilia Sanchez and Liliana Nieto del Rio in Mexico City contributed to this report.
---
Must-read stories from the L.A. Times
Get the day's top news with our Today's Headlines newsletter, sent every weekday morning.
You may occasionally receive promotional content from the Los Angeles Times.