U.S. police killings of unarmed Mexican men enrage Latino community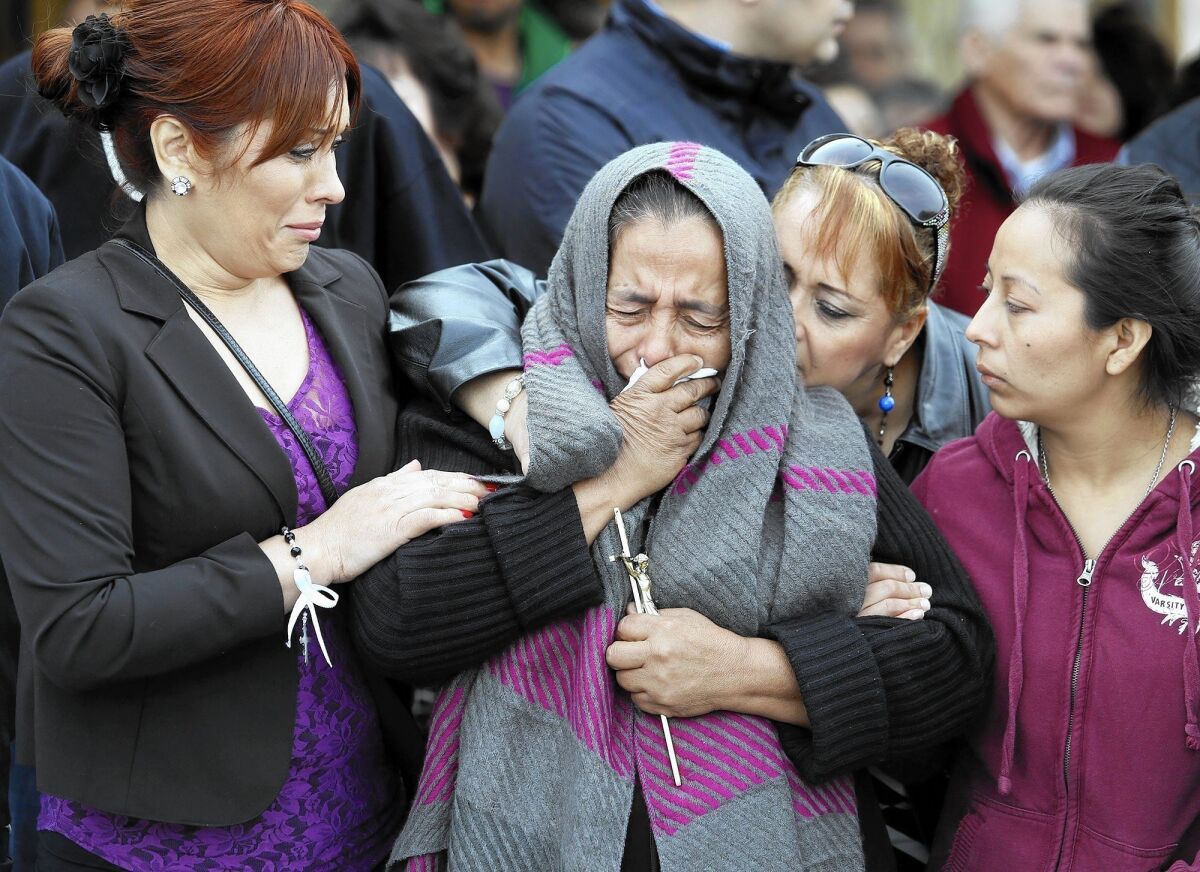 Reporting from Mexico City —
Grieving and bewildered, the relatives of Antonio Zambrano Montes gathered Friday in western Mexico and prayed over his body 3 1/2 weeks after he was shot dead by police in Washington state.
Zambrano is one of three unarmed Mexican nationals killed by police in the United States in less than a month, enraging the Latino community there and the government and fellow Mexicans here. Where similar shootings of unarmed black men have galvanized an angry public and brought federal scrutiny, the killings of the Mexicans have attracted less attention.
"This is an injustice," Zambrano's sister, Erendira Yadira Zambrano Montes, 20, said in an interview Thursday. "I know it won't bring his life back to us, but they [U.S. authorities] must pay."
Zambrano's death was the first. Ruben Garcia Villalpando, 31, was shot to death by a Grapevine, Texas, police officer on Feb. 20, and Ernesto Javier Canepa Diaz was killed by police in Santa Ana on Feb. 27.
Zambrano's killing on Feb. 10 in Pasco, Wash., elicited special outrage because it was caught on video, those images playing over and over on Mexican television.
In the video, Zambrano, 35, can be seen running from police, then stopping and turning back toward them. They shoot him repeatedly. Pasco police have said Zambrano was acting erratically and throwing rocks, and the officers involved felt threatened. He had previously been arrested for scuffling with police, they said.
Zambrano's family said he had been in the U.S. for 10 years but spoke little English. Like hundreds of thousands of Mexicans from his native agricultural state of Michoacan, Zambrano had traveled illegally to the United States to work the fields, sending money home to a family of 15 brothers and sisters and parents who had a small farm.
"The truth is we don't know much.... We don't understand what happened," Erendira Zambrano said as she waited for her brother's body, which was returned late Thursday and transported Friday to Michoacan for burial on Saturday.
The family plans to sue the Pasco police department; a state investigation is underway.
The Zambrano Montes family left Michoacan for neighboring Colima state three years ago because of deadly violence unleashed by drug-trafficking and extortion gangs controlling large parts of the region.
The Mexican Foreign Ministry angrily protested all three killings and demanded an investigation of what it called the "disproportionate use of lethal force" by police "so that these unacceptable acts do not go unpunished." According to the ministry, 76 Mexicans have been killed by U.S. police forces since Jan. 1, 2006.
Canepa, the man killed in Santa Ana, had arrived in the U.S. as a child, from the troubled, impoverished Mexican state of Guerrero; he spoke fluent English and was married with two children, his family's attorney, Humberto Guizar, told The Times.
Canepa, 27, worked in construction and auto detailing. He was killed in a confrontation with Santa Ana police, who later said they found a BB gun in his car. An autopsy revealed "multiple gunshot wounds," Guizar said, adding that his office was attempting to collect information from a reported five witnesses in anticipation of a lawsuit by the family.
"What we do know is that he was unarmed when he was shot," Guizar said.
Santa Ana police spokesman Cpl. Anthony Bertagna said police stopped Canepa because his white Dodge Charger matched the description of a car used in a street robbery two weeks earlier.
"What part [the discovery of the BB gun] played in the shooting itself, I don't know," Bertagna said. He added that Canepa had "an extensive record" of arrests, including narcotics violations, battery, domestic violence and possession of stolen property.
The Orange County District Attorney's Office is investigating the shooting, Bertagna said.
Guizar said police were trying to "dirty this guy up" by dredging up his arrest record and emphasizing the BB gun.
"What relevance is there of a person's prior life history? Does that mean that someone with a record should be just shot and killed?" Guizar said. "He was loved by his family. They're devastated."
Canepa was to be buried in the United States.
Garcia, the man killed in Texas, was buried Feb. 26 in Dallas. Police said they stopped Garcia because he was driving erratically and they thought he may have been fleeing the scene where a burglar alarm had been triggered, mistakenly as it turned out. He did not obey orders to remain still and they shot him, police said.
In this case, the Mexican government also protested what it said was a four-day delay in being informed of Garcia's death, something it learned through his widow. Such an omission is a "notorious violation" of international treaties governing consular relations, the Foreign Ministry said.
A father of four children, ages 1 to 10, Garcia was from Mexico's Durango state and worked as a mechanic.
"We demand justice for his children," Garcia's mother, Nohemi, told reporters in Dallas, "because they have the right to know that their father was not a thief."
Wilkinson reported from Mexico City and Goffard from Orange County. Cecilia Sanchez of The Times' Mexico City bureau contributed to this report.
Must-read stories from the L.A. Times
Get the day's top news with our Today's Headlines newsletter, sent every weekday morning.
You may occasionally receive promotional content from the Los Angeles Times.