In Honduras, U.S. deportees seek to journey north again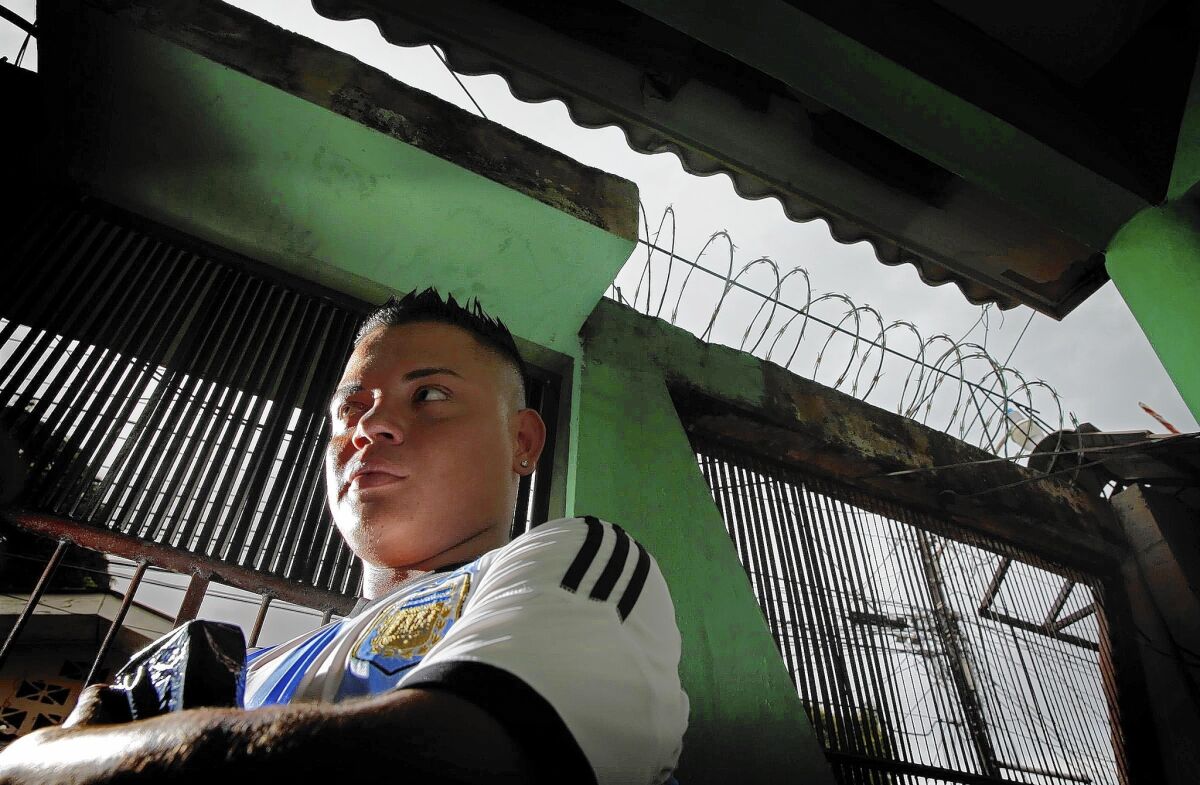 Reporting from San Pedro Sula, Honduras —
By the time Isaias Sosa turned 14, he'd already seen 15 bullet-riddled bodies laid out in his neighborhood of Cabañas, one of the most violent in this tropical metropolis. He rarely ventured outside his grandmother's home, fortified with a wrought iron gate and concertina wire.
But what pushed him to act was the death of his pregnant cousin, who was gunned down in 2012 by street gang members at the neighborhood gym. Sosa loaded a backpack, pocketed $500 from his mother's purse, memorized his aunt's phone number in Washington state and headed for southern Mexico, where he joined others riding north on top of one of the freight trains known as La Bestia, or the Beast.
------------
FOR THE RECORD:
Migrant children: In the Aug. 16 Section A, an article about what happens to children who are deported from the U.S. to Honduras quoted Hector Hernandez, who runs the morgue in the city of San Pedro Sula, as saying that five to 10 of the 42 homicide victims younger than 18 who were taken to the morgue since February had previously been deported from the U.S. Hernandez subsequently changed his numbers and said that only one of them had been deported from the U.S.
------------
Crossing the Rio Grande into Texas, Sosa was apprehended almost immediately by Border Patrol agents as he desperately searched for water.
After a second unsuccessful attempt to enter the U.S. last fall, he now spends most of his days cooped up at home, dreaming of returning yet again.
"Everywhere here is dangerous," he said. "There is no security. They kill people all the time."
"It's a sin to be young in Honduras."
Like thousands of other undocumented Honduran children deported after having journeyed unaccompanied to the U.S., Sosa faces perilous conditions in the violent neighborhood from which he sought to escape.
"There are many youngsters who only three days after they've been deported are killed, shot by a firearm," said Hector Hernandez, who runs the morgue in San Pedro Sula. "They return just to die."
At least five, perhaps as many as 10, of the 42 children slain here since February had been recently deported from the U.S., Hernandez said.
Immigrant aid groups and human rights organizers say the Honduran government is ill-equipped to assist children at high risk after they have been returned.
San Pedro Sula had 187 killings per 100,000 inhabitants in 2013, according to a Pew Research Center analysis of data provided by the U.S. Department of Homeland Security. Honduras' overall homicide rate was 90 per 100,000 in 2012, the highest in the world, much of it fueled by gang and drug-trafficking violence.
Unaccompanied children from Honduras "come from extremely violent regions where they probably perceive the risk of traveling alone to the U.S. preferable to staying at home," the report said.
In one case, a teenage boy was shot to death hours after arriving in San Pedro Sula on a deportation flight, according to the boy's cousin, who refused to identify himself or the boy to The Times for fear of reprisal from neighborhood gangs.
To do so, he said, "I would be killing my entire family."
He said his cousin had left for Los Angeles after his family received several threats from the Barrio 18 gang. His mother and sister moved to a different neighborhood while the boy headed for the U.S. They simply abandoned their house in Chamelecon, one of the city's roughest areas.
Some neighborhoods feel like tropical ghost towns because scores of residents have fled the violence fomented by two of the country's most notorious gangs, Mara Salvatrucha and Barrio 18.
A faded Polaroid sent from the U.S. and a torn-out page from a coloring book are the only indications of life in one abandoned home in the Palmira neighborhood.
The San Pedro Sula morgue reports 594 homicides in the surrounding northwestern region as of mid-July. A total of 778 people were slain last year.
Valdete Wileman, a nun who runs the Center for Returned Migrants in San Pedro Sula, said about 80% of the children who had been returned from the U.S. had been seeking to escape the gang violence.
Wileman said she was particularly concerned about children who once served as gang lookouts.
"Some of these children are threatened with their lives," she said. "And now they are being forced to return to the same place."
Other children head for the U.S. after the rest of their families have been killed. Although some of these deportees move to other neighborhoods here, many don't have the money to relocate. And the gangs, with ties throughout the country, could track them down anyway.
Wileman said she has neither the resources nor the means to help, because the government barely funds the center.
"This is the responsibility of the government. This is the responsibility of the entrepreneurs who run this country … those who are in power," she said. "All I can do is pray."
Just a few days after Sosa, now 19, was deported from the U.S., he was shot at by gang members while walking to the corner store for a soda. He said he didn't have allegiances with any gang and didn't know why he was targeted.
His second unsuccessful emigration attempt came after a friend was fatally shot and left to die in a neighborhood alley.
While saving money for a third attempt, he rarely steps outside the front door, declining birthday party invitations and shunning soccer games in the neighborhood.
"If you leave your home, you don't know if you'll return."
He knows the trip north will be perilous but says he doesn't see any choice.
"What am I going to do?" he said. "It's more dangerous to stay here."
So when it's time to again depart, he'll do what he did before: He'll get out his backpack, but he won't tell a soul, fearing word may get out to gang members who'll prevent him from leaving.
Must-read stories from the L.A. Times
Get the day's top news with our Today's Headlines newsletter, sent every weekday morning.
You may occasionally receive promotional content from the Los Angeles Times.