Reporting from Mexico City —
In the United States, President Trump has condemned the migrant caravan advancing toward the U.S.-Mexico border as an invading force of criminals who threaten national security.
In Mexico, where the roughly 5,000 Central American migrants are ready to embark on the next stage of their northward odyssey, the welcome has been much warmer, but not universally so.
"We can't receive a large number of people," Veracruz Gov. Miguel Angel Yunes grumbled last week as the caravan crossed into his Gulf Coast state. "There have been migrants in Veracruz for a long time, begging in the streets. It's a grave social problem."
His stance was a notable departure from the widely accepted tenet that aiding the northbound multitudes is a kind of Mexican civic duty.
But it offered a window into Mexico's deeply conflicted posture toward the caravan, which has become an explosive political issue as Mexican leadership — set to change in a few weeks — finds itself yanked between two opposing forces: oft-professed support for human rights for migrants and fear of antagonizing Trump.
Though exhausted, homeless and in the country illegally, the mostly Honduran migrants have acquired vocal allies and advocates and become a political force in their own right.
In a little more than two weeks since crossing the country's southern border with Guatemala, they have traveled 750 miles, moving hastily through Veracruz and on to Mexico City, where they hunkered down in the relative comfort of a sports complex in recent days.
At least 500 migrants hit the road north on Friday, and most of the rest apparently planned to resume their long trek again Saturday. The U.S.-Mexico border is still hundreds of miles away.
"This is a huge dilemma for Mexico," said Jorge G. Castañeda, a political scientist at New York University and a former foreign minister of Mexico. "And no one really knows what to do about it."
The rival pressures on Mexican officials have yielded a contradictory good-cop, bad-cop response.
To the domestic audience, they seek to project an image of helping the migrants, who like the millions of Mexicans in the United States illegally left home to improve their lives.
To Washington, Mexico's leadership wants to be seen as doing everything possible to restrain the caravan.
"Mexico is stuck between a rock and a hard place," noted Rafael Fernandez de Castro in El Financiero newspaper.
Decisive action to impede the caravan would leave Mexico looking like "Trump's anti-immigrant hunting dog," the columnist wrote, while doing nothing risks incurring the wrath of a U.S. president who has threatened to retaliate if Mexico fails to halt the caravan.
Mexican citizens have generously reached out to assist caravan participants, providing food, shelter and other necessities along the road.
But the frosty greeting from the Veracruz governor underscored an often-obscured reality: In Mexico, as in the United States, many view the Central American asylum seekers in less than flattering terms: potential criminals, low-wage job competition and drains on public resources.
"It's not fair that officials treat them like kings — they give them food, water, medicine, it's not right," said Antonio Contreras Diaz, 54, an electrician who lives in the working-class district adjoining the sprawling sports facility where caravan members have been staying. "There's also a lot of poverty in Mexico. Why don't authorities do the same for Mexicans?"
For Mexico, the timing of the caravan quandary is hardly propitious. Officials are trying to figure out what to do just as the country prepares for a change in leadership.
During his almost six years in office, President Enrique Peña Nieto, responding to pressure from the United States, bolstered enforcement on Mexico's border with Guatemala and ramped up deportations of Central Americans. That generated criticism that Mexico was doing Washington's "dirty work" on its southern flanks.
In his final weeks in office, however, the profoundly unpopular Peña Nieto lacked a mandate to take decisive action to halt the caravan.
President-elect Andres Manuel Lopez Obrador, who assumes power on Dec. 1, has proposed giving work visas to migrants and augmenting aid to Central America, in line with his leftist populist ideology. The idea hasn't generated much enthusiasm.
A national poll by the Mitofsky Group showed a bare majority of Mexicans — 50.7% — backed the president-elect's plan. But a significant minority — 42.1% — rejected his proposal to help the Central Americans.
As the caravan approached Mexico's southern border last month, Mexico's equivocal response was in full view.
The government deployed police in riot gear in a high-profile effort to stop caravan members from storming gates on a bridge along the country's southern border with Guatemala. Trump publicly thanked Mexico amid televised images of cops with plastic shields tossing tear gas and holding back insistent throngs.
Shortly thereafter, however, the Central Americans simply boarded crude rafts and crossed illegally into Mexico via the muddy Suchiate River, which forms a slice of the long frontier between Mexico and Guatemala. Mexican authorities did nothing to obstruct the amphibious advance.
The prospective optics of a violent river clash — pitting Mexican police against bedraggled migrants, including women and children — was too much to risk in a country where voicing solidarity with Mexican immigrants in the United States is a political requisite.
"There's not a whole lot you can do with migrants once they are in the middle of the river with babies," said Castañeda, Mexico's ex-foreign minister.
Mexico's mixed signals appear to have encouraged others to emulate the caravan approach, traveling north in large, semi-cohesive groups. At least two new caravans of U.S.-bound Central Americans numbering roughly 3,000 have entered Mexico in recent weeks.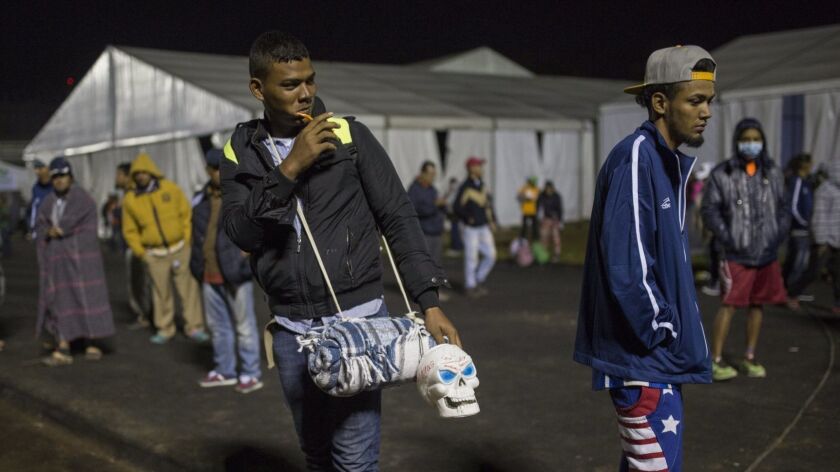 Mexican authorities continue seeking to peel off the voyagers with offers of residency status, jobs and other benefits, but takers appear relatively few.
"This is just a temporary stop," said Nixa Nuñez, 33, who traveled from Honduras with her three daughters and settled into one of the huge family tents set up on the sports field here. Their hope is to join relatives in the Los Angeles area.
"We all want to go to the United States," she said.
Even as thousands of U.S. troops amass along the southwest border, and Trump vows that the caravan will be stopped, Mexican officials seem unable to act to head off a possible climactic showdown at the country's northern boundary.
"There's really not much they [Mexican officials] can do but hope that it goes away," Castañeda said. "It's way too sensitive, now that they've let them all in. … I think they're hoping Trump will forget about it once the election is over and move on to the next thing. I don't think he will, but that's what they're hoping."
Staff Writer Kate Linthicum and special correspondents Cecilia Sanchez and Liliana Nieto del Rio contributed to this report.
Twitter: @PmcdonnellLAT
---