Mexico pledges $30 billion in development aid in part to deter migration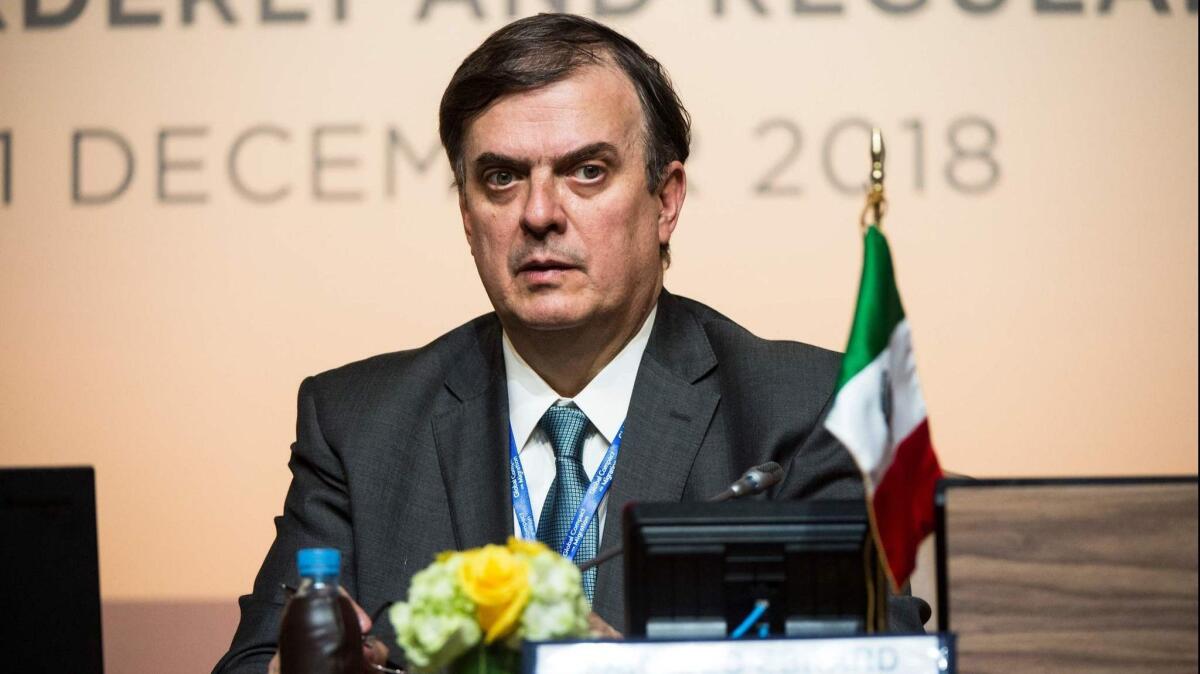 Reporting from Mexico City —
Mexico's new government — under pressure from the Trump administration to curb illegal immigration to the U.S. — will pump more than $30 billion into development for southern Mexico, an investment plan meant in part to deter illicit migration from Central America, the country's top diplomat said Monday.
Speaking at a global migration conference in Marrakech, Morocco, Foreign Secretary Marcelo Ebrard pledged that Mexico would embark on a five-year investment scheme for job-creating projects in impoverished southern Mexico that would also help spur development in Honduras, Guatemala and El Salvador. Those three so-called Northern Triangle nations account for most U.S.-bound migrants, including members of the controversial "caravans" that have converged on Tijuana.
The idea, Ebrard said, was to reduce poverty — a major root cause of migration — and thus cut an incentive for people to leave their homelands.
Mexico hopes to "compete in a successful way with the narrative that is being imposed in much of the world, including in the Americas, that the best way to confront migration is to exclude it and control it," Ebrard, accompanied by Central American diplomats, said in Marrakech.
But Mexico's new foreign secretary did not specify how money spent in the south of his nation would aid development in Central America. Authorities said more specifics would be available in coming weeks.
No additional U.S. aid was mentioned, but Ebrard said other countries had expressed "much interest" in the plan.
The plan comes as the Trump administration increases pressure on Mexico to take more forceful actions to halt Central American migration. President Trump has threatened to close the U.S. border with Mexico and cut off aid to Central American countries if asylum seekers and others continue to press for entry into the United States.
Meanwhile, talks continued between Mexican government representatives and Trump administration officials as Washington seeks to implement a new policy that would force Central American asylum seekers to remain in Mexico while their claims are processed.
U.S. immigrant advocates question the legality of the Trump administration plan — known as "Remain in Mexico."
Mexico has resisted this proposal, which the White House views as a means to reduce escalating numbers of Central Americans trying to enter U.S. territory. Some Mexican officials are wary of acceding to Trump's wishes and placing a new burden on the country's northern border towns.
Ebrard met this month in Washington with Secretary of State Michael R. Pompeo and Homeland Security Secretary Kirstjen Nielsen, but no new agreement on migration has been announced.
Asked how the negotiations were proceeding, a State Department spokesperson said, "The United States enjoys excellent cooperation with Mexico on a broad range of political, security, migration and economic issues. Secretary Pompeo speaks frequently with his Mexican counterpart."
Mexican President Andres Manuel Lopez Obrador unveiled a "comprehensive development plan" for the three Central American nations on Dec. 1, the day of his inauguration. But his foreign secretary's comments on Monday mark the first official commitment of Mexican funds to the project — though all of the money, at least for now, appears earmarked for Mexico.
"This [plan] at least deals with the fact that you can't stop migrants from coming unless you create conditions to allow them to stay at home," said Maureen Meyer at the Washington Office on Latin America, a human rights advocacy organization.
The new development program does not appear to address the issue of crime in Central America, another major factor in pushing migrants northward. And it was unclear what if any anti-corruption safeguards would be envisioned if additional aid were sent to Central America, where graft has long been a major problem.
Eric Olson, a consultant to the Mexico Institute at the Woodrow Wilson Center in Washington, called Mexico's sweeping plans more "notional" than actual, noting that the country was already facing major financial challenges on a number of fronts.
Lopez Obrador has announced a number of costly new infrastructure and social welfare programs for Mexico, though he has also said that the country was "bankrupt." Many observers are skeptical of his vows to fund his ambitious agenda by reducing corruption and cutting government spending.
The topic of migration remains a sensitive one in Mexico, long a major source of immigrants — going both legally and illegally — to the United States.
Mexico's new president has consistently vowed to respect the "human rights" of migrants and argued that job-creating investment — not increased law enforcement — was the best means to deter illicit migration. He has offered to provide working papers and temporary residency for Central Americans living in Mexico.
"We want migration to be optional, and not an obligation," Lopez Obrador said repeatedly before taking office.
Lopez Obrador's predecessor, former President Enrique Peña Nieto, complied with U.S. demands to bolster enforcement along Mexico's southern border with Guatemala. Mexican authorities have deported tens of thousands of Central Americans in recent years, drawing charges that Mexico City was doing Washington's "dirty work" along its southern frontier.
Times staff writer Molly O'Toole in Washington and Cecilia Sanchez of The Times' Mexico City bureau contributed to this report.
Twitter: @PmcdonnellLAT
Twitter:@TracyKWilkinson
Sign up for Essential California for news, features and recommendations from the L.A. Times and beyond in your inbox six days a week.
You may occasionally receive promotional content from the Los Angeles Times.