Widespread killings of candidates cast shadow over Mexican elections
Reporting from Mexico City —
The hit men arrived by motorcycle at high noon, stepped into the Toreo Restaurant and, without uttering a word, opened fire on Antonia Jaimes Moctezuma.
Then they sped away, their mission completed.
Jaimes was a 47-year-old mother of two, the owner of the restaurant and aspirant for a state congressional seat. Her killing on Feb. 21 in the city of Chilapa, in Mexico's violence-plagued Guerrero state, is among more than two dozen assassinations of candidates running for office in July.
"The situation of insecurity is very grave here," said her widower, Moises Acevedo. "But not only in Chilapa. They're killing candidates all over the country."
Authorities have confirmed the slayings of at least 30 candidates, according to Alfonso Navarrete, Mexico's interior secretary. Some reports indicate the toll since last year may be almost twice as high.
The killings — mostly of local candidates in provincial areas far from the Mexican capital — form a chilling backdrop to the July 1 elections, which include races for president, Congress and local posts across the country. In all, more than 3,000 offices are up for grabs, the most ever on a single day.
The slain candidates represented a range of political affiliations and movements, suggesting that the killings are more about local power grabs and gang rivalries than national conflicts among parties. The great majority of victims lacked the security teams and public renown that offer some measure of protection for national and other high-profile office-seekers.
Most of the killings have garnered little attention from national news outlets, which are heavily focused on the presidential contenders, who appear daily on television.
Among the most recent victims is Aaron Varela Martinez, a mayoral candidate in Puebla state who was found shot to death on March 1 in his vehicle outside the town of Santa Clara Ocoyucan. A lawyer, Varela was a member of the leftist National Regeneration Movement, known as Morena.
His campaign vow: "Not to lie, not to betray and not to rob."
Also last month, a Morena congressional hopeful was shot on a street in the northern state of San Luis Potosi, but survived.
The litany of attacks has generated profound concern here and abroad about the state of Mexican democracy.
"Mexico is suffering a risk in the legitimacy of its electoral processes," said Erubiel Tirado, a political scientist at Mexico's Iberoamerican University and an expert on violence. "The question here is: Does the Mexican state really have the capacity to protect [candidates]? I believe that it doesn't."
The increase in political slayings "is absolutely unacceptable in an electoral process," said Luis Almagro, secretary general of the Organization of American States, which plans to send a team to observe Mexico's July voting.
"It's an average of one murder of a candidate every four or five days," he told reporters in Madrid last month. "We are very worried."
Most cases remain unresolved, despite authorities' vows to investigate. Motives remain murky, but many suspect both internal political disputes and gangs' determination to retain or assert control of the political system in their backyards.
The attacks, the interior secretary recently told reporters, are "very focused on some regions of the country," mostly in areas where organized crime often holds an insidious grip on power and federal law enforcement is stretched thin.
"That doesn't mean we are not taking steps," the interior secretary said. "We could do it in a much better manner in an electoral year, be much more effective."
Among the hardest-hit places is the state of Guerrero, where political corruption is rampant and sundry factions vie for control of drug trafficking, extortion, kidnapping and other rackets. Mobsters routinely buy off local cops and politicians. Since the beginning of 2017, more than a dozen candidates have been reported slain in Guerrero.
The situation has become so volatile in Guerrero state that Roman Catholic Bishop Salvador Rangel Mendoza held an extraordinary, Good Friday summit with cartel leaders pleading for an end to the targeting of political aspirants.
"I asked above all that they please try not to assassinate politicians," he told an interviewer from Mexico's Milenio television, describing his conversation with the narcos. "I also asked that they allow them [candidates] to conduct their campaigns freely."
Rangel, who met a firestorm of official criticism for his unorthodox approach to the capos, said he extracted a vow that candidates would not be placed on hit lists.
But Mexico's recent history suggests that such a promise may be illusory.
There were no assassinations of mayors during the 1980s and 1990s, according to Justice in Mexico, a research project at the University of San Diego. But today, being a mayor or other regional lawmaker may be among the country's most dangerous jobs.
Mexico's National Assn. of Mayors recently reported that more than 100 mayors, mayors-elect and ex-mayors had been slain since 2006.
That was the year when then-President Felipe Calderon, with U.S. backing, launched a new chapter in Mexico's war on drugs, including the so-called kingpin strategy that targeted cartel leaders, resulting in battles for fragmented trafficking empires. The last decade has seen heightened intra-cartel clashes, shootouts between traffickers and government forces, and a surge in killings and "disappearances" of citizens.
By 2016, when six mayors were killed, Mexican mayors were nearly 12 times more likely to be killed than members of the general population, according to an analysis by Justice in Mexico.
In one particularly disquieting case, gunmen stormed the home of Gisela Mota shortly after dawn on Jan. 2, 2016, and executed her. The first female mayor of the city of Temixco in Morelos state, Mota had campaigned on an anti-corruption pledge. It was her second day on the job.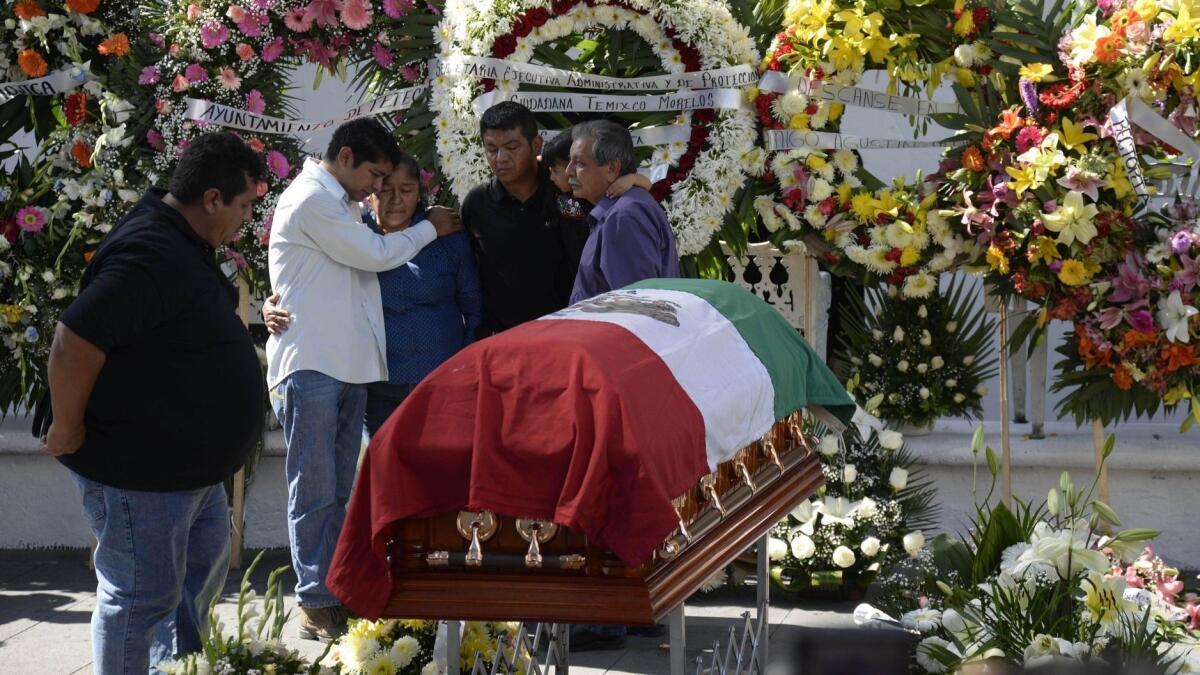 In places like Morelos and Guerrero states, lawmakers must walk a fine line between elected responsibilities and not upsetting hyper-violent criminal syndicates. Even politicians inclined to be honest, observers say, are often obliged to forge a modus vivendi with the gangs.
In areas where turf is disputed, politicians may be viewed as allies of one rival faction or another.
"An organized crime group may believe that a mayor is collaborating with another group and needs to be removed immediately," said Laura Calderon, program officer for Justice in Mexico. "Or organized crime may feel betrayed that a mayor refused to collaborate, so they need to delete the mayor from the picture."
Political killings may also serve as especially potent messages from the underworld.
In June 2014, the bullet-riddled body of a former councilwoman from San Miguel Totolapan in Guerrero state was found with a placard declaring: "This is going to happen to anyone who passes information to 'the fish.'"
The warning was from Los Tequileros, or the Tequila Drinkers, the dominant cartel in the area. "The fish" was the leader of a rival gang known as the Michoacan Family.
At the time of her assassination in Chilapa, Jaimes was running for the state congress under the banner of the left-leaning Party of the Democratic Revolution.
The former city councilwoman understood the risks in Chilapa, a sprawling municipality of 120,000 that has become one of the country's deadliest places. Two gangs — the Reds and the Squirrels — compete for surrounding terrain to grow poppies, the source of heroin smuggled to the United States.
Four days after Jaimes' killing, another candidate from Chilapa for the same congressional seat was found shot dead, stuffed alongside the body of a slain cousin in the trunk of a car left on a roadside. Dulce Rebaja Pedro, 28, was a member of the Institutional Revolutionary Party, which holds Mexico's presidency, and headed regional committees on indigenous and Afro-Mexican affairs.
The violence in Chilapa has not let up.
On Thursday, police discovered five bodies dumped along a highway. That evening, officials said, Chilapa's chief of security was riding in a police car along the same road when assailants opened fire and killed him.
The slayings of the two state congressional candidates prompted at least one political aspirant from Chilapa to drop out of the same race.
But political parties have vowed to put forward new candidates.
To read this article in Spanish, click here
Twitter: @PmcdonnellLAT
Cecilia Sanchez of The Times' Mexico City bureau contributed to this report.
Sign up for Essential California for news, features and recommendations from the L.A. Times and beyond in your inbox six days a week.
You may occasionally receive promotional content from the Los Angeles Times.