Mexican president says country will not compromise its 'dignity' when dealing with the U.S.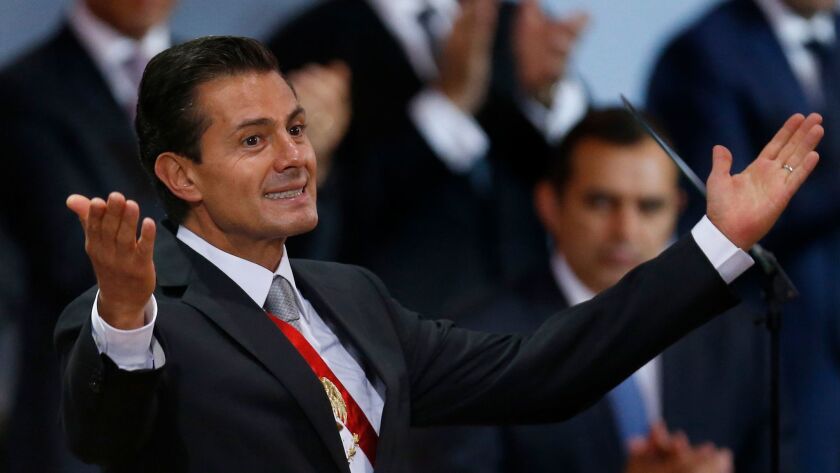 Reporting from Mexico City —
Making his final state of the union address before national elections next year, Mexican President Enrique Peña Nieto on Saturday received a thunderous standing ovation when he vowed that Mexico would not compromise its national "dignity" in the country's rocky relations with the Trump administration.
"I have said it and I will reiterate it: We will not accept anything that goes against our dignity as a nation," said Peña Nieto, prompting the largest applause of the day from a crowd of gathered dignitaries. "I am sure that in unity we will be able to defend the dignity of Mexico and its national interest."
The Mexican president did not mention President Trump by name during his 70-minute speech at the National Palace in downtown Mexico City.
But his comments underscored a more robust stance that Mexico City has assumed in the face of Washington's continued threats to cancel the North American Free Trade Agreement — a cornerstone of Mexico's economy — and Trump's insistence that Mexico will foot the bill for his plan to build a wall along the 2,000-mile border.
We will not accept anything that goes against our dignity as a nation.
Enrique Peña Nieto, Mexican president
The Mexican president did not refer directly the contentious wall proposal — he has repeatedly insisted that Mexico will not pay for it — but assured the country that Mexico's interests would be paramount in ongoing talks to retool NAFTA.
Peña Nieto also sent out Mexico's "recognition, admiration and solidarity without reserve" to the "young dreamers," immigrants who arrived in the U.S. as minors and are shielded from deportation under an Obama administration initiative known as Deferred Action for Childhood Arrivals.
Trump is expected to announce on Tuesday whether he will terminate the so-called DACA program, which has provided temporary legal status to almost 800,000 young men and women, mostly from Mexico. More than one-quarter of DACA beneficiaries reside in California.
Peña Nieto's address came as officials from Mexico, the United States and Canada are in Mexico City engaging in the second round of complex talks to renegotiate the 23-year-old pact that eased trade barriers between the three nations.
Trump has repeatedly labeled NAFTA a "disaster" for the United States and threatened to scrap the deal. U.S. negotiators are seeking substantial changes to help reduce Washington's more than $60-billion annual trade deficit with Mexico.
Mexico has says it will pull out of the NAFTA talks if Trump gives the required six-month notice indicating that the United States plans to terminate the trade pact.
Few expect major breakthroughs in the current round of NAFTA negotiations, which are scheduled to end Tuesday. Future rounds of negotiations in all three countries are expected to drag on through the end of the year at least.
Pointedly, Peña Nieto signaled that Mexico was keen to broaden its economic relationship beyond the United States, which accounts for about 80% of Mexico's foreign trade.
"The prosperity of Mexico does not depend on one sole relationship, but rather on the maintenance of mutually beneficial links with countries all over the world," he said, adding that Mexico "has a global vision."
In that vein, Peña Nieto voiced the hope for finalization of a new free-trade pact under negotiation with the European Union and for expanded commerce with China and Japan. The Mexican president is headed to China next week in a bid to strengthen commercial ties with Beijing.
The advent of the Trump administration and its perceived anti-Mexico stance have prompted Mexican economists and lawmakers to stress the nation's need to diversify its overseas economic strategy.
But most of Peña Nieto's address Saturday was dedicated to domestic issues, notably the problem of growing violence and crime. Mexico's homicide rate has soared this year, contributing to the president's near record-low approval ratings.
"To regain security is the major demand of society and the highest priority of the government of the republic," Peña Nieto said, without offering any bold new measures. "We have a lot to do."
Criminal gangs, often acting in concert with corrupt cops and politicians, exert considerable control over much of the country. Critics say the rising homicide rate is indicative of how the Peña Nieto administration has failed to break the pernicious nexus between organized crime and corrupt governance that has shackled Mexico for years.
The state of the union address is traditionally a moment for Mexican presidents to list their accomplishments. Peña Nieto cited what he called improvements in various fields, including the economy, security, public education and restoring infrastructure.
But his political adversaries immediately denounced the speech as more spin than reality.
The president's discourse "did not correspond to the reality that people are living every day," Marti Batres, head of the left-wing Morena Party in Mexico City, told the Milenio television network. "We are going backward…. We need a political change in this country."
Mexico's presidential election is scheduled for next July 1. By law, Peña Nieto cannot succeed himself once his six-year term ends next year. The president's low approval ratings have cast doubts on the ability of his ruling Institutional Revolutionary Party to maintain power in next year's national balloting. A major challenger is Morena's Andres Manuel Lopez Obrador, twice-defeated presidential hopeful who is expected to make a third run next year.
Peña Nieto is scheduled to give one more state of the union address, after the presidential elections, but he will by then be a lame duck.
twitter: @mcdneville
Cecilia Sanchez of The Times' Mexico City bureau contributed to this report.
ALSO
Los Cabos is no longer a haven from Mexico's bloodshed
Mexico signals tougher stance on NAFTA, may pull out of talks if Trump moves to scrap deal
The 1985 murder of a DEA agent still haunts Mexico. Finally, a drug lord gets sentenced in the case
---
The Latinx experience chronicled
Get the Latinx Files newsletter for stories that capture the multitudes within our communities.
You may occasionally receive promotional content from the Los Angeles Times.