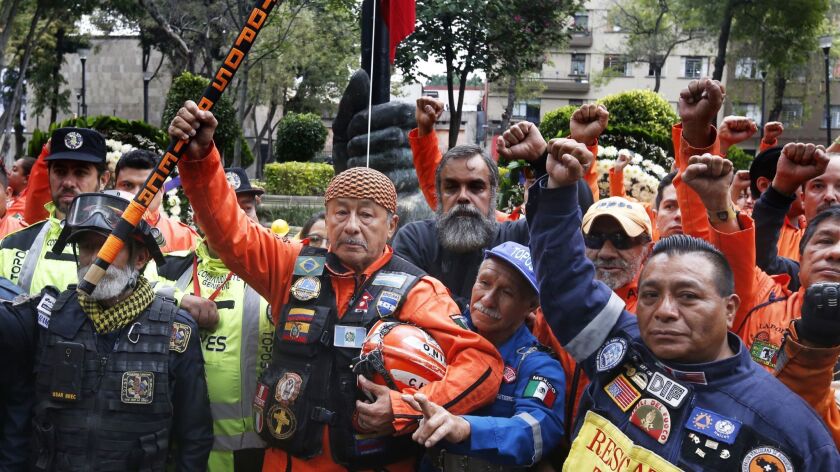 Reporting from Mexico City —
Olga Matamoros recalls running out of her swaying apartment building, certain that the six-story structure would collapse before she reached safety.
"When I got outside I saw a disaster: Dust everywhere, the building in ruins, and I unable to move," said Matamoros, 65, sobbing at the recollection. "A neighbor helped me because I couldn't react. It was the worst experience of my life."
That was one year ago, on Sept. 19, 2017, when a magnitude 7.1 quake struck, killing 228 people in the capital and 141 more elsewhere in Mexico. The earthquake hit 32 years to the day after the even more destructive 1985 quake that killed thousands.
Among the dead last year were nine who perished in the collapse of Matamoros' former home, Building 1C of the so-called multi-family Tlalpan development in the southern fringes of Mexico City. The complex consisted of 10 buildings with 500 apartments, and while only one building collapsed, engineers have yet to declare the other structures safe.
Matamoros and more than 1,000 other former Tlalpan residents are among multitudes in Mexico City who have had to arrange alternate housing while waiting on official word about whether their onetime residences will be reconstructed.
"Nothing has been done for us," said Matamoros, who attended a Catholic Mass in honor of the victims in a church across the street from the empty complex.
Across Mexico City, hundreds of heavily damaged buildings remain uninhabitable. Demolition has proceeded at sluggish pace, while repair work has been even more desultory. Residents left without homes because of the quake were among hundreds who marched in the afternoon to the center of Mexico City, hoisting posters demanding reconstruction. "We don't want commemorations, we want our homes," read one poster.
Capital residents have become accustomed to walking around the yellow tape and plywood boards cordoning off damaged structures. For most, life has returned to normal. Bars and cafes have reopened, patrons oblivious to the empty buildings and vacant lots where buildings once stood.
Throughout the city on Wednesday, officials and residents held solemn remembrance ceremonies.
President Enrique Peña Nieto presided over the raising of the Mexican flag, at half-staff, in the central plaza, or zocalo.
At 1:14 p.m., the hour of last year's quake, residents across the city held a moment of silence.
People gathered at many of the sites of the 40 or so collapsed buildings, where most of the fatalities occurred. Mourners left flowers and candles. Some shed tears. There were even joyful reunions between rescuers and the rescued.
"I dreaded even thinking of this day," said Jose Antonio Vazquez, 42, who was among those gathered at what has become an iconic site — the former six-story office building at Number 286 Alvaro Obregon Ave., in the capital's central Roma Norte district.
The office building's collapse last Sept. 19, just before the lunch hour, resulted in the largest number of fatalities at any one site. The final death toll: 49 — 30 men and 19 women.
Vazquez was a workman in the building. He was leaving the fourth floor to get something to eat when the structure began to shake. He rushed to an emergency staircase and was outside on the sidewalk just before much of the structure came crashing down.
"I was saved by a question of seconds," Vazquez said. "It was a matter of inches."
Rather than go home, he stayed on as a volunteer rescuer for more than a week, helping to save half a dozen people trapped inside — including the building's former owners, a father and son. He was lauded as a "hero" at Wednesday's ceremony, but said he wasn't seeking any recognition.
"I'm just happy to be alive, happy that I was able to help some people stay alive," said Vazquez, who was accompanied by his wife and three children.
Among those inside the office building on Alvaro Obregon when it collapsed was Erick Martin Acosta, 23, who had begun work there six months earlier as an accountant at a firm housed in the structure.
His family was one of the many that held hopeful vigils on the street outside the collapsed building for days as rescue workers combed through the ruins, seeking survivors. Relatives held out hope to the end that Acosta would be among them. Rescuers pulled about 30 people alive from the rubble pile.
The body of Acosta was found on Sept. 29, 10 days after the quake.
"He suffered a major blow on the head and was immediately unconscious," recalled his brother, Omar Barrera, 25, who was among the family members carrying a poster commemorating Acosta — with color photos of him on his motorbike, and smiling in various poses.
"We don't think he suffered any pain," Barrera said.
The city purchased the property on Alvaro Obregon with the intention of erecting a monument for the victims. But community groups have objected. Critics called the planned monument unseemly, alleging that widespread corruption covered up building-code violations and contributed to the death toll in the quake. The project is on hold.
"Monuments no, reconstruction yes," reads a spray-painted sign on a wall facing the vacant lot where the office building once stood.
Miles to the south, at the Tlalpan housing complex, Matamoros and others are losing hope that their homes may be rebuilt.
"A year has passed and we are stuck in the same situation," said Matamoros, who has been living with her sister. "I can't sleep like I did before the earthquake. My health has declined. My life has changed completely."
Here, too, people say they don't seek a monument. They want their homes back, said Cristian Garcia Guzman, 25, whose sister, Viridiana Garcia Guzman, 29, the mother of a 9-year-old boy, was among those who perished in the Tlalpan collapse. She lived on the second floor of Building 1C, the doomed structure.
"We can't get my sister back, she is gone," said Garcia. "But people should have their homes back. Everything else — the monuments, the homage paid to the dead — it's all a farce. People need to be able to return to their homes."
McDonnell is a Times staff writer and Sanchez is a special correspondent in The Times' Mexico City bureau.
---