Three missing Mexican students were slain, their bodies dissolved in acid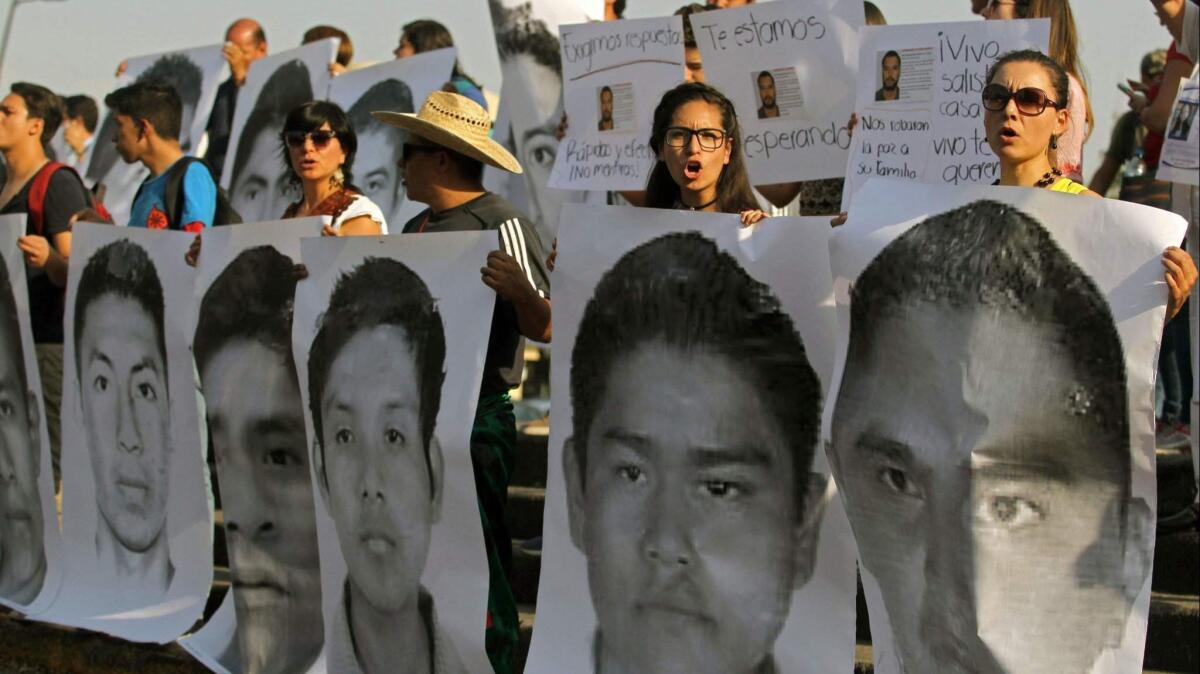 Reporting from Mexico City —
Three Mexican film students whose disappearance last month sparked large-scale protests in the city of Guadalajara were beaten, killed and their bodies dissolved in acid, Mexican authorities said Monday.
Two suspects have been arrested in connection with the gruesome crime, said officials of the attorney general's office in Jalisco state, which includes Guadalajara. Arrest warrants have been issued for six other suspects.
The investigation is continuing, the Jalisco state attorney general, Raul Sanchez, told reporters in a videotaped news conference providing shocking new details on the closely watched case.
Prosecutors blamed a "criminal group"— which they believe to be the powerful Jalisco New Generation Cartel — for the crime. Dissolving human remains in acid to conceal traces of slain victims is a tactic associated with drug cartels in Mexico.
Why the three young men were targeted has been a matter of intense speculation since their disappearance March 19. None of the three had any known link to criminal gangs, authorities stressed. But on Monday investigators revealed what they called a probable motive for their abduction and slayings.
According to official accounts, on the day of their disappearance the three students had been doing schoolwork in a house in Tonala, a Guadalajara suburb, associated with a major criminal figure. The house belonged to the aunt of one of the students, authorities said. Rival traffickers were "watching" the house, and the presence of the three men probably aroused suspicions, authorities said.
Heavily armed men who identified themselves as police officers later led the three away from their vehicle, which had stopped because of a mechanical problem, according to witness accounts.
Jalisco state in central-west Mexico is home turf of a number of organized crime syndicates, including the Jalisco New Generation Cartel, considered among Mexico's fastest-growing and most violent.
Authorities said genetic evidence found at two of three homes linked to the crime provided a forensic connection to the students — Javier Salomon Aceves, 25; Jesus Daniel Diaz, 20; and Marco Garcia Avalos, 20. All studied at the University of Audiovisual Media in Guadalajara.
In one residence that was searched, authorities said, investigators found firearms and 46 barrels of sulfuric acid. Police suspect that the bodies of other victims besides those of the students may have been disposed of in that site.
It was not exactly clear how the three students were killed.
But Lis Torres, who headed the investigation, told reporters that one student was beaten so savagely that he died. The kidnappers then concluded that they "had to execute the other two," she said.
Authorities said that, following their abduction, the three were first taken for "interrogation" to a residence outside Guadalajara. Blood believed to be from one of the students, Garcia, was found at the site of the interrogation, authorities said.
Many questions remain unanswered about the case. Authorities declined to provide extensive details about the genetic evidence gathered in the searches of three residences linked to the crime.
The disappearances — which came amid a spat of kidnappings, killings and other crimes in Jalisco state — ignited huge street protests in Guadalajara demanding that authorities find the three, along with a parallel social media campaign.
Among those condemning the abduction of the film students was Oscar-winning director Guillermo del Toro, a native of Guadalajara who has contributed substantially to film education in Mexico.
To read this article in Spanish, click here
Cecilia Sanchez of The Times' Mexico City bureau contributed to this report.
Twitter: @PmcdonnellLAT
Sign up for Essential California for the L.A. Times biggest news, features and recommendations in your inbox six days a week.
You may occasionally receive promotional content from the Los Angeles Times.