He defended the sacred lands of Mexico's Tarahumara people. Then a gunman cut him down
Reporting from GUACHOCHI, Mexico —
Isidro Baldenegro Lopez, a son of the jagged and often lawless terrain of the western Sierra Madre, had no illusions about the threats he faced from sundry foes — drug traffickers, illegal lumber harvesters and other criminal elements who have infiltrated the remote highlands that are home to Mexico's Tarahumara people.
But relatives and friends say the indigenous leader, who won global acclaim for his defense of the region's ancient forests, could not be deterred from returning to Coloradas de la Virgen, his remote home village, a place cut off by mighty canyons and thuggish violence.

For the record:
5:45 p.m. March 21, 2017An earlier version of this article said that Julio Baldenegro, the father of activist Isidro Baldenegro Lopez, was slain in 1987. He was killed in 1986.
"Isidro felt like he had work to do, he had to help his people," recalled his sister-in-law, Maximina Carrillo Torres, who, like much of the extended family, has fled Coloradas de la Virgen. "That's what he always did. That was his life."
Baldenegro — a 2005 recipient of the Goldman Environmental Prize, the so-called Green Nobel — was shot six times on Jan. 15 at his uncle's adobe home in Coloradas de la Virgen, south of majestic Sinforosa Canyon.
Two weeks later, a second Tarahumara community leader and environmental campaigner, Juan Ontiveros Ramos, 42, was forcibly taken from his home in the same rural municipality and shot and killed.
ENVIRONMENTAL WARRIORS: Defending the environment has become a suicide mission in many parts of the world »
The killings — like the slaying last year of Bertha Caceres, an indigenous anti-dam campaigner in Honduras and 2015 recipient of the Goldman Prize — dramatize how environmental issues have become a front-line human rights battleground in Latin America and elsewhere.
At least 200 environmental activists worldwide were killed in 2016, the highest such death toll on record, according to Global Witness, a British-based watchdog group. At least 33 ecological activists were killed in Mexico between 2010 and 2015, Global Witness said.
This month Chihuahua state prosecutors said they had arrested Baldenegro's killer, whom they identified only as Romeo R.M., age 21.
Authorities say he confessed to shooting the 50-year-old Baldenegro with a .38 Super pistol, hitting him in the chest, abdomen and right leg, because of long-time "personal" animosities.
But activists and relatives suspect a crime boss deployed Romeo as a sicario, or hired gunman, to eliminate once and for all the meddlesome anti-logging campaigner, one of Mexico's best-known environmental advocates.
"We acknowledge that Romeo was the killer of Isidro, but not the mastermind behind the assassination," said Isela Gonzalez Diaz, an anthropologist who heads the Sierra Madre Alliance, a nonprofit advocacy group. "We urge authorities to solve his murder and those of other indigenous people who have been killed for their environmental activities."
The mountain range here is formally known as the Sierra Madre Occidental, but often called the Sierra Tarahumara, after the indigenous group celebrated for their legendary ability to run for dozens, if not hundreds, of miles. They call themselves "Raramuri," a Tarahumara word that refers to their acumen for running.
The Sierra Tarahumara is regarded as one of the world's most diverse ecosystems, a region of snow-covered peaks, pine-studded mountains and four canyons that rival the grandeur of Arizona's Grand Canyon.
"For us, the Tarahumara, all the hills are sacred because in them the [shamans] conduct their ceremonies to cure illnesses," Baldenegro said when he accepted the Goldman Prize. "All the forest, the sky, the sun, the stars, the moon we see as living beings with souls and life like us."
Activists blame endemic violence in the region on the influx of drug traffickers and allied illegal timber harvesters, among other criminal gangs, often acting in concert with corrupt authorities. The mobs recruit as mules and foot soldiers area men who see few economic horizons in the impoverished and drought-stricken highlands.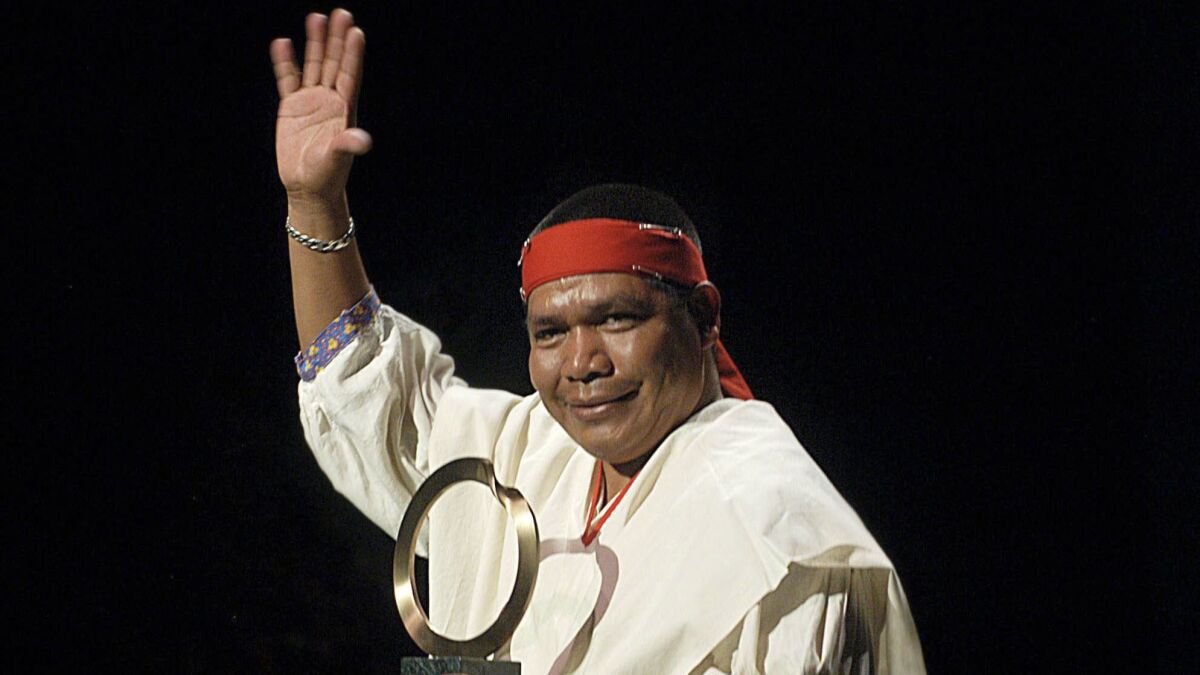 Crime bosses launder drug proceeds through timber and ranching operations in an region where 99% of the old-growth forest has already been logged, according to environmental groups.
"There has been a complete breakdown of the social fabric in some parts of the Sierra," said Gonzalez Diaz of the Sierra Madre Alliance. "Criminal organizations intimidate the people and try to strip them of their land, provoking forced displacement."
The swath of southern Chihuahua state where the two recent murders occurred is situated within Mexico's "Golden Triangle," a major cultivation zone for marijuana and the opium poppy used to produce heroin for the booming U.S. market. The region's rugged terrain, lack of law enforcement oversight and proximity to the U.S. border have made it a prime production and smuggling hub.
The triangle region, including parts of neighboring Sinaloa and Durango states, is generally regarded as turf of the powerful Sinaloa cartel, once headed by Joaquin "El Chapo" Guzman, the legendary capo recently extradited to the United States.
Last year, the municipality of Guadalupe y Calvo — where both Baldenegro and Ontiveros were killed — led the nation in the number of opium poppy plants destroyed in Mexico's official eradication program. Ranking third was Guzman's infamously lawless home region, Badiraguato, in neighboring Sinaloa state.
Guadalupe y Calvo, home to some 50,000 people spread across scores of rural settlements, was also among 50 Mexican municipalities named on a government list last year detailing where about 40% of the nation's murders had been committed.
In the Sierra Tarahumara, battles have broken out both among rival gangs and between criminal groups and outgunned subsistence communities resisting infiltration, forced recruitment and illegal logging on lands where communities have long kept livestock and farmed vegetables and wheat. The violence has forced multitudes to flee ancestral terrain and resettle in Chihuahua City, the state capital, and elsewhere.
"We had no choice but to leave," said Cruz Sanchez Legarda, 50, who, along with dozens of others, fled the Tarahumara village of El Manzano in March 2015 after it was attacked by a group of about 60 armed and hooded men.
Sanchez, who was governor in his village, says one of his sons was wounded by gunfire in the assault, as outgunned residents resisted a seven-hour onslaught.
A month earlier, another son, Benjamin Sanchez, was killed when he refused to join a gang, according to a criminal complaint. A third son, Gilberto Sanchez, was murdered in June 2016.
"There is no authority against organized crime, no one to help us," said Sanchez, a former small-plot farmer, speaking at an activist's office in the state capital of Chihuahua City. He continues to fear for the safety of his wife and three children. "In truth, we have lost all hope of ever returning home to El Manzano."
Tarahumara children fleeing from the violence with their families often display signs of war-like trauma, advocates say
"The kids draw pictures of hooded men with guns," noted Diana Buticos, a teacher at a preschool here in this drab but generally secure town of Guachochi, where many Tarahumara have relocated. "That is what they are used to seeing."
Violence was all too familiar for Baldenegro, and it informed his activism.
His father, Julio Baldenegro, was murdered in 1986 because of his opposition to a local strongman's logging activities, according to family members, who say the young Isidro saw his father die. That motivated him to dedicate his life to the cause of developing non-violent resistance against exploitation of Tarahumara lands, say relatives and associates.
In the early 2000s, he organized sit-ins and marches and a human blockade to halt logging operations, gaining fame across the region and, eventually, internationally. He was arrested in 2003 and spent 15 months in prison on what would later prove to be false charges of arms and drug possession, noted his official biography from the San Francisco-based Goldman Foundation.
"They won't shut me up," the jailed activist told Andrew Miller, a young scholar who visited Baldenegro while he was in custody. "They can't silence the truth," insisted Baldenegro, recalled Miller, now an assistant professor at First Nations University of Canada.
In recent years, associates say, Baldenegro, a father of two young children, resided mostly in various highland towns, including Guachochi, which were more secure than his secluded village. But he frequently went back to Coloradas de la Virgen to sell home-made machetes, buy and sell livestock, and meet with relatives and friends, while continuing his efforts to protect native lands.
"Isidro knew his life was in danger," said Gabriel Valencia Juarez, a journalist here and friend of the late activist. "But he didn't want to leave, his life and work were in the Sierra. In the end, it cost him."
This story was reported with a grant from the United Nations Foundation.
Special correspondent Liliana Nieto del Rio and Cecilia Sanchez of the Times' Mexico City bureau contributed to this report.
twitter: @mcdneville
ALSO
In one of Africa's most dangerous corners, a fight to the death for the elephants
'If we're attacked, we'll die together,' a 16-year-old anti-mining activist told her family
A Philippines grandmother fought to get a toxic coal stockpile out of her neighborhood. Three bullets stopped her
A farmers activist is beaten to death, and the video goes viral. How tensions over land are tearing at Myanmar
'They should be thought of as heroes': Why killings of environmental activists are rising globally
---
UPDATES:
Dec. 27: This story was updated with new statistics on global environmental killings.
This story was originally published March 17.
Must-read stories from the L.A. Times
Get the day's top news with our Today's Headlines newsletter, sent every weekday morning.
You may occasionally receive promotional content from the Los Angeles Times.