Fireworks were the lifeblood of this community. Then suddenly, they brought devastation
Reporting from TULTEPEC, Mexico —
Jesus Rodriguez Ernesto Ortiz leaned against his bike Wednesday and peered through a chain-link fence at the wreckage of the San Pablito fireworks market.
In this community, the sale of fireworks touches nearly every family, and so too did the explosion Tuesday afternoon that left the market a field of twisted metal, burned-out cars, broken glass and human remains.
At least 32 people were killed and 46 others remained hospitalized Wednesday after an eruption of sparks and flames engulfed the crowded network of stalls that was once considered Latin America's safest fireworks market. By Wednesday morning, along with a sense of mourning across Mexico, there were also recriminations.
It was the third major explosion at the San Pablito market since 2005. "You can't explain that these tragedies continue to repeat themselves, and the authorities just lament them and send condolences," said Alejandra Barrales, president of the leftist Democratic Revolution Party. "This demonstrates the lack of care and attention not just here, but in the whole state."
But many here in Tultepec, like Ortiz, have lived a life defined by fireworks sales and the culture of the pirotecnicos. Even after the devastation of the previous day, they were quick to defend the artisanal explosives crafted here through the generations as a source of income, celebration and strength for the community.
Now 22, Ortiz has been selling fireworks since he was 12. He knows to have a fire extinguisher and buckets of water handy, and he instructs customers to keep a distance of several feet when they ignite the elaborate standing displays, or castles, that he makes for parties. Ortiz showed pictures of his castles on his phone. He'd experimented with different materials and was proud of the level of detail he put into their construction.
''I like the creativity, it's really fun. It's even more fun when you light it and people are watching,'' he said.
On his grandmother's birthday, he estimated, nearly 600 people came into the street to watch him light up the castle he'd made for her as a gift. They had the same enthusiasm they'd shared since they were all children — a mix of glee and fear on their faces. He found himself watching their faces instead of the spectacle.
This week though, for the families who had not been spared, the horror that fireworks could cause was all too real.
At a clinic near the blast site, Alvaro Hernandez Urban searched for his sister-in-law. She had worked at a fireworks stand that each November and December in the busy holiday season became her home. Now she was missing.
Frustrated that he hadn't been given information from any hospital, nor permitted to see whether any of the unidentified bodies at the morgue might be her, he continued to check lists of names in hopes of finding some new information.
''She's a wonderful person,'' he said. ''It's worrisome, we have zero information.''
Rolando Lomas, looking for his brother-in-law, was equally desperate. He had already looked in all the hospitals where the wounded had been sent.
''I heard some people were helping victims in their homes,'' he said.
Juan Martinez Leon, who escaped from the blast along with his mother and sister, doesn't sell fireworks but works with his family at the market selling hand-sewn hats from a cart. When the explosions started, he tried to grab his things, but finally gave up and just ran.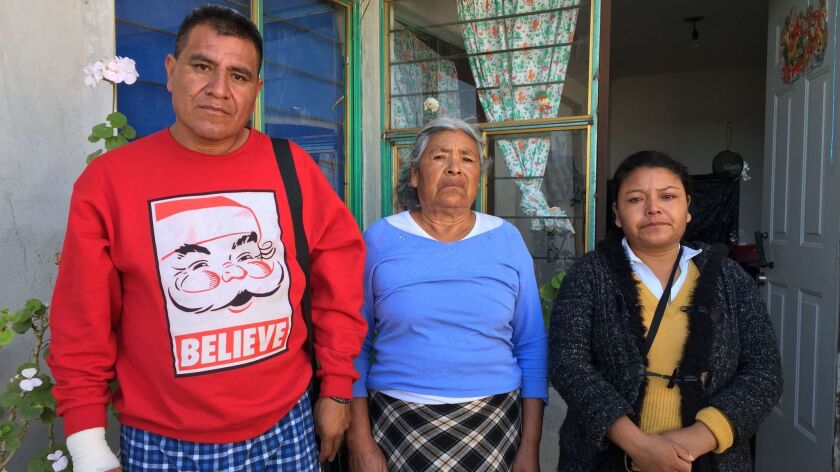 ''I can say I didn't lose anything — the material isn't important. I have my mother and sister," said Leon, who was wearing a sweatshirt with a picture of Santa Claus and the word, in English, "Believe."
"When I was separated from them, that uncertainty and the fear were the worst part,'' he said.
But his daughter, Sara Elizabet Vidal Hernandez, was not so calm. She shook as she spoke about the explosion, describing how emergency workers had instructed bystanders to bring water to pour on the bodies in the rubble to stop them from burning.
While her father defended the pirotecnicos, saying they lift the whole community with the income they generate, Hernandez was no longer convinced.
''I think they should close. Because this isn't the first time, it's been three times that it exploded,'' she said. ''I understand it's their work here in the community, the fireworks, but it's dangerous, and too many people died.''
Along La Saucera Street, a long dirt road lined by concrete-block buildings housing dozens of businesses that sell raw materials for fireworks, there was a sense of resignation. At one company, Piroquim, a match setting fire to its name on the marquee, Pedro Sanabria estimated that up to 90% of the community benefits from the fireworks trade.
''That's how you eat for many people,'' he said.
As for how the explosion could have occurred, that was more complicated. ''There are many versions," he said. "Some say it was provoked, some people didn't want the market there.''
Is it possible, as Ortiz had wondered earlier that day, that it could have been caused by a child playing around?
''No,'' Sanabria said, definitively. ''Children already know what fireworks are, they know a cometa, a mecha.'' They know the dangers of a tamalito, a cracker, a trabuco.
Other children in other places might have accidents with fireworks, Sanabria said. But certainly not the children of Tultepec.
Tillman is a special correspondent.
---
Must-read stories from the L.A. Times
Get all the day's most vital news with our Today's Headlines newsletter, sent every weekday morning.
You may occasionally receive promotional content from the Los Angeles Times.