Suspicion swirls around pardon for Peru's ailing former President Alberto Fujimori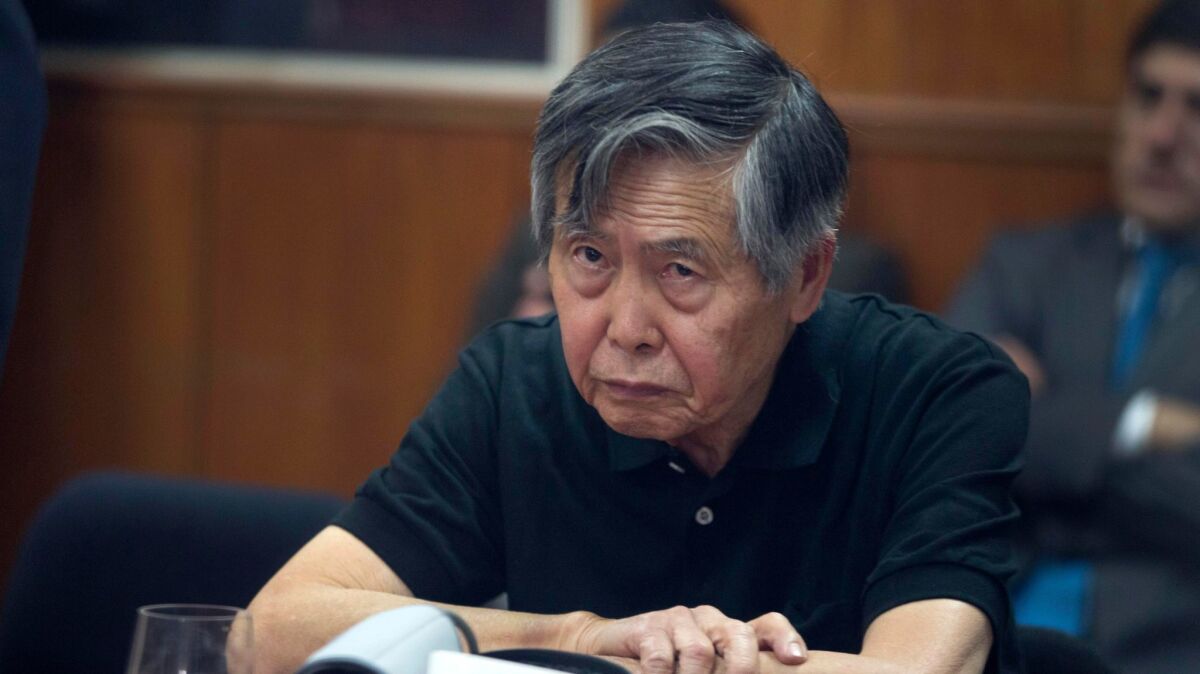 Reporting from Lima, Peru —
Peru's president on Sunday granted disgraced former President Alberto Fujimori a pardon on humanitarian grounds, signaling the end of a decade of imprisonment for corruption and human rights charges.
Fujimori was president from 1990 to 2000 but was forced from office after charges emerged that he was involved in illegal search operations, mass murder of leftists and the payment of millions of dollars to his former security advisor Vladimiro Montesinos. He was serving a 25-year prison sentence.
Rumors that a pardon was in the works emerged Thursday after current President Pedro Pablo Kuczynski narrowly survived a congressional vote to oust him after opponents fell short of a two-thirds majority needed for removal. Legislators were reacting to "moral incapacity" charges related to $782,000 in payments made to his investment firm by the Brazil-based Odebrecht construction firm.
Kuczynski, who said he knew nothing of the payments, survived the vote because 10 members of the opposition bloc of congress members controlled by Fujimori's son Kenji unexpectedly abstained from voting.
Congressman Clayton Galvan told a TV interviewer on Friday that the abstaining members were reacting to a plea that the elder Fujimori made from jail not to remove Kuczynski because it would derail the pardon that he expected to receive this week.
Neither Kuczynski nor his advisors have confirmed that a deal was made in which Fujimori, who is reported to be in poor health, would be pardoned in exchange for Kuczynski staying in office.
On Saturday night, Fujimori, 79, was transferred from Barbadillo Prison to a Lima hospital for treatment of heart problems. On Sunday, one of his doctors said he had been moved to the intensive care unit of Clinica Peruana Japonesa.
The government said the pardon is effective immediately and that Fujimori can go free as soon as his doctors say he is medically fit to leave the hospital.
Fujimori and his family have been campaigning for a pardon for several years. His daughter Keiko is overall leader of the majority Fujimorista faction in congress and twice an unsuccessful candidate for president.
The disgraced former president enjoyed enormous popularity in Peru in the 1990s for his successful military campaign to rid the nation of the leftist Shining Path rebel group. He also dedicated public funds to build new schools and roads in remote areas of the nation.
But reports of videotaped bribes paid by Montesinos to judges and politicians and other corrupt practices turned public opinion against Fujimori shortly after he began serving his third presidential term in 2000.
Rather than face justice, Fujimori resigned and fled to Japan. In 2005, he went to Chile and tried to negotiate his return to politics with Peru's then-president, Alejandro Toledo. Instead, the Chileans arrested him and extradited him to Peru in 2007 to face trial.
The pardon is certain to spark outrage from some Peruvians who say the crimes of Fujimori, which included the alleged backing of secret death squads and the sterilization of thousands of indigenous and peasant women, were serious enough to warrant life in prison.
Kuczynski, whose administration was weakened by the congressional vote last week and who still faces an inquiry on alleged corruption, may be further debilitated by the political fallout from the pardon.
Special correspondents Leon reported from Lima and Kraul from Bogota, Colombia.
---
Must-read stories from the L.A. Times
Get the day's top news with our Today's Headlines newsletter, sent every weekday morning.
You may occasionally receive promotional content from the Los Angeles Times.