5 major themes of Pope Francis' trip to Mexico
While in Mexico for the next five days, Pope Francis is expected to take up issues that have been of central concern to his papacy.
The route he will follow from southern to northern Mexico is meant to represent the perilous journey that migrants take to reach the United States.
He also will be venturing into some of the country's poorest and most dangerous regions, including the heart of the decade-long wave of "narco" warfare.
Follow our live coverage of the pope's trip >>
Here are some of the major themes of the visit:
Immigration
Francis, whose family immigrated to Argentina from Italy, has made solidarity with migrants one of the defining issues of his papacy.
In an address to Congress last year, he challenged U.S. lawmakers to act with compassion in dealing not only with refugees in Europe, but also those migrants fleeing north from Mexico.
"Thousands of persons are led to travel north in search of a better life for themselves and for their loved ones, in search of greater opportunities. Is this not what we want for our own children?" he said. "We must not be taken aback by their numbers, but rather view them as persons, seeing their faces and listening to their stories."
Francis' pilgrimage from southern to northern Mexico will culminate Wednesday with a Mass celebrated about 80 yards from the border fence in Ciudad Juarez and broadcast to thousands at El Paso's Sun Bowl stadium.
Poverty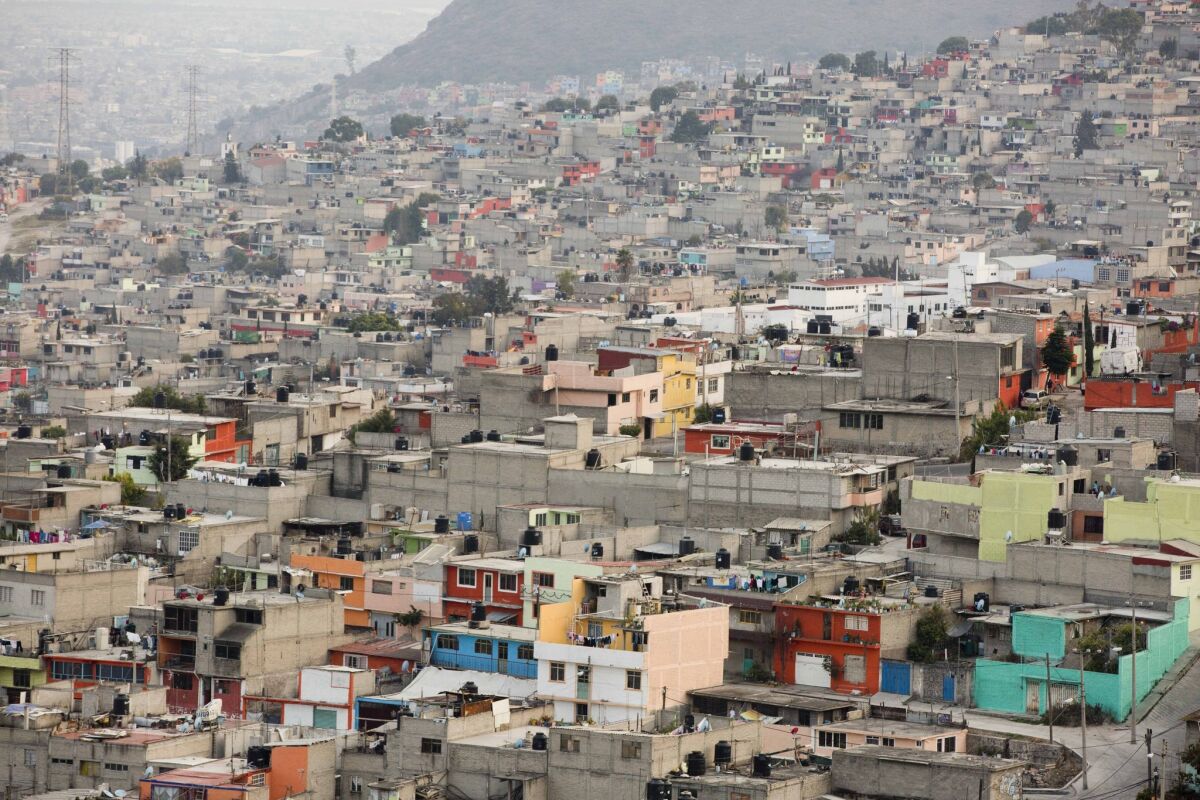 As a Jesuit priest in Buenos Aires, Francis often preached in the city's shantytowns. As pope, he has continued to highlight the plight of the world's poor.
His exhortations to business and political leaders not to "sacrifice human lives on the altar of money and profit" have led to accusations that the pope is a Marxist. But he maintains that he is simply preaching the Gospels.
In Mexico, Francis will bring comfort to some of the country's most impoverished cities, including Ecatepec, just outside the capital.
Indigenous peoples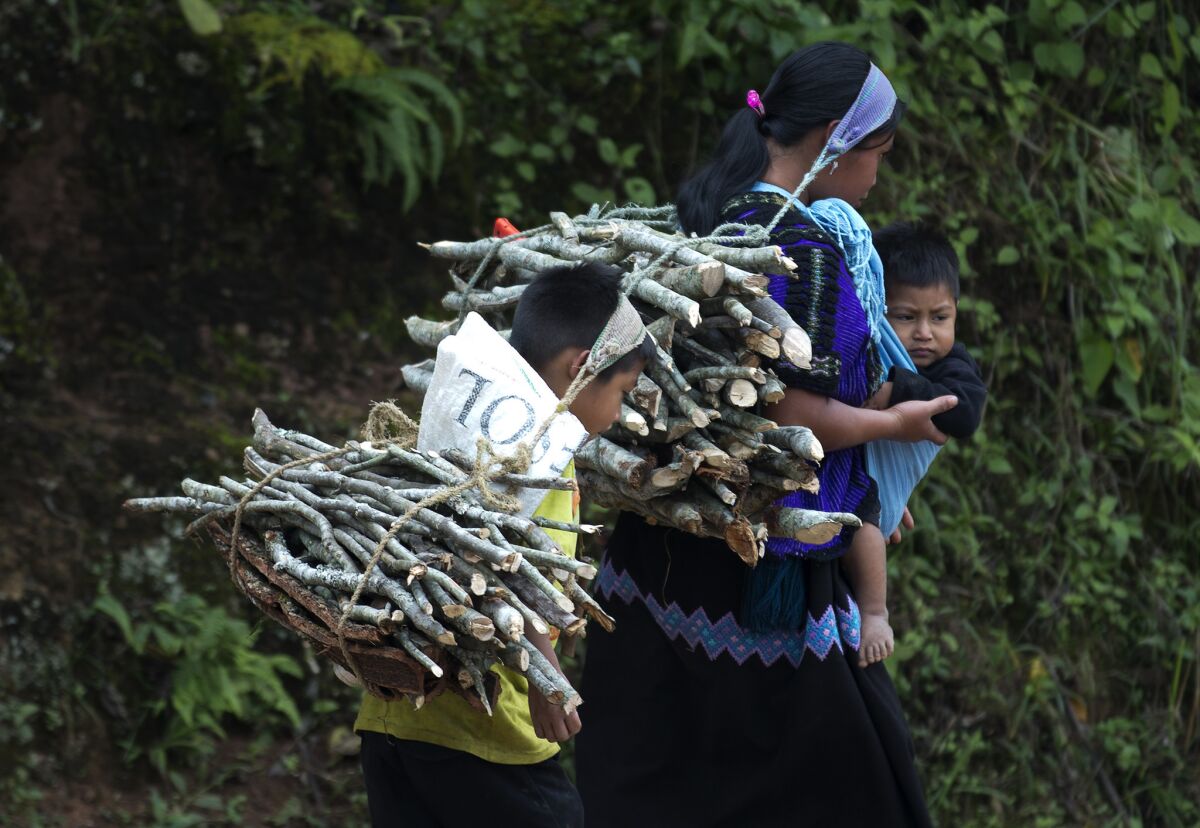 Francis will also bring his message of social inclusion to the state of Chiapas, home to many semi-autonomous indigenous communities and one of Mexico's most neglected regions.
In the mountainous city of San Cristobal de las Casas on Monday, Francis will issue rules to formally allow the use of indigenous languages in church services. He will also lead prayers using languages such as Tzotzil and Chol.
Organized crime
Men belonging to the Self-Defense Council of Michoacan engage in a firefight while trying to flush out alleged members of the Knights Templar drug cartel from Nueva Italia, Mexico on Jan. 12, 2014. The vigilantes said they were liberating territory. Mexican troops and police stayed away.
(Eduardo Verdugo / Associated Press)
The window of a bank is riddled with bullet holes in the town of Apatzingan in Michoacan state, Mexico on Jan. 11, 2014. Residents from various towns were destroying property to protest the arrival of vigilantes, or members of "self-defense" groups, to their communities.
(Eduardo Verdugo / Associated Press)
Mexican federal police patrol in Michoacan.
(Michael Robinson Chavez / Los Angeles Times)
Vigilante groups in Michoacan state were ordered by the Mexican government to register their weapons in an effort to create a rural police force.
(Michael Robinson Chavez / Los Angeles Times)
Esperanza Bejar Perez walks past the hearse carrying her son Roberto Carlos Zamora, 27. She said vigilante forces had been tormenting her son, demanding money, threatening his family and beating him repeatedly. Zamora, she said, took his own life rather than face them anymore.
(Michael Robinson Chavez / Los Angeles Times)
A body is removed from a mass grave in La Barca on Nov. 15, 2013. Dozens of bodies were found in clandestine graves near the border between Jalisco and Michoacan states amid a turf war between the Knights Templar and New Generation cartels.
(Agencia Esquema / Associated Press)
Flavio Gomez, identified by police as the brother of Servando "La Tuta" Gomez, head of the Knights Templar drug cartel, is escorted to a federal police truck at the airport in Mexico City on Feb. 27, 2015. Servando Gomez, a former teacher who became one of Mexico's most-wanted drug lords, was also captured.
(Marco Ugarte / Associated Press)
In Rome in 2014, Francis lashed out at the Italian Mafia, telling mafiosi they would go to hell if they didn't renounce their "bloodstained money and bloodstained power." His trip to Mexico will take him to the heart of the country's drug cartel wars.
The bloodshed has claimed the lives of tens of thousands of people across Mexico in recent years. But few states have been harder hit than Michoacan, where the pope will visit Tuesday.
Victims of Mexico's conflicts have been invited to attend the ceremonies there and in Juarez, another region with a history of brutal violence fueled by turf battles among drug cartels and a federal crackdown on organized crime.
Among them are expected to be relatives of the 43 Mexican students who were abducted 16 months ago by police working with local politicians. None of the students has been seen since.
"You are living your little piece of war," Francis said in a recent videotaped message to Mexicans.
Corruption
Some of the pope's most fiery sermons have been on the subject of those who "pretend to be Christian" while growing wealthy through graft.
Even before his plane touched down in Mexico, Francis was already appealing to Mexicans to "fight every day against corruption."
Such blunt talk could prove uncomfortable for government officials in the country, where egregious human rights abuses, an economic slump and widespread graft have helped take President Enrique Peña Nieto's approval rating to historic lows.
The country's interior minister, Miguel Angel Osorio Chong, has suggested that the trip will be an opportunity for Francis to see Mexico as the Mexican people live it – "with difficulties, with circumstances that, of course, many or some of which we regret, but which, of course, we are also overcoming as a country."
Times correspondents Tracy Wilkinson in Washington and Richard Marosi in Mexico City contributed to this report. Cecilia Sanchez in Mexico City also contributed.
For more international news, follow @alexzavis on Twitter.
MORE ON POPE FRANCIS
Mariachis and 'Cielito Lindo' welcome Pope Francis to Mexico City
'Finally, brother,' Pope Francis says in historic meeting with Russian Orthodox patriarch
Los Angeles man traveling with Pope Francis will offer a simple gift - a shoeshine box
How the Virgin of Guadalupe embodied Mexican identity and inspired millions, including Pope Francis
Must-read stories from the L.A. Times
Get the day's top news with our Today's Headlines newsletter, sent every weekday morning.
You may occasionally receive promotional content from the Los Angeles Times.