A California 'Dreamer' goes home to Mexico. But 'home' proves elusive
Reporting from San Bartolome Quialana, Mexico —
After her mother whisked her away at age 8 from her pueblo in Oaxaca to the Mid-City neighborhood of Los Angeles, Veronica Martinez Sanchez forgot most of what her life was like at the foot of Picacho Mountain.
The few memories that remained were of the loquat tree she climbed as a child and the splashes of yellow and red flowers emblazoned on the traditional blouse of her grandmother Sofia Gomez — a woman Martinez remembered as tall, slim and strong.
Those fuzzy images and the stories her mother and father recounted made her yearn for her place of birth.
See more of our top stories on Facebook >>
For most of her life, though, these were only wistful yearnings — without legal status, she could never hope to safely reenter the U.S. Then came President Obama's Deferred Action for Childhood Arrivals program, which in addition to protecting many children brought into the country illegally from deportation, opened the door for some of them to leave the country temporarily.
The problem: There are no guarantees that U.S. immigration agents at the border will honor those who have applied for these so-called "advance paroles."
If she went "home" to Oaxaca, she might never be able to return "home" to Los Angeles.
Martinez decided to try.
She became one of a growing number of young "dreamers" across the U.S. who are traveling back to Mexico and Central America, learning to traverse two worlds — and discovering they are citizens of both.
"I didn't realize I was so Americanized. I didn't want to accept it," Martinez, 27, said after spending several months with her grandmother last year, conversing comfortably in their native Zapotec. "You become used to life in the U.S. That's the truth."
::
Martinez, who often wears a brilliant white smile framed by high cheekbones, was silent and nervous on the plane south. During a shared taxi ride from the airport to her village, her heart pounded when she caught view of rocky Picacho Mountain and of Zapotec women with brilliant green, red and yellow traditional dresses walking along the road.
Martinez, who was worried about her command of the Zapotec language, surprised herself and the women in her taxi when she joined the conversation. They complimented her on how well she spoke despite being away for so long. Finally, Martinez thought, she was "back home."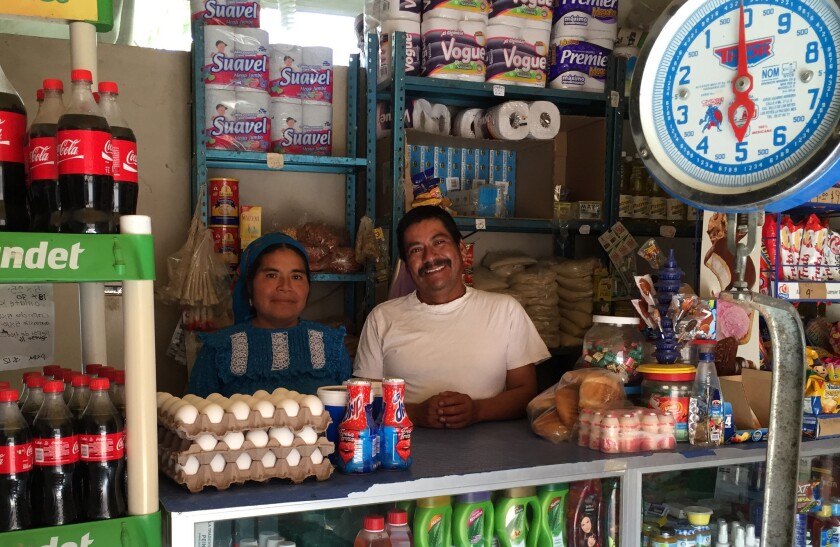 San Bartolome Quialana, a rural village in the southern state of Oaxaca, has a population of about 2,000 people, most of them Zapotec women and children. About half of the town — mostly young men — has migrated north to California.
Her parents were part of that migration. Though Martinez spent most of her life in the U.S., she said it never really felt like home.
But when she got to her village, wearing a T-shirt and shorts — her daily garb in California — she didn't quite fit in either.
Women looked at her from head to toe and said her shorts revealed too much skin. They were reserved and short when she tried to make conversation. It wasn't until a few weeks in, when she decided to don the traditional Zapotec dress, that she felt like part of the community.
"You look so pretty now," women told her.
At first I felt like I was neither from here nor over there. Now, I feel like both are home
Veronica Martinez Sanchez
Generally, U.S. Citizenship and Immigration Services will grant advance parole for DACA recipients only if they have a qualifying humanitarian, employment or educational reason to travel abroad. Some "dreamers" were brought to the U.S. illegally, some overstayed visas and now live in the country without documentation.
According to the agency, in the first two years of DACA implementation, about 6,400 DACA recipients had applied for advance parole. It's unclear how many have been denied reentry into the U.S.
Martinez received permission under the educational provision, traveling with a study abroad program sponsored by UC Riverside, where she is a sociology and anthropology major. She attended classes in Mexico City but spent most of her time completing an independent research project on traditional dress in her village.
Although she quickly adapted to the slower rhythms of village life, she also had a surprising revelation.
She caught herself calling the U.S. "home." She missed it too.
"At first I felt like I was neither from here nor over there," she said of Mexico and the U.S. "Now, I feel like both are home. I have the right to be here and there. Home is where family is. I have family here and there."
The sentiment rings true for many others in the same position, said Angelica Esquivel, a recent UCLA graduate who conducted research on youth who return to Mexico on advance parole.
The 24-year-old Esquivel, also on advance parole in Mexico for research and to visit her family, said many of those who participated in her study — including Martinez — discovered how rooted they really are in the U.S. during their time in Mexico.
"They've come to the acceptance of being a trans-national actor," Esquivel said. "When you're in the U.S., you have memories and miss Mexico. Now, you're in Mexico and you miss your life in the U.S. One will always miss one or the other."
Martinez also experienced what anyone feels when returning to a childhood home — that memory and reality don't quite match. The loquat tree she climbed as a child didn't seem as tall. Her grandmother wasn't as strong.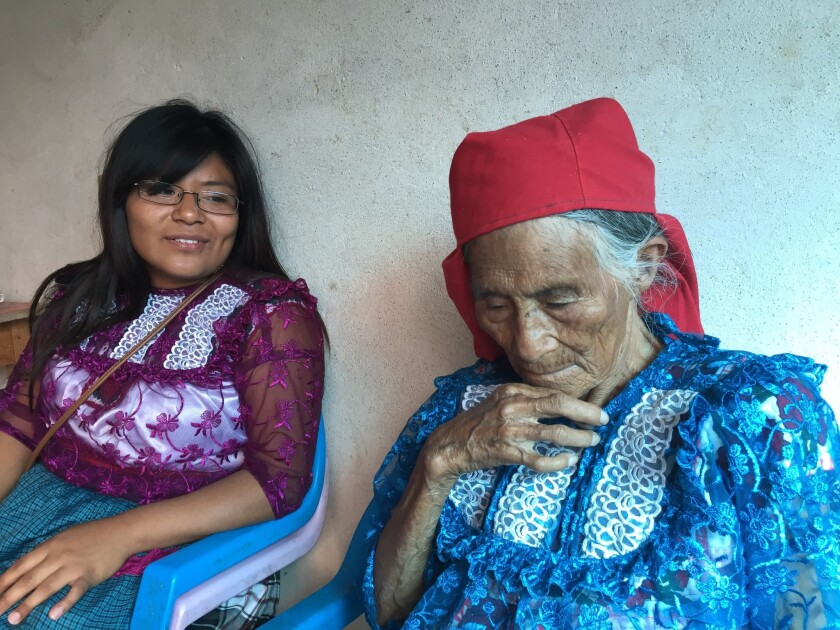 Gomez, now 85, is frail and lives alone in a small cinder-block house. Her vision blurred by cataracts, she sometimes loses her way in town.
Martinez also spent time with her maternal grandparents, Rosa and Jose Sanchez, who also live in the village, but paid special attention to Gomez. Spanish is Gomez's second language, so grandmother and granddaughter spoke mostly in Zapotec.
In many ways, she took on the role of her father and mother, who could not visit Mexico because, like most people without legal status in the U.S., they don't qualify for advance parole.
Rosa Sanchez told her granddaughter something that made them both tear up.
"You being here was as if my daughter were here," she said. "It was like your mom had come back to visit me."
Others who participated in Esquivel's study also found themselves with a sense of great responsibility, finding that they ended up "representing" their parents in some way.
A visit to Mexico comes with "a lot of responsibility, more than one may have imagined," Esquivel said.
Martinez normally spent the mornings with Gomez, making her coffee and eating eggs. Weekly, she'd accompany her to the Sunday fair in the nearby town of Tlacolula, where the pair talked over barbacoa de borrego — roasted lamb in adobo marinade — and hot chocolate.
One morning in her grandmother's kitchen, Martinez, who wore a traditional long skirt and blouse with purple flowers, flashed Gomez a smile.
"I do this for my dad because I know he can't be here for my grandma," she said. "I just wanted to make my grandma happy — at least for a couple of months."
Martinez's father sends money every month to his mother, hoping it will help her pay for expenses — perhaps a trip to a doctor who can attend to her eyes.
Instead, the grandmother socks it away, hoping he'll return one day so she can give it to him.
"Aren't you happy I'm here?" Martinez asked her grandmother.
The grandmother squinted her eyes.
"Yeah. Yeah. But you're leaving again," she replied. "I don't know why you want to go. When you go, I'll stay alone."
Gomez has asked why Martinez couldn't attend a school in the village. Martinez didn't even try to explain. She'll graduate from UC Riverside this year and plans to study indigenous communities in graduate school.
When Gomez was asked whether she'd ever had the desire to visit the U.S. to see her family, the grandmother responds with an adamant "no."
"I'd probably die if I go over there. I don't want to go. I have my animals to tend to and I can't take my animals," she said.
Martinez reached out and stroked her grandmother's face with affection.
"I'm not the greatest nieta — granddaughter," she said in English. "I wish I could spend more time with her, but it's hard to be here and see her in this way. Lonely … by herself."
Martinez left her village in December, nervous about whether she'd be allowed back into the U.S. The lines at customs at Los Angeles International Airport confused her a bit. Should she queue up at the one for U.S. citizens or the one for foreigners? She chose the latter.
An agent sent her for a secondary inspection. After a few hours came the verdict: She could return.
She was happy to be back but was soon itching to return to her Oaxacan village. She knows it may be quite a while before she'll be able to do so legally.
For now she straddles both homes as best she can, often wearing her flowery blusa — blouse — with her shorts.
Follow @TheCindyCarcamo on Twitter
ALSO
Op-ed: Of course Obama's immigration orders are legal
U.S.-bound Cuban migrants stranded in Costa Rica camps
In Iowa farm town, immigration debate yields surprising views
---
Must-read stories from the L.A. Times
Get all the day's most vital news with our Today's Headlines newsletter, sent every weekday morning.
You may occasionally receive promotional content from the Los Angeles Times.