Reporting from PALMYRA, SYRIA —
His shop has become a haunt for Syrian troops, Russian soldiers, visiting journalists and the few others who make it to this now-forlorn remnant of a town in the Syrian desert.
Impromptu gatherings at a plastic table outside Issa Khateeb's store provide a glimpse of the animated hub that Palmyra used to be, when tourists from across the globe flocked here to visit the legendary, Roman-era ruins nearby. It's mostly a ghost town now. His store is the only one open.
Palmyra, once home to 70,000 people, previously had a cosmopolitan feel: Tens of thousands of visitors frequented its tea shops, restaurants and Internet cafes. But after enduring two occupations by Islamic State, the city is now eerily quiet, a dusty grid of empty buildings and deserted streets, where the thud of distant artillery detonations occasionally breaks the silence.
The signs of shelling and street battles are evident on bullet-pocked structures lacking windows and doors, with crumbling walls and facades — and occasionally pancaked from aerial bombardment. A row of destroyed hotels and restaurants — and the looted remains of City Hall and the museum — line the main drag to the archaeological park.
Even so, Khateeb says, he had to come back.
"I believe in Palmyra," says Khateeb, 50, one of only a few dozen residents who have returned to the war-ravaged town. "This is my home."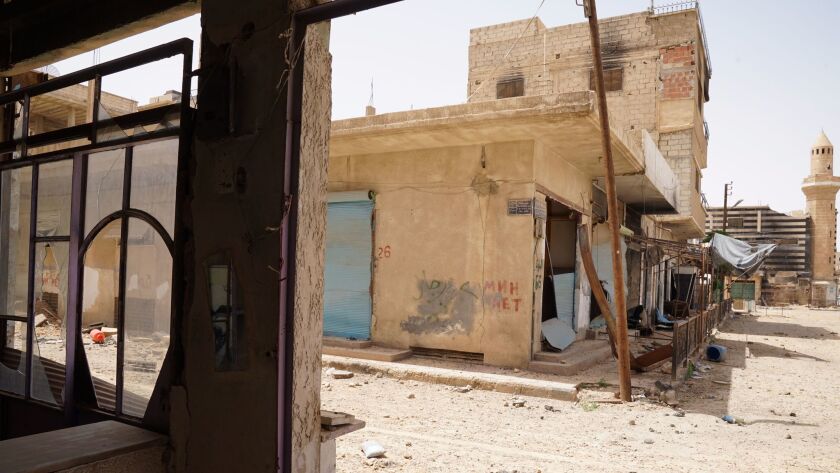 Khateeb, a bear of a man and father of five, managed to escape Palmyra with his family before Islamic State militants initially overran the town in May 2015. The Khateebs were among tens of thousands who fled the city, which, apart from its archaeological significance, is situated near natural gas fields and major routes leading to Damascus, the Iraqi border and other strategic areas.
Islamic State held Palmyra until March 2016, when the militants were driven out by Syrian and Russian forces. The jihadists recaptured the city in a counter-offensive blitz last December, forcing some residents who had returned to flee once again. Finally, in March, the Syrians and Russians once again forced Islamic State to abandon the city.
Khateeb returned soon thereafter and rebuilt his plundered shop, investing his remaining life savings, he says. He lives in a flat upstairs. His wife and five children have yet to come back to the forsaken town. Khateeb, a native of Palmyra, exudes an upbeat air, but conversations here inevitably take a dark turn as the memories come back.
His shop is a short jaunt from the former site of Islamic State's Sharia court, where militant jurists in a carpeted and cushioned room handed down judgments on matters from the mundane to life-and-death. One woman was sentenced to be executed by stoning for "adultery," according to a document found in the ruins of the court.
The shop is six blocks or so from so-called Vegetable Square, once a teeming open market, later a site favored by the militants for public beheadings of "apostates" and gory displays of the bodies of execution victims. While his family escaped the militant occupation unscathed, he, like others, suffered the loss of many friends and associates during Syria's ruinous war, now in its seventh year.
"ISIS beheaded my business partner's son," recalled Khateeb, 50, speaking matter-of-factly from behind the counter of his store, where a Syrian flag underscores the fact that government control has returned to Palmyra. "His name was Hassan Ali," Khateeb continues, referring to the late son of his business partner. "He was 17. They said he was a [government] collaborator. His father has not recovered from the loss."
The shop's now well-stocked shelves feature essentials like coffee, tea, sugar, paper products and canned goods, as well as soft drinks and cigarettes, along with souvenirs, including icon-like images of the Virgin Mary, popular with Russian troops. A trickle of clients, mostly military men, comes and goes.
During the militant reign here, merchants had to abide by a strict code of conduct, which, among other bans, proscribed the sale of cigarettes — a big-ticket item for shop-owners in a region where sipping sweet tea and smoking is a time-honored ritual. ISIS viewed smoking as un-Islamic.
Asked if Palmyra now seemed "haunted," Khateeb rejected the notion, but allowed that it's a wrenching experience to see his once-animated home town transformed into a dystopian expanse of bullet-riddled buildings and rubble-strewn streets. Yet while Islamic State blew up several major archaeological monuments, denouncing the structures as idolatry, the ancient city and its colonnaded main avenue are still recognizable, still majestic.
"Haunted, no, but yes, I think of all the people, how Palmyra used to be, how happy we were then," he says, seated at the plastic table outside, while several Syrian soldiers nod in agreement. "How can one describe such a thing? Everyone who used to live here, to work here … " he adds, trailing off in a bid to articulate a sense of loss that is beyond words.
That's the way a lot of Syrians feel these days about a war that has claimed hundreds of thousands of lives, forced millions from their homes and left scores of towns and cities with the hollowed-out feel of today's Palmyra. People in Syria often ask: How did it happen?
All sides in the appalling conflict offer geopolitical rationalizations and toss out volleys of blame. But the incomprehensible scale of the destruction leaves many bewildered and despondent.
Islamic State forces remain within striking range of Palmyra. Syrian troops, backed by allied militias and Russian air power, are pushing east toward the Iraqi border and the city of Deir Ezzour, long besieged by ISIS gunmen. Khateeb and his customers vow that the militants have seen the last of Palmyra.
The sinister legacy of Islamic State, he proclaims, will not define a legendary caravan oasis that endured sackings by the armies of Rome and of Tamerlane, saw centuries of decline from its once illustrious peak, and yet to this day remains a monument that inspires awe in those fortunate enough to behold its grandeur.
"Palmyra is a treasure for all humanity," he says. "Palmyra represents the origins of civilization, a bridge between East and West. We will rebuild. Palmyra will return to its greatness."
twitter: @mcdneville
ALSO
ISIS militants battered Syria's ancient Palmyra, but signs of splendor still stand
---