Q&A:: As Venezuelan election nears, more upheaval and cries of fraud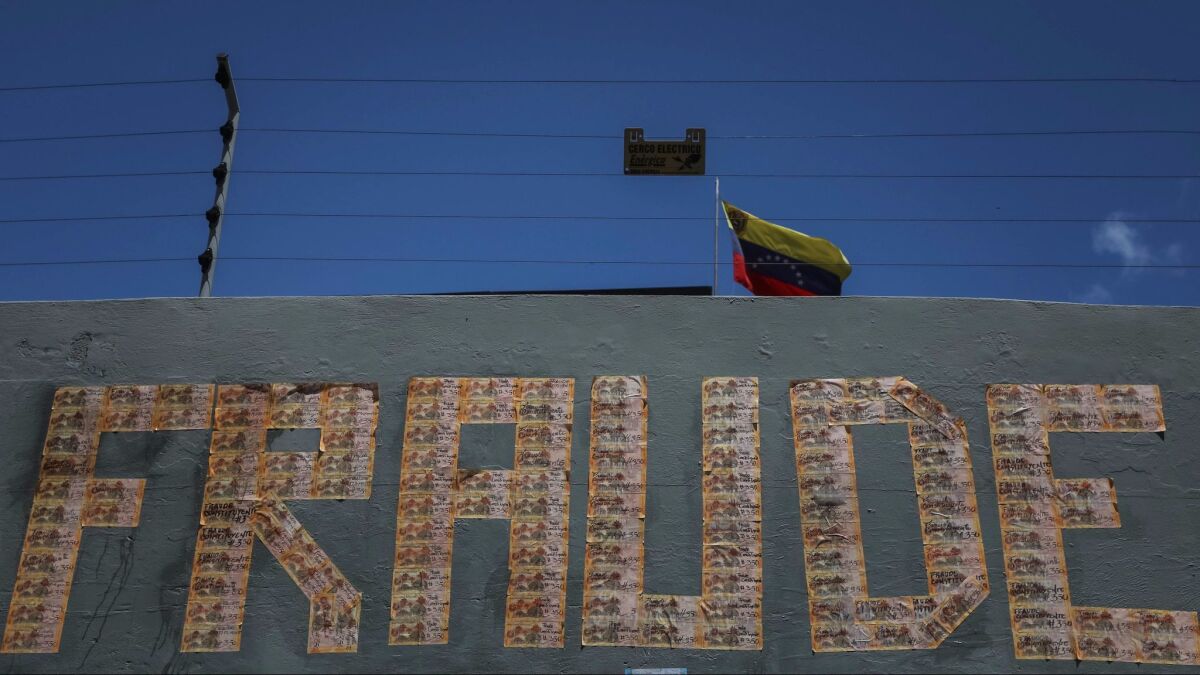 Despite polls showing that a majority of Venezuelans think a new constitution is unnecessary or undesirable, voters head to the ballot box Sunday to elect members of a new constitutional assembly.
Opposition leaders see it as yet another move to sideline dissident voices, and international leaders have repudiated the move by President Nicolas Maduro as undemocratic.
The U.S. announced Wednesday that it is imposing a new set of economic sanctions against 13 government figures, saying the vote is an abuse of power. Anticipating possible violence — Maduro's government banned protests in days leading up to the vote — the U.S. State Department ordered families of diplomatic personnel out of the country.
The vote comes amid nationwide protests that as of Friday had claimed at least 108 lives, left 3,000 injured and led to 4,500 arrests. A majority of Venezuelans blame Maduro for food scarcities, rising crime and an increasingly autocratic government.
What will Sunday's vote accomplish?
Venezuelans will elect 537 members of a new constitutional assembly that will be charged with drafting a new magna carta for the once prosperous nation. The last such assembly in 1999 took six months to complete its work. During that time, the sitting congress, the National Assembly, was shut down. Maduro has not made clear whether the new charter will be put to a nationwide vote.
The turnout is likely to be low, as the opposition is boycotting the election, saying it is rigged to ensure Maduro loyalists control the body. Voters at large will select 364 members, while the remainder will be elected by seven discrete social groups, including retirees, indigenous groups, peasants, students, farmers and the disabled.
The last constitutional redraft was pushed through by the late President Hugo Chavez. In that case, voters approved an "authorizing" referendum, which allowed work on the constitution to proceed. Maduro has not sought such a referendum, probably fearing rejection, further diminishing the new assembly's legitimacy in the eyes of many Venezuelans. Maduro's approval rating is currently 20%.
The election is clearly illegitimate

— David Smilde, Venezuelan expert at Tulane University
Why did Maduro call for a new constitution?
Maduro insists he needs a new charter to provide stability and end the protests that have convulsed the nation since March 30. A new constitution, he says, will help him fight drug trafficking, guarantee the sustainability of the social projects — called "missions" — launched by Chavez, and create a "post-petroleum economy" modeled after Cuba's communal system.
The new constitution would provide a fresh start in combating an economic crisis caused by low oil prices, triple-digit inflation, plummeting productivity and an "economic war" waged by the opposition with help from the United States, Maduro says. Maduro was a protégé of Chavez, and the Chavistas — those who supported Chavez's socialist vision and policies — remain a dominating presence in the government and in parts of Venezuelan society.
While Maduro blames outside forces for Venezuela's cratered economy, which is expected to shrink by as much as 12% this year, many economists blame his mismanagement and that of his predecessor, Chavez, for crippling domestic industry by nationalizing many businesses and inhibiting much-needed investment.
Why is the opposition boycotting the election?
Polls show a majority of Venezuelans see the new constitutional assembly as an illegal seizure of power — the latest and most serious attempt by Maduro to marginalize the opposition while perpetuating his tenure as president. Critics fear the new assembly will replace the democratically elected National Assembly, which is controlled by opposition deputies.
The constitutional assembly, which only has candidates put forward by the government, "would mark the end of whatever is left of Venezuela's democracy and rule of law," said Francisco Monaldi, an economist and fellow in Latin American energy policy at Rice University's Baker Institute for Public Policy.
The existing National Assembly already has been neutered by a series of decisions by the Maduro-controlled Supreme Court, including the declaration that the assembly is in contempt and thus all laws it passes are null and void. Efforts to mount a recall election to boot Maduro from office have been blocked by loyalists on the National Electoral Council.
The opposition demonstrated its disgust with Maduro with its own unofficial plebiscite on July 16 in which 98% of 7.6 million voters rejected the new assembly while favoring the formation of a new government of "national unity."
"This election is clearly illegitimate," said David Smilde, a sociology professor and Venezuela expert at Tulane University, citing a "stacked" electoral scheme and "coerced voting" of government employees. "The 1999 constitution says only the people have the right to call a constituent assembly, presumably through a referendum, and Maduro is assuming that power for himself."
Do other countries oppose Sunday's election?
Yes, quite a few.
In addition to support from the U.S. government, the opposition is backed by the Organization of American States, the European Parliament and numerous civil society groups, including Amnesty International. Several Latin American leaders have called on Maduro to cancel the vote. Mexico last week said it would support U.S. economic sanctions against Venezuela.
On Thursday, Venezuela's Roman Catholic bishops declared the new assembly "unconstitutional, as well as unnecessary, inappropriate, and damaging to the Venezuelan people."
Efforts by foreign governments and the Vatican to mediate dialogue between the deeply antagonistic sides so far have come to naught.
What will happen after Sunday's vote?
Demonstrating Venezuela's polarization, Maduro will proceed with plans to reform the state, while the opposition has announced plans for an indefinite strike similar to one staged this week. The strike was observed by 90% of the private sector, according to labor unions, and brought much of this country of 31 million to a standstill.
Assuming Maduro wins on Sunday, the constitutional assembly will convene Aug. 30 to begin drafting a new charter. But few expect any overnight improvement in Venezuelans' daily lives, which have been marked by scarcities of basic foodstuffs. Near-term uncertainty and the probability of ongoing violence prompted Venezuelans to empty supermarket shelves of what little household items were available in recent days.
The uncertainty caused the black market value of the U.S. dollar to skyrocket Friday to as high as 10,300 bolivars, the national currency, a 90% loss in value from 1,010 bolivars a year ago, according to Caracas traders.
More chaos could be in store. With the price of oil expected to remain low for the foreseeable future, Venezuela's economy could remain on life support. Monetary reserves are running low, and the nation is at risk of defaulting on foreign debt.
The next presidential election is scheduled for late next year. Although Maduro's low popularity would seem to make him a long shot for reelection, his government has thinned the field of opponents by disqualifying several potential candidates from running, including Henrique Capriles, who narrowly lost to Maduro in 2013, and Maria Corina Machado.
Are there signs of dissent within Maduro's government?
His attorney general, Luisa Diaz Ortega, normally a supporter of the socialist government, has in recent weeks become its most prominent critic. She has described the Sunday vote as illegal and the Supreme Court, which Maduro stacked with 13 new loyalist members in December 2015, as illegitimate.
Other Chavistas rejecting the new assembly include assembly deputy German Ferrer, who is Diaz Ortega's husband, ex-Youth Minister Maripili Hernandez and public defender Gabriela Ramirez.
Are there signs of tension in the region?
Colombia has expressed fears that increasing violence exacerbated by Sunday's vote could lead to a massive influx of Venezuelan refugees.
According to Colombian media reports, some 25,000 Venezuelans cross the border daily to buy food and household items that are unavailable or unaffordable at home. On Friday, Colombia President Juan Manuel Santos said he supported U.S. sanctions and that a new constitution would be "spurious."
President Trump is reportedly considering applying additional sanctions to Venezuela, including a possible ban of its oil imports or prohibiting the use of U.S. dollars in any transactions by the state-owned oil company PDVSA. Either measure would result in "extreme economic duress," according to RBC Capital Markets investment firm.
Special correspondents Mogollon and Kraul reported from Caracas and Bogota, Colombia, respectively.
ALSO
Despite ban on protests, demonstration continues in Venezuela as government arrests an opposition mayor
Another victim of Venezuela's unrest: Caracas' once-renowned zoo
The mess in Venezuela didn't happen overnight. Here's how two successive presidents chipped away at democracy
Must-read stories from the L.A. Times
Get the day's top news with our Today's Headlines newsletter, sent every weekday morning.
You may occasionally receive promotional content from the Los Angeles Times.