In Venezuela power play, another opposition leader is sidelined by dubious accusations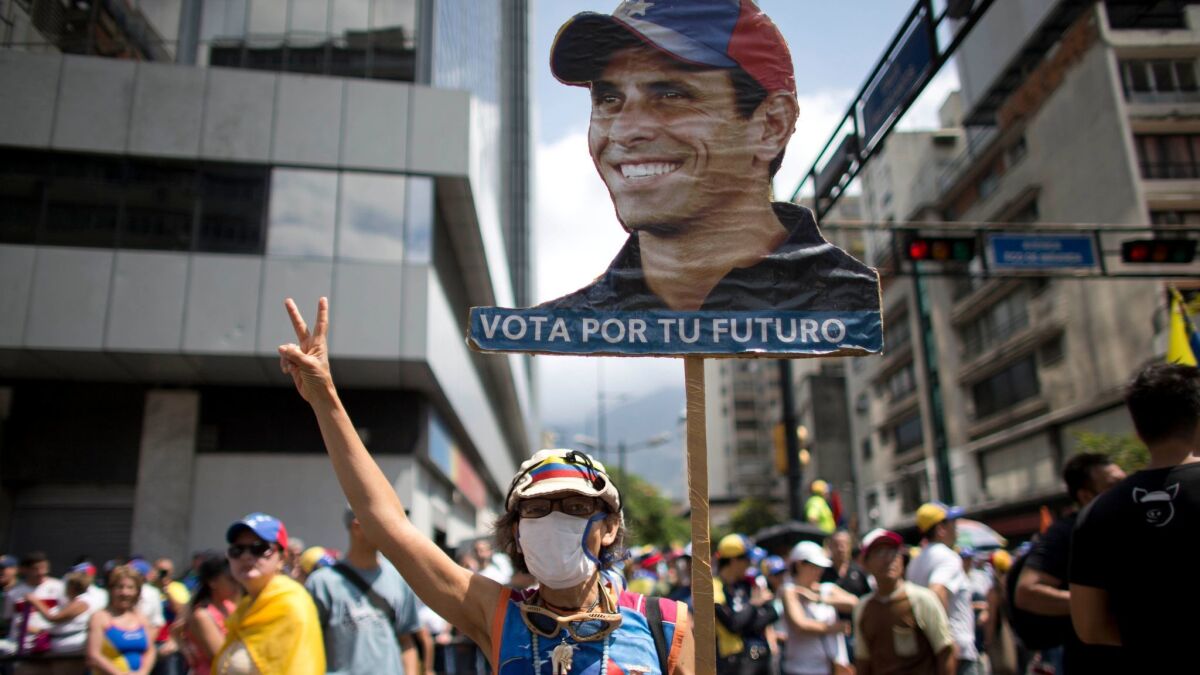 Reporting from CARACAS, Venezuela —
Venezuela's opposition leader, accused by authorities of mismanaging government funds, has been barred from running for office for 15 years in a move that critics of embattled President Nicolas Maduro attacked as a ruse to remove a potential rival in 2019 elections.
Henrique Capriles, the 44-year-old governor of Miranda state, narrowly lost to Maduro in the highly disputed 2013 presidential election to choose a successor to Hugo Chavez, the longtime socialist leader who had died of cancer.
A perennial foe of both Chavez and Maduro, Capriles has led recent street protests against food shortages, rising crime and the postponement of local elections. He spent several weeks in jail in 2002 for allegedly participating in a coup attempt against Chavez, a charge he has denied.
For the third time in a week, Capriles on Saturday led massive demonstrations in downtown Caracas to protest against the Maduro government. Marchers held placards that read "Liberty," "Elections now," and " Down with dictatorship."
The government responded with a massive show of force, with police firing tear gas and rubber bullets. A half-dozen anti-riot tanks were positioned to block marchers' access to the central government center.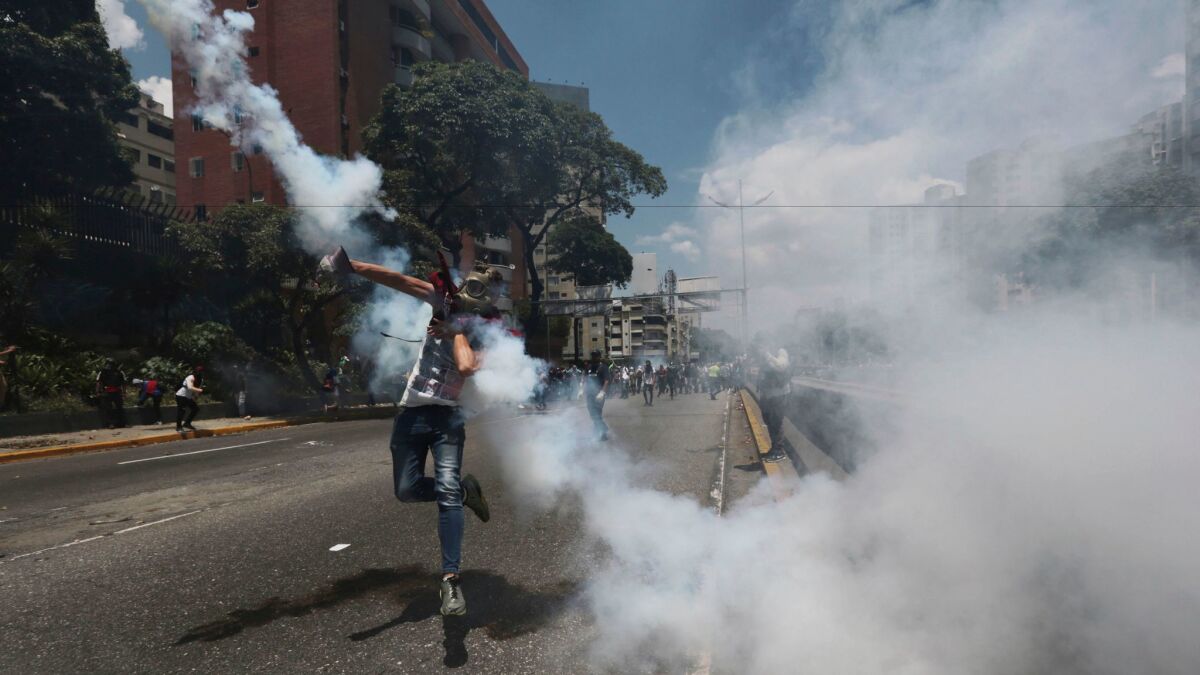 On Thursday, Interior Minister Nestor Reverol blamed Capriles for leading demonstrations that threatened to "destabilize the country." Violent clashes with police, who used tear gas to disperse protesters, left one student killed from police gunfire on Thursday. Thirty protesters were arrested.
A day later, the controller general's office said Capriles was disqualified from running for office again because of improper use of his state's budget on unspecified contracts, funeral expenses and for publicity.
In a comment on social media, Capriles denied the charges and said the disqualification was illegal and politically motivated. "In none of the cases did I cause any harm to [Miranda state] resources," Capriles said.
Capriles is only the latest prominent opponent to be disqualified from running for office by the Maduro government. The list also includes two mayors from the Caracas area — Leopoldo Lopez and Antonio Ledezma — and National Assemblywoman Maria Corina Machado, all of whom were considered potential presidential candidates.
Lopez has been jailed since February 2014 on what he and his supporters insist are trumped-up charges of inciting violence. Several international human rights organizations have called on Maduro to release Lopez and other political prisoners. Ledezma has been under arrest since 2015.
The ruling against Capriles comes days after the nation's Supreme Court, which is controlled by Maduro loyalists, attempted to shut down the opposition-controlled National Assembly altogether. The court accused the body of trying to seat three deputies that the court had disqualified but whom opposition leaders say were legitimately elected in 2015.
The move by the court raised such an outcry — including criticism from Maduro's own attorney general, Luisa Ortega Diaz — that the president was forced to rescind the order and effectively reinstate the assembly.
Jose Miguel Vivanco, Americas director at Human Rights Watch, said in a statement that Capriles' disqualification further chips away at Maduro's "facade of democracy," describing it as the latest step in a campaign to take prominent opposition leaders "out of the game."
"Venezuela is suffering from a full-fledged dictatorship. The need for strong and decisive multilateral action to protect Venezuelans grows more pressing with each passing day," Vivanco said.
Special correspondents Mogollon and Kraul reported from Caracas, Venezuela, and Bogota, Colombia, respectively.
ALSO
China's President Xi Jinping makes surprise stop in Alaska
Many in Israel cheer U.S. attack on Syria as a welcome sign of a more assertive key ally
U.S. missile strike in Syria dashes hope of improving ties with Russia
---
Must-read stories from the L.A. Times
Get the day's top news with our Today's Headlines newsletter, sent every weekday morning.
You may occasionally receive promotional content from the Los Angeles Times.