Venezuela tragedy: 15 images capture a nation's sorrow and turmoil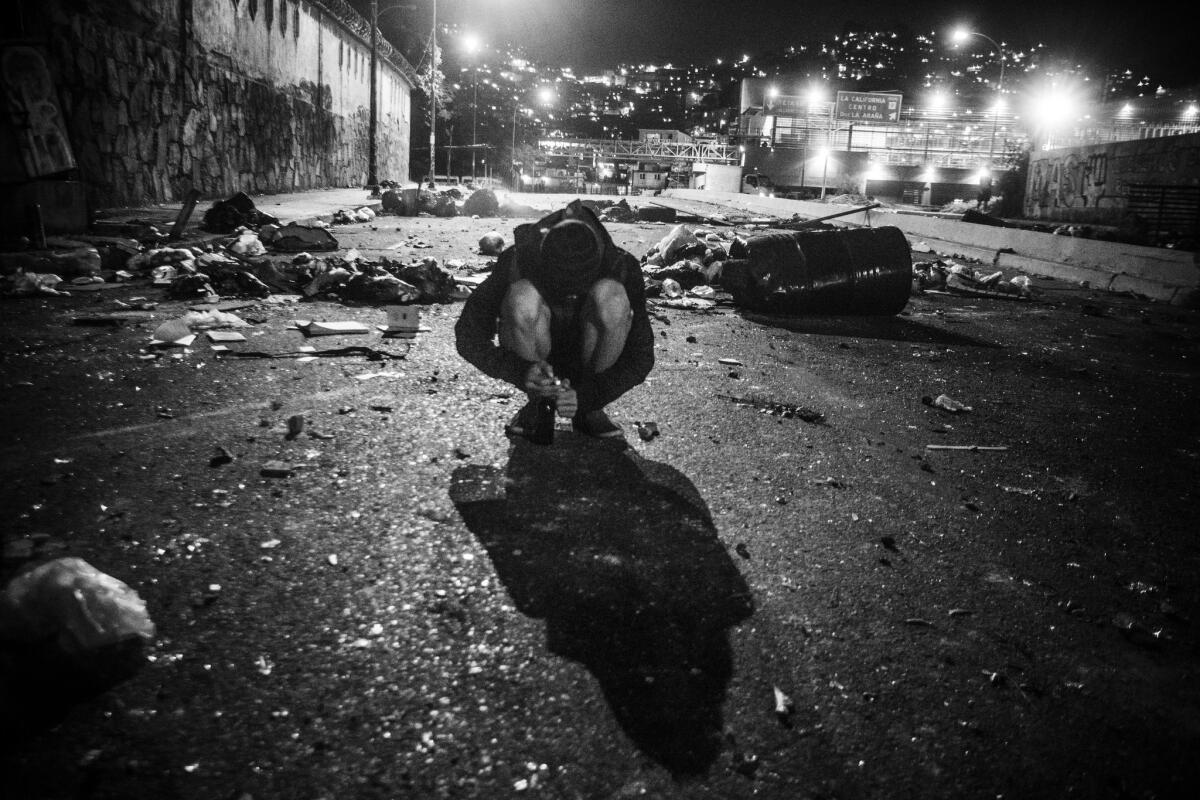 Venezuela was once one of Latin America's most prosperous countries, but plummeting oil prices, government mismanagement and rampant corruption have sent the nation of 31 million people teetering toward chaos. In the capital of Caracas, the tragedy that is modern Venezuela is playing out everywhere — from graveyards to shantytowns, from the halls of government to streets teeming with angry protesters.
Friends and relatives of Juan Pablo Pernalete greet each other after his funeral. Pernalete, a 20-year-old university student on a basketball scholarship, died in April during a protest against the government of President Nicolas Maduro. Venezuelan media reported that he died after being struck in the chest with a tear gas canister..
Euclides Farias, resting at his house in a shantytown in the El Valle area of Caracas, underwent surgery twice in recent months due to an intestinal infection. Nationwide, medicines are in short supply, and his family has been unable to find antibiotics, which has prolonged the recovery period.
A worker at the General East Cementery in Caracas prepares for the burial of Juan Pablo Pernalete. Eleven days before Pernalete's death, he sent out a tweet to fellow protesters: "Sometimes one wins, sometimes one loses, but this time I am not disposed to lose. I LOVE YOU, VENEZUELA."
Two young boys and two men scrounge for something to eat from trash bags used to form barricades on a Caracas street. Food shortages have left untold families hungry. Last year, one survey found, three-quarters of the country's population lost an average of 18 pounds because of the lack of food.
A stretch of land in the middle of the Francisco Fajardo Highway offers an odd spot for a man to pause for a rest. The highway, a major thoroughfare linking west and east Caracas, has been a frequent battleground where protesters have clashed with police and military forces. But on this day, the man said, he was just "resting and tanning for a while."
Anti-government protesters say Maduro and his government have repeatedly tried to undermine democratic institutions in Venezuela. This "Muro de la Verguenza" – or Wall of Shame – features photographs of high-profile politicians and members of Maduro's Cabinet. One bit of graffiti scribbled on the wall says, "They will all pay for the harm they have done."
Though thousands have taken to the streets to call for Maduro's ouster, he still retains support in some quarters of the country. Backers of the president gather in downtown Caracas, where Maduro planned to present his plan to adopt a new constitution. The new document would be drafted at an assembly consisting of 500 delegates, 250 of whom would be selected from "communal" groups recognized by Maduro's government.
Maduro has portrayed himself as the political heir to the late Hugo Chavez, whose image graces a T-shirt of a man at a pro-Maduro rally. The socialist Chavez was a vociferous critic of the United States and especially popular among Venezuela's poor. He led the country from 1999 until he died in 2013 and was succeeded by Maduro.
A mother talks to her son after he recited some words for supporters of Maduro. The boy is dressed as Simon Bolivar, the hero of independence for Venezuela and other Latin American nations and an inspiration for Hugo Chavez's so-called "Bolivarian revolution."
The eyes of a troubled nation: A young woman joins anti-government demonstrations on the east side of Caracas. A young child is carried by his mother as she sells ice cream at a rally to support to the embattled president.
Day after day, tear gas forms a smoky backdrop to clashes between protesters, many of them college students, and military and police forces.
A young protester receives first aid from volunteer paramedics after he was beaten by uniformed military officers. Several weeks of protests have left thousands injured and, by one estimate, at least 2,300 arrested..
A Venezuelan flag waves in the Altamira area of Caracas, a stronghold of government opposition. The flag is a frequent sight at demonstrations, carried by both the pro- or anti-government sides.
Dozens of people have died in the protests against the government. A memorial in Caracas lists the names of some of those who died, including Juan Pablo Pernalete, whose name appears in the second column from the left.
Sign up for Essential California for the L.A. Times biggest news, features and recommendations in your inbox six days a week.
You may occasionally receive promotional content from the Los Angeles Times.