More than 80,000 flee as Canadian fire grows; even evacuation centers are evacuated
Royal Canadian Mounted Police officers carry out rescue and evacuation work near Fort McMurray.
(RCMP Alberta / EPA)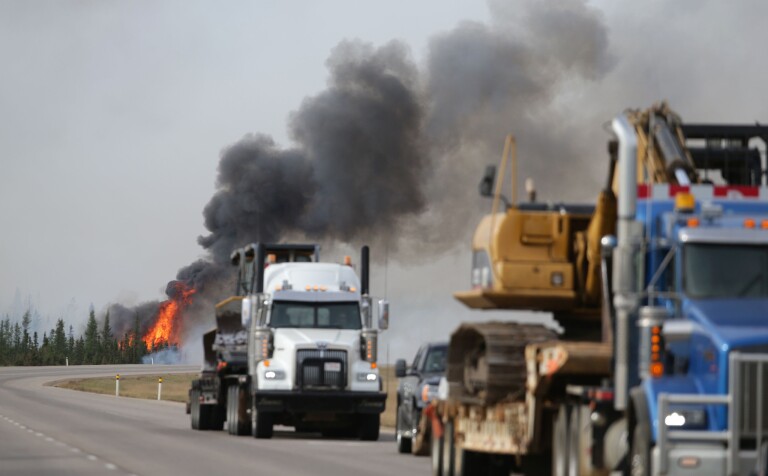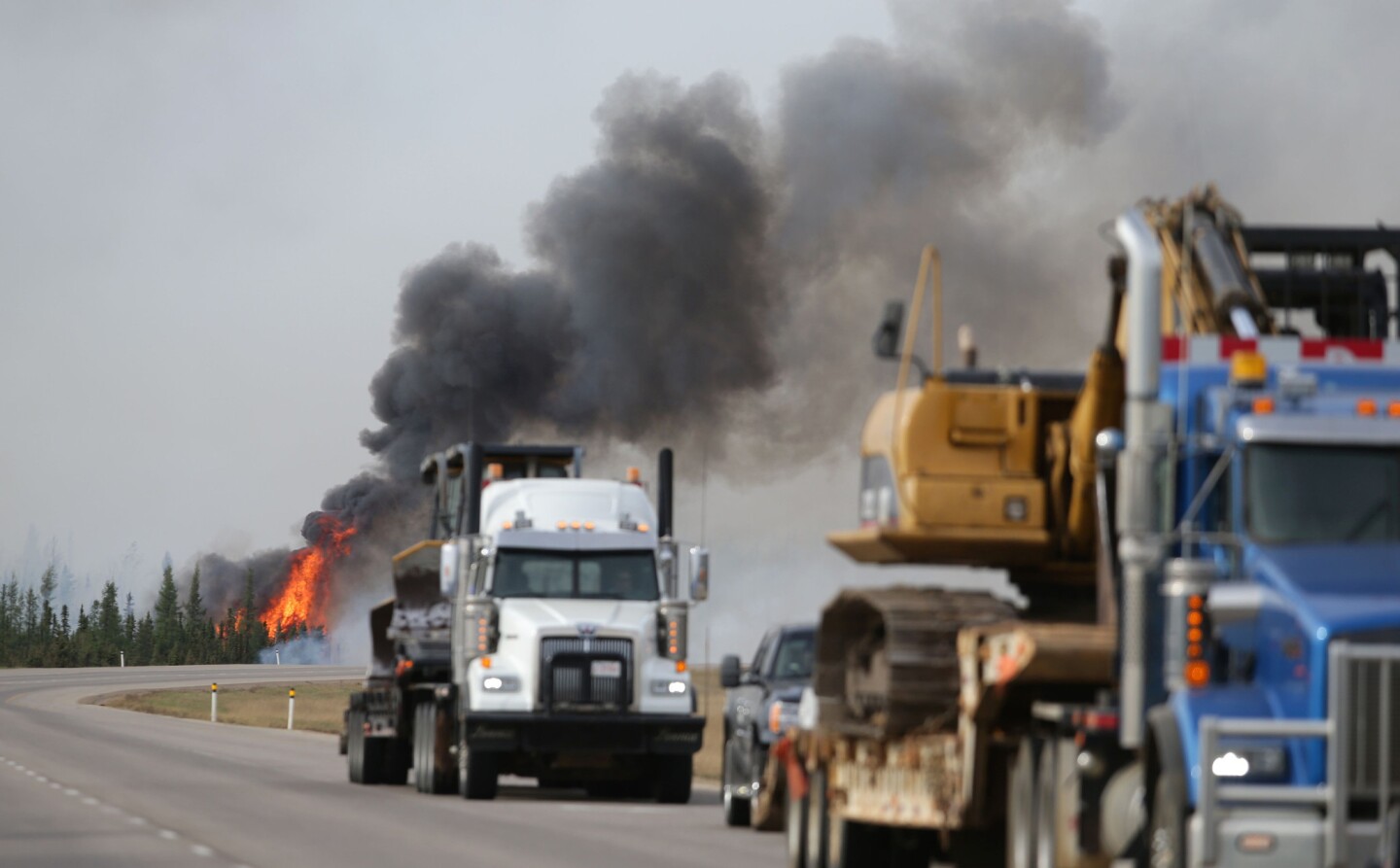 Flames rise off Highway 63 outside Fort McMurray, where raging forest fires have forced thousands from their homes.
(Cole Burston / AFP/Getty Images)
Donated shoes are offered to evacuees at an evacuation center in Lac La Biche, Alberta.
(Scott Olson / Getty Images)
Malibu Chartrand eats dinner at an evacuation center Saturday in Lac La Biche, Alberta.
(Scott Olson / Getty Images)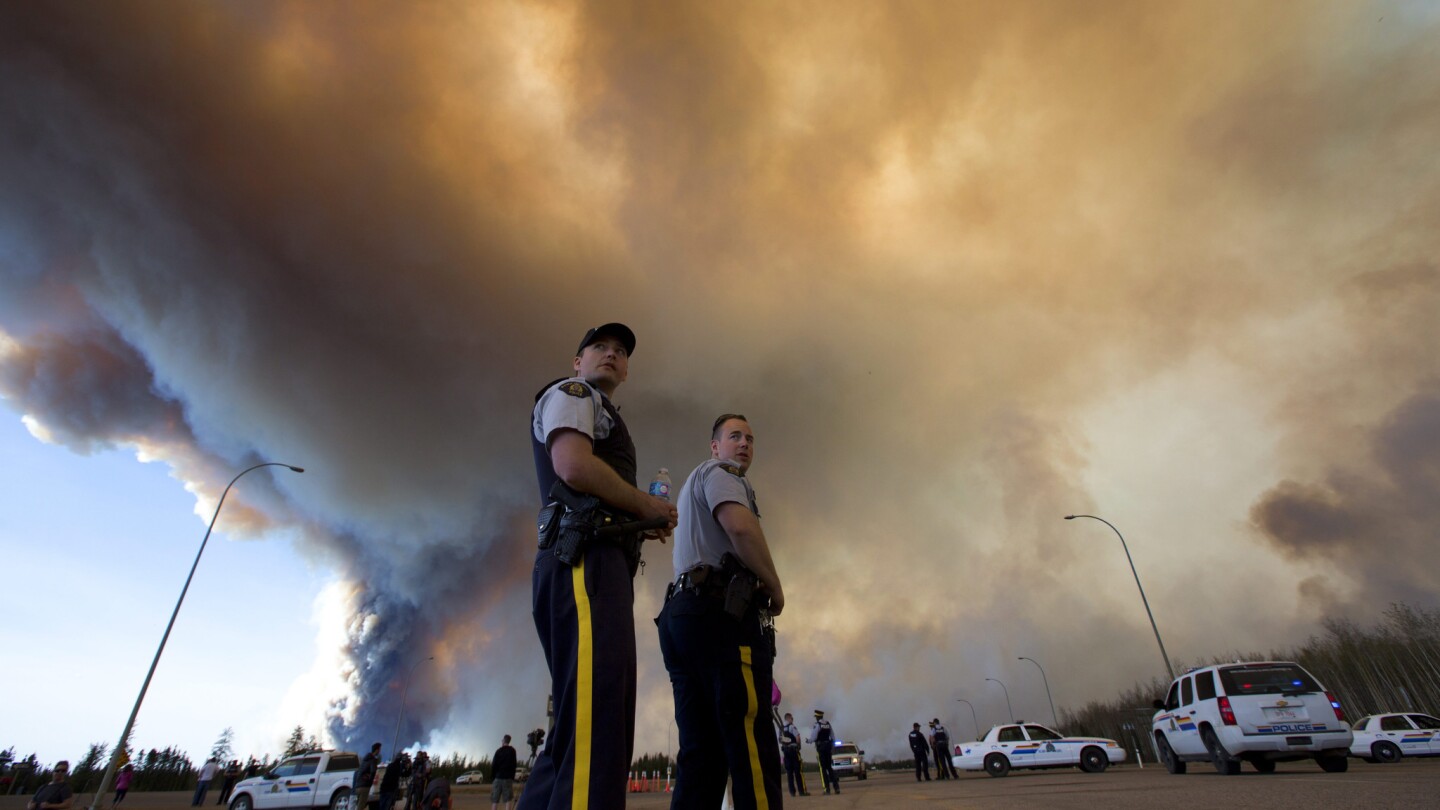 Police officers direct traffic under a cloud of smoke from a wildfire in Fort McMurray, Alberta.
(Jason Franson / Associated Press)
A police officer works at a roadblock May 6 on Highway 63 outside Fort McMurray, Canada, where tens of thousands fled a wildfire.
(Cole Burston / AFP/Getty Images)
Traffic backs up at a checkpoint outside Fort McMurray in the Canadian province of Alberta, where wildfires have forced the evacuation of the entire city of 80,000 and are still burning out of control.
(Scott Olson / Getty Images)
Evacuees from the wildfire in Fort McMurray collect donated necessities at an evacuation center in Lac la Biche, Canada.
(Jeff McIntosh / Associated Press)
A glow from a wildfire is seen against smoke clouds near Fort McMurray, Canada, on May 4.
(Cole Burston / AFP/Getty Images)
After fleeing a wildfire in Fort McMurray, Canada, Marlee Hildebrandt carries her daughter Oakley, 2, as she cleans cots at an evacuation center in Lac la Biche on May 5.
(Cole Burston / AFP/Getty Images)
reporting from wandering river, canada —
It took eight hours to get from hell to here.
Stacey Carroll covered her 4-month-old son's face with a cotton cloth as they drove through the smoke and flames, windows rolled up, her boyfriend dodging other cars in a slow-motion and dangerous escape. Any other day, the approximately 125-mile drive from Fort McMurray to this rural dot on Highway 63 would have taken no more than two hours — and they probably would not have stopped.
This was different. Fort McMurray, the hard-working city at the center of Canada's oil industry, was on fire.
"It was absolute madness," said Carroll, 23. "People leaving their cars on the sides of the road, everything burning. City buses driving into the dirt. That's crazy. I was so scared — scared for my life. I felt like I was in 9/11 or something."
See the most-read stories this hour >>
Like more than 80,000 other people who fled — by car, bus, plane, horse or riding helmetless on the back of a motorcycle driven by someone you did not know — weaving past police cars and pet owners determined to take their dogs for one final walk before they, too, would flee — Carroll and her family got out alive.
The dramatic exodus, which peaked on Tuesday and Wednesday, was documented on social media in a spectacular and horrifying stream of images showing gas stations exploding, mammoth walls of smoke rushing across the road and people narrating their terror in real time. ("Did Mom get out?" one sobbing woman screamed to her husband, a wall of trees on fire just a few yards away. He assured her she did.)
Now Fort McMurray is largely empty except for firefighters and emergency workers trying to protect what is left, including the airport built two years ago, when oil prices were still high. Even as the fire has grown to more than eight times what it was earlier in the week and hundreds of firefighters have come to battle it, officials said Thursday that it posed less of a direct threat to people, at least for now.
The evacuation, in turn, had quickly become a temporary resettlement, with little places such as Wandering River and much larger ones such as Edmonton, farther south, trying to respond to the vast needs of the diverse and international population drawn to live and work in a region that just a few years ago was booming.
The province of Alberta, amid the largest fire-related evacuation in its history, has declared a state of emergency. Efforts are underway to move more than 20,000 people from oil work camps to which they had evacuated to Edmonton, which has more social services. Oil companies have offered to help move many by air and animal protection agencies have taken in thousands of pets while their owners are staying in shelters or hotel rooms. At a huge shelter in Edmonton, at least one insurance company was distributing handwritten checks of $2,500 (Canadian) as interim assistance to homeowners, some of whom presented only cellphone pictures to prove they had lost their property.
NEWSLETTER: Get the day's top headlines from Times Editor Davan Maharaj >>
In Fort McMurray, more than 2,000 buildings and homes have been destroyed. Highway 63, the only route into Fort McMurray, is closed to most traffic, as is the airport.
With winds of up to 40 mph, the wildfire has expanded to 210,000 acres from roughly 25,000 acres, officials said. The provinces of Ontario and Quebec have sent firefighters and air tankers. About 160 Royal Canadian Mounted Police officers have been involved in the evacuation effort.
The oil sands on which Fort McMurray has thrived are more than 10 miles north of the city and officials say they have not been threatened. But production has declined by up to 800,000 barrels a day as the fire burns, according to market estimates.
The fire has upended many lives.
Brian Jean, one of Alberta's top politicians, was preparing to ask Premier Rachel Notley a question in the province's legislature Tuesday when a staff member told him that the wind had changed direction, and that his and thousands of other homes in Fort McMurray were in peril. Jean and another member of the provincial assembly who lives in the city picked up camping supplies, food and water and headed to the fire zone. He was en route when a nephew called with the news.
"I lost my home," said Jean, who serves as Alberta's leader of the official opposition. "I lost all my memories and possessions — a Harley, a jet boat — in Fort McMurray. I've lived here for 50 years."
He added, "I'm watching as my town burns."
Last year, Jean lost his 24-year-old son, Michael, to lymphoma.
James Agor had also known tragedy before. He moved to Canada in 2003 as a refugee from war-torn southern Sudan after first living in a United Nations camp in Kenya. For the last eight years, he and several of his fellow refugees worked in construction in the oil sands. On Wednesday night, after sleeping in a car along the highway after running out of gas, he — like so many other evacuees — finally arrived in Edmonton, a day after leaving Fort McMurray.
"We were all saying to each other that this feels just like we are going to the United Nations camp again," said Agor, 39, towing a rolling suitcase into the Edmonton Expo Center, where more than 3,000 people were staying as of Thursday. "It's the same scenario."
Yardley reported from Wandering River and special correspondent Guly from Ottawa.
MORE FROM WORLD
Turkish prime minister resigning, after rumored rift with president
A North Korean farm may not be what it appears
Millions of dead fish on Vietnam's shores raise industrial pollution fears
---
Must-read stories from the L.A. Times
Get the day's top news with our Today's Headlines newsletter, sent every weekday morning.
You may occasionally receive promotional content from the Los Angeles Times.