Blast in Egypt may signal deadly new phase in fight against militants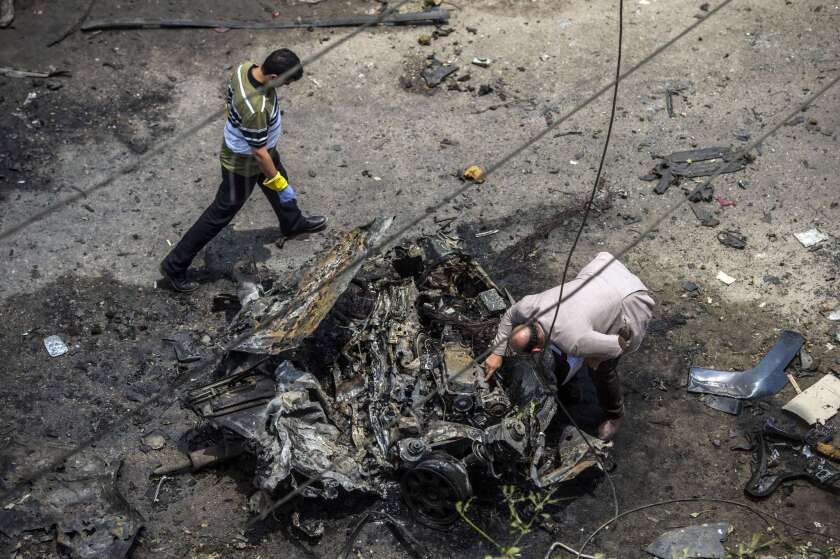 Reporting from Cairo —
The thunderous bomb blast that killed Egypt's state prosecutor on Monday could herald a deadly new phase in the authoritarian government's nearly 2-year-old battle to eradicate Islamist extremists.
The assassination of Hisham Barakat, who as prosecutor general presided over a harsh judicial crackdown on supporters of Islamist groups, marked the first time in recent history that militants had managed to successfully strike so senior a government official.
It also came at a highly symbolic moment: the eve of the anniversary of 2013 popular protests demanding the removal of Mohamed Morsi, an Islamist who was Egypt's first freely elected president. After three days of massive street demonstrations, Gen. Abdel Fattah Sisi, then the defense minister, stepped in and led the coup that deposed Morsi.
Sisi, who is now president, vowed retribution for the killing of Barakat. "The perpetrators will meet swift justice," said a statement from Sisi's office, which praised the prosecutor as a "model of judicial integrity."
Sisi's backers refer to his takeover as the "June 30 revolution." The government had planned elaborate celebrations to mark the second anniversary — revelry that was abruptly called off after Barakat's death.
Egyptian security forces had been on high alert in advance of the protest anniversary, and the U.S. Embassy warned American citizens to be cautious in coming days. Anti-U.S. sentiment in Egypt rose after Morsi's removal, with American officials seen as partisans of the Islamist president.
The last major assassination attempt against a senior Egyptian government official had been in September 2013, when the militant group Ansar Bayt al Maqdis, or Partisans of Jerusalem, tried to kill the then-interior minister, Mohamed Ibrahim, with a suicide blast in Cairo. He narrowly escaped.
Ansar Bayt al Maqdis has since declared allegiance to Islamic State and rebranded itself as Sinai Province. The group claimed responsibility for an attack in May that killed three judges, and it is suspected in Monday's blast because of the sophisticated planning and the high-grade explosives employed.
The bombing, in the upscale neighborhood of Heliopolis, left a scatter of twisted, charred vehicles, sent a black plume of smoke into the air and propelled burning debris over a wide area. Egyptian news reports said the lack of a suicide attacker's body led authorities to surmise the explosion was set off by remote control.
As prosecutor general, Barakat sat atop a prosecutorial apparatus that moved against not only members of Morsi's outlawed Muslim Brotherhood, but secular opponents of the government as well, though their numbers were smaller.
Egypt's courts are described by human rights groups as highly politicized and a commonly used tool of enforcement against antigovernment dissenters of all stripes, but especially the Brotherhood. Tens of thousands of supporters of the movement, once Egypt's largest opposition group, are behind bars, and hundreds more have died in street clashes with security forces.
The Muslim Brotherhood has repeatedly disavowed use of violence, but the government portrays it as the equivalent of armed groups such as Sinai Peninsula and routinely blames it for attacks, even those claimed by others. The government has branded the Brotherhood a terrorist organization and moved to seize its assets and close its media affiliates.
Morsi has been sentenced to death in one of the several criminal cases against him, and hundreds of other Brotherhood figures have been condemned in mass tribunals.
Although the capital verdict against him is being appealed, Morsi has made recent court appearances in the red prison jumpsuit designated for those who are condemned to death. If the sentence were carried out, it would be the first execution of a former Egyptian president.
In the 23 months since Morsi's ouster, the Islamist insurgency in the Sinai Peninsula has left hundreds of police officers and soldiers dead. The Sinai militants mainly strike at army and police targets in the rugged peninsula, but have mounted a few major bombings in heartland cities including Cairo.
A series of smaller-scale attacks this year have hit primarily economic targets, including famed touristic sites such as the pyramids and Luxor's Karnak Temple. The tourist sector in recent months had shown signs of recovery — one of the few bright spots in Egypt's economy, which has struggled after the 2011 popular uprising that toppled longtime dictator Hosni Mubarak.
Hassan is a special correspondent.
Twitter: @laurakingLAT
---
Must-read stories from the L.A. Times
Get all the day's most vital news with our Today's Headlines newsletter, sent every weekday morning.
You may occasionally receive promotional content from the Los Angeles Times.