Softening Trump's Syria withdrawal plans, Bolton calls for Kurdish allies' protection, defeat of Islamic State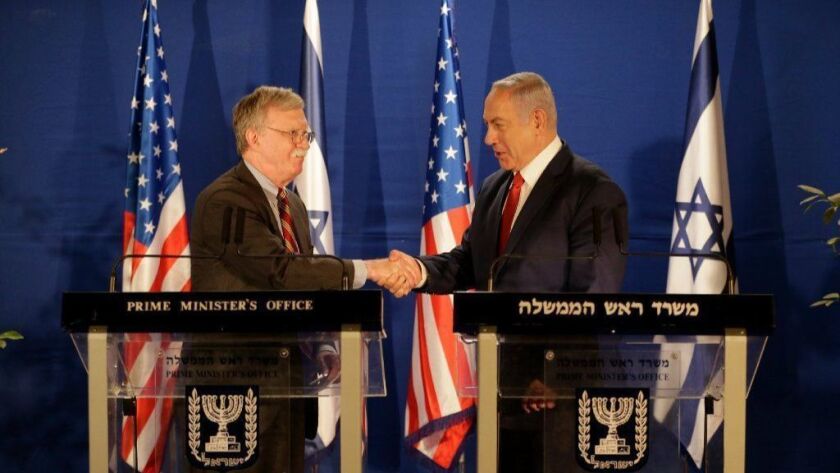 Reporting from Jerusalem —
National security advisor John Bolton on Sunday seemingly walked back President Trump's vow to speedily withdraw U.S. forces from Syria, setting down conditions that would probably require a prolonged American troop presence, including the protection of allied Kurdish forces and the defeat of Islamic State.
Less than three weeks ago, Trump upended U.S. policy in the region by abruptly announcing a pullout "now" of American forces, prompting his highly respected defense secretary, James N. Mattis, to resign in protest and drawing a hail of bipartisan criticism from lawmakers who called the decision precipitous and highly damaging to relations with American allies.
Senior aides to Trump have sometimes suffered harsh consequences when appearing to publicly contradict the president. But Trump, speaking to reporters at the White House hours after Bolton's remarks in Jerusalem, did not give any immediate indication he felt undercut by his national security advisor.
Instead, the president suggested that a calibrated pullout, with decisions made in accordance with conditions on the ground, had been his intention all along.
"We're going to be removing our troops. I never said we're doing it that quickly," Trump said. Using an acronym for the militant group Islamic State, he added: "But we're decimating ISIS."
In his Dec. 19 announcement, the president declared that U.S. forces "have defeated ISIS in Syria, my only reason for being there during the Trump presidency."
Bolton, on a visit to Israel, offered reassurances that the Trump-announced withdrawal, initially expected to take place within weeks, would instead be conditioned upon "policy decisions that we need to implement."
Trump allies sought to minimize any differences between the president's previously articulated position and his national security advisor's assurances.
Sen. Lindsey Graham (R-S.C.), who was sharply critical of the president's initial pullout announcement and personally lobbied Trump to reconsider, said on CBS' "Face the Nation" that "I think this is the reality setting in" about the need to plan and coordinate the withdrawal of about 2,000 U.S. forces amid Syria's complex, multisided civil war.
"The bottom line here is we want to make sure we get this right, that ISIS doesn't come back," he said.
Trump, the senator said, was "slowing down and is reevaluating his policies in light of those three objectives: Don't let Iran get the oil fields, don't let the Turks slaughter the Kurds, and don't let ISIS come back."
Although Bolton's comments represented the most visible break with Trump's abrupt Dec. 19 announcement, aides had been seeking in recent days to soften his earlier position, playing down talk of any firm timetable for the pullout. The president had spoken of a possible four-month winding down of the U.S. presence.
In remarks delivered before a working dinner with Israeli Prime Minister Benjamin Netanyahu, Bolton said the exit of U.S. troops would take place "in a way that makes sure that ISIS is defeated and is not able to revive itself and become a threat again, and to make sure that the defense of Israel and our other friends in the region is absolutely assured."
Protection of Kurdish allies who have fought alongside U.S. troops, he told reporters, was a priority. NATO ally Turkey considers the Syrian Kurdish fighters to be terrorists.
"We don't think the Turks ought to undertake military action that's not fully coordinated with and agreed to by the United States, at a minimum so they don't endanger our troops," said Bolton, who was to travel to Turkey on Monday with Gen. Joseph Dunford, the chairman of the Joint Chiefs of Staff, for talks with officials in the capital, Ankara.
December's abrupt word of a planned American withdrawal from Syria rattled senior Israeli officials, especially followed by Trump's comment last week that Iran, Israel's greatest regional foe, "can do what they want" in Syria. Danny Yatom, a former head of Israel's Mossad intelligence agency, said in a television interview that the notion of a free rein for Iran in Syria was "very worrisome."
Although Bolton's comments helped ease fears of the potentially chaotic consequences of a rapid pullout from Syria, the administration's apparent change of heart drew barbs from some.
Brian McKeon, who held senior security posts in the Obama administration, wrote on Twitter, "So Mattis resigned over a policy decision that's now being reversed?"
Democrats, having regained control of the House of Representatives, are already signaling that Trump's freewheeling style on national security matters will draw new scrutiny.
The new Democratic chairman of the House Armed Services Committee, Rep. Adam Smith of Washington, criticized what he called a lack of "transparency and explanation" for Trump's decisions on troop deployments, including the Syria pullout.
Speaking on ABC's "This Week," Smith said he intended to hold hearings about the White House's policies on Syria and Afghanistan. He said he'd like to call Mattis as a witness.
The president's December pullout announcement reportedly came in response to a request from Turkish President Recep Tayyip Erdogan — a seemingly off-the-cuff concession that startled even the Turkish leader.
In Trump's comments Sunday, something of the triumphal tone of his abrupt December announcement remained.
"When I was elected President two years ago, ISIS was all over Syria and all over Iraq," he said. "We've wiped out ISIS in Iraq. We've wiped out ISIS."
Bolton said he expected U.S. forces would eventually depart from northeastern Syria. But in September, he had said that U.S. forces would stay in Syria as long as there were Iranian forces in the country.
Bolton was far more circumspect than Mattis in his response to last month's pullout announcement, and he did not appear to have immediately drawn the president's wrath with his comments in Jerusalem. Asked about Bolton's remarks Sunday, Trump declared: "John Bolton is doing a great job."
But Trump sometimes gets angry at aides after the fact, depending on how his surrogates' backpedaling or criticism, implicit or explicit, is characterized in media reports, particularly in the conservative outlets he favors.
When Mattis quit, Trump initially reacted graciously, hailing his distinguished service. But after hearing the outgoing secretary's pre-Christmas resignation letter characterized as a scathing criticism of Trump's treatment of allies, the president began taking public potshots at the former Marine general.
Accelerating Mattis' planned departure, which the ex-general had set for at the end of February, Trump pushed him out as of Jan. 1, and then claimed to have "essentially" fired Mattis.
"What's he done for me?" he asked last week.
Special correspondent Tarnopolsky reported from Jerusalem and Times staff writer King from Washington.
---
The Latinx experience chronicled
Get the Latinx Files newsletter for stories that capture the multitudes within our communities.
You may occasionally receive promotional content from the Los Angeles Times.