Five years later, the voices of dissent are long gone from Tahrir Square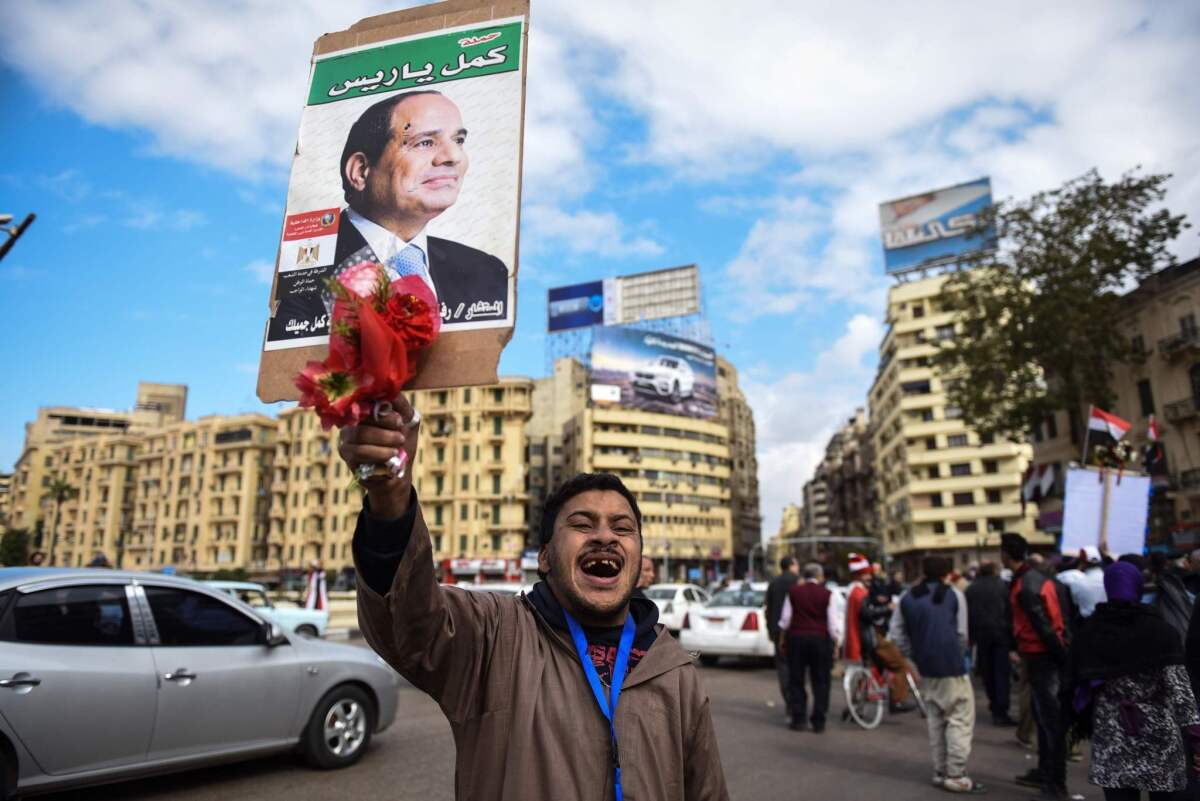 Reporting from Cairo —
Five years ago, Tahrir Square became the watchword for change in the Middle East. On Monday, it echoed with the voices of the status quo.
Hundreds of people gathered in the square on an unusually cold and rainy day to mark the anniversary of the Jan. 25 uprising that led to the ouster of autocratic President Hosni Mubarak. But these weren't the protesters who had risked their lives in those heady days -- far from it.
"Oh, Sisi, we love you!" they chanted, offering their ode of support to a new strongman, President Abdel Fattah Sisi. And, perhaps more remarkable: "The Interior [Ministry] is precious to us!"
Join the conversation on Facebook >>
No words could have been more unthinkable during the Arab Spring protests of 2011, when Egypt's Interior Ministry was reviled for its ruthless repression of dissent.
The Tahrir Square uprising led to Mubarak's ouster and ultimate imprisonment, and the democratic election of Mohamed Morsi, a leading member of the long-banned Muslim Brotherhood. Morsi was toppled by a military coup led by Sisi in July 2013.
Sisi's rule has been so far marred by mass and arbitrary arrests of both Islamist and liberal dissidents alike. While foreign human rights organizations, such as the Britain-based Amnesty International, put the detentions toll at 16,000, local rights advocates claim that arrests have surpassed 40,000.
But Sisi enjoys substantial support from Egyptians who believe the country needs a strong hand at the helm.
"I am here to show support to both Sisi and our police forces, who have suffered the most of late," Hussein Metwally, a 56-year-old shop owner said. "Those who are objecting to Sisi and are still calling for protests against him are mere traitors who want to disrupt Egypt's stability."
Aside from the pro-Sisi demonstrators, there were few signs that Monday was anything but an ordinary day. Many stores remained open and traffic was as usual around the square. A few police vehicles stood by while supporters snapped souvenir photos with Special Forces officers. Scenes of the 2011 revolt seemed far and long gone.
"The revolution has brought us nothing but the rule of Morsi's Muslim Brotherhood group. Those who carried out the uprising had no clear vision for Egypt's future. They just brought chaos," Mohamed Ibrahim, 30, said while touring the square carrying an Egyptian flag.
"We want ... the rule of the army," he said. "The military is the only standing institution that can manage Egypt now."
Since 2009, Jan. 25 has been a national holiday in Egypt: Police Day. On that day in 2011, a nationwide uprising began in Tahrir Square, the main square in central Cairo, demanding democratic change.
On that day, the square was sealed off with security cordons aimed at barring protesters from reaching the area, which overlooks some of Cairo's most important sites, including the Egyptian Museum and the nearby parliament and Interior Ministry headquarters.
Scores of police conscripts, higher ranked officers and state security informants had scattered across the spacious square in their overtures to protect Mubarak's grip on power, which had begun in 1981.
Shops were closed in anticipation of trouble. The usual Cairo traffic jams in and outside the square were nonexistent.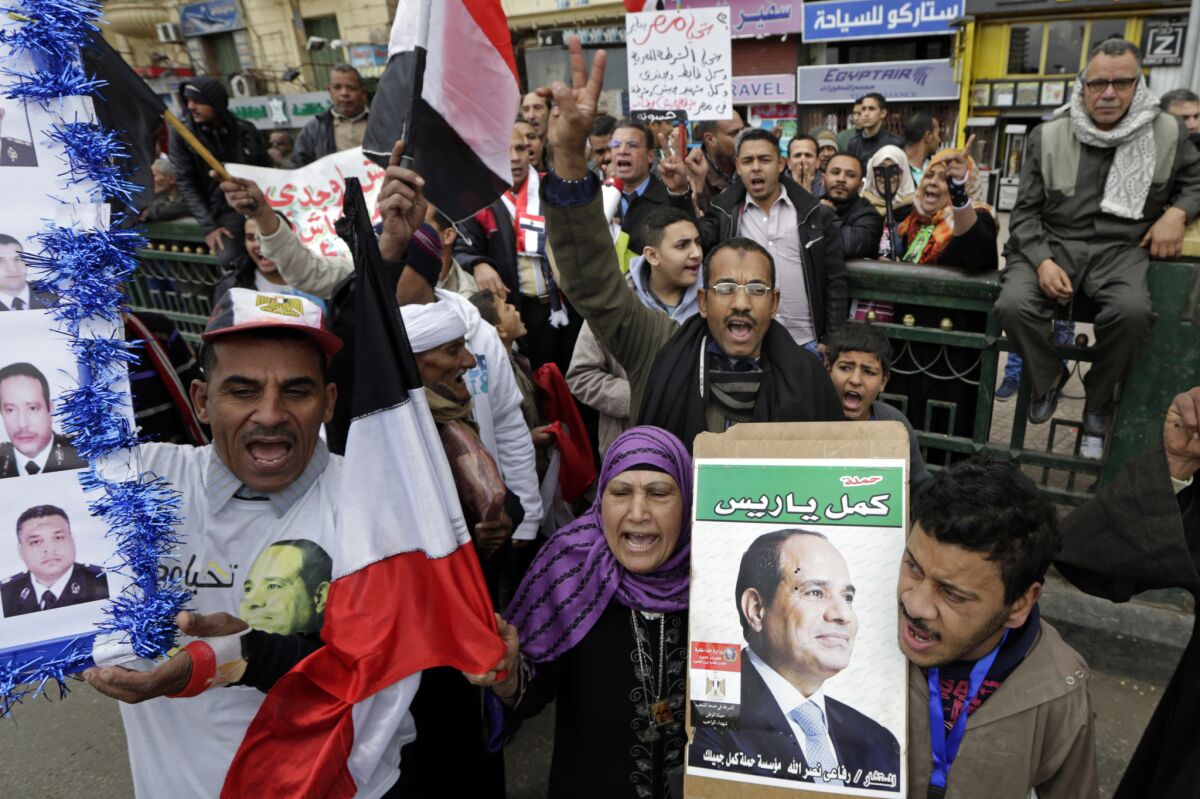 Late in the day, thousands of marchers managed to temporarily occupy the square after minor confrontations with security officers in areas leading to the square. More violent and deadly marches ended with the total crippling of police forces three days later.
Twenty-one days after the demonstrations began, Mubarak was forced to leave office.
Today, most of those who launched the 2011 rebellion are disillusioned with the path the country has taken. None of them was seen in Tahrir Square on Monday.
Hopes of a post-Mubarak civilian rule were shattered by the election of former defense minister Sisi as president in 2014. Under Sisi, thousands of dissidents have been arrested and persecuted; protests have been harshly put down.
More recently, Sisi's government has intensified its crackdown, arresting more than 200 people over the last four weeks on suspicion of harboring "intentions" to carry out demonstrations on the revolt's anniversary.
On Saturday, a joint statement issued by 27 public figures, including prominent satirist Bassem Youssef and novelist Alaa el-Aswany, demanded the immediate release of activists arrested over the last two weeks.
The statement condemned what it called the state's efforts to induce a state of fear and panic, and emphasized the public's right to protest.
The government did not respond.
Hassan is a special correspondent.
---
Must-read stories from the L.A. Times
Get the day's top news with our Today's Headlines newsletter, sent every weekday morning.
You may occasionally receive promotional content from the Los Angeles Times.