Turkey says bomber in Istanbul entered country from Syria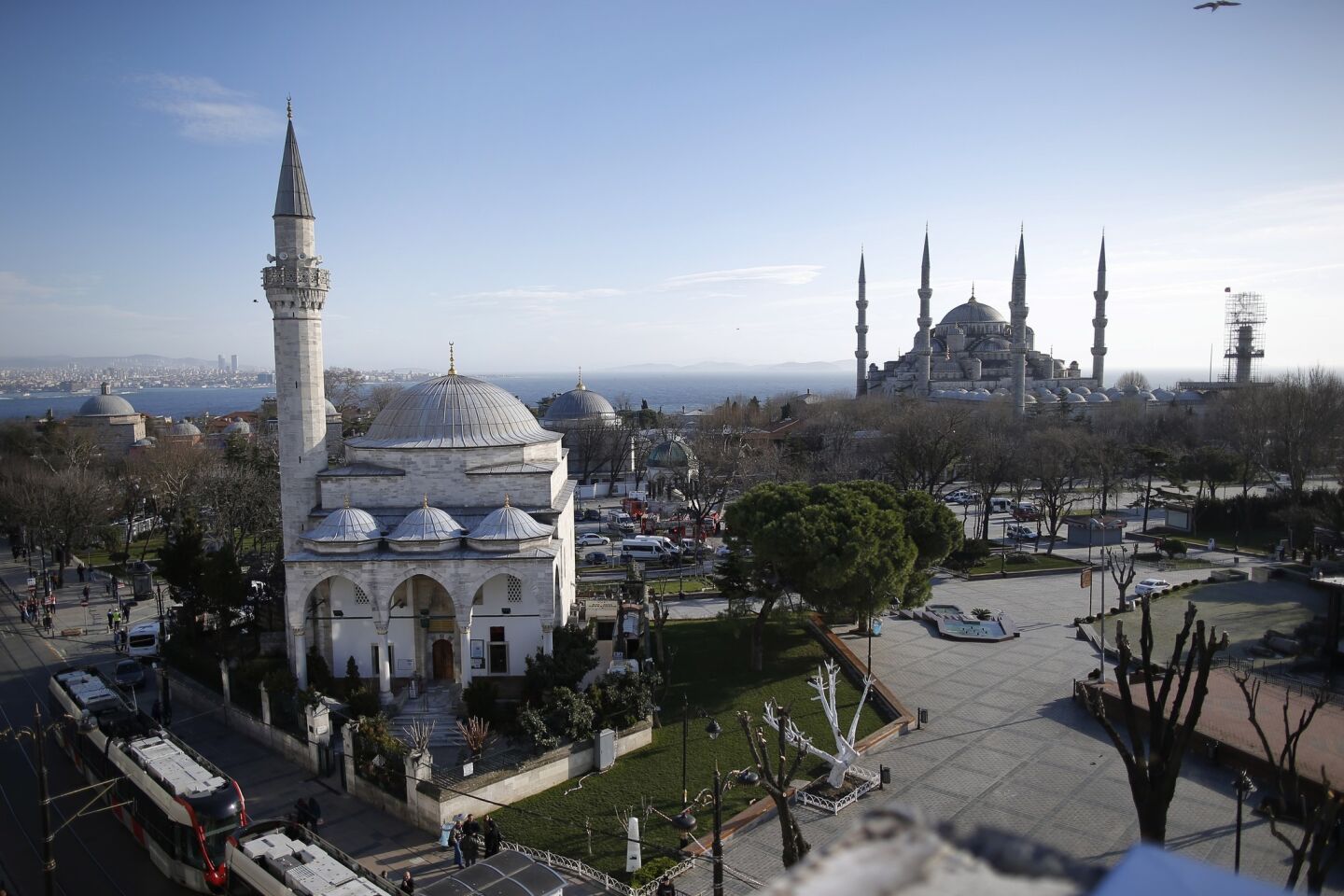 A view of the Sultan Ahmed Mosque, right, better known as the Blue Mosque in the historic Sultanahmet district of Istanbul, where an explosion killed 10 people and wounded more than a dozen others.
(Emrah Gurel / Associated Press)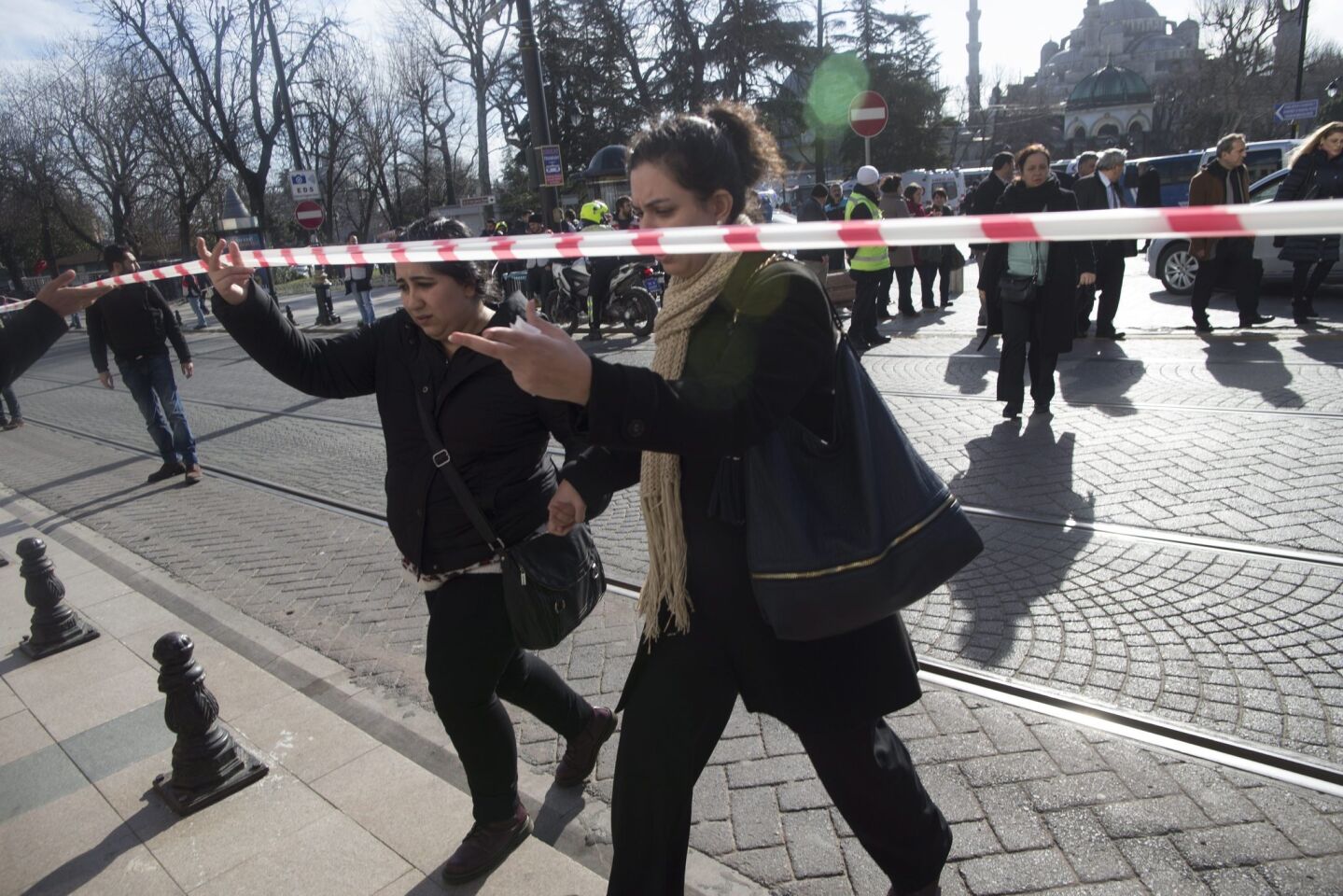 People get away from the area after an explosion near the Blue Mosque in the Sultanahmet district of central Istanbul.
(TOLGA BOZOGLU / EPA)
A Turkish police officer patrols past a derelict building in Istanbul's tourist hub of Sultanahmet after a blast killed at least 10 people.
(BULENT KILIC / AFP/Getty Images)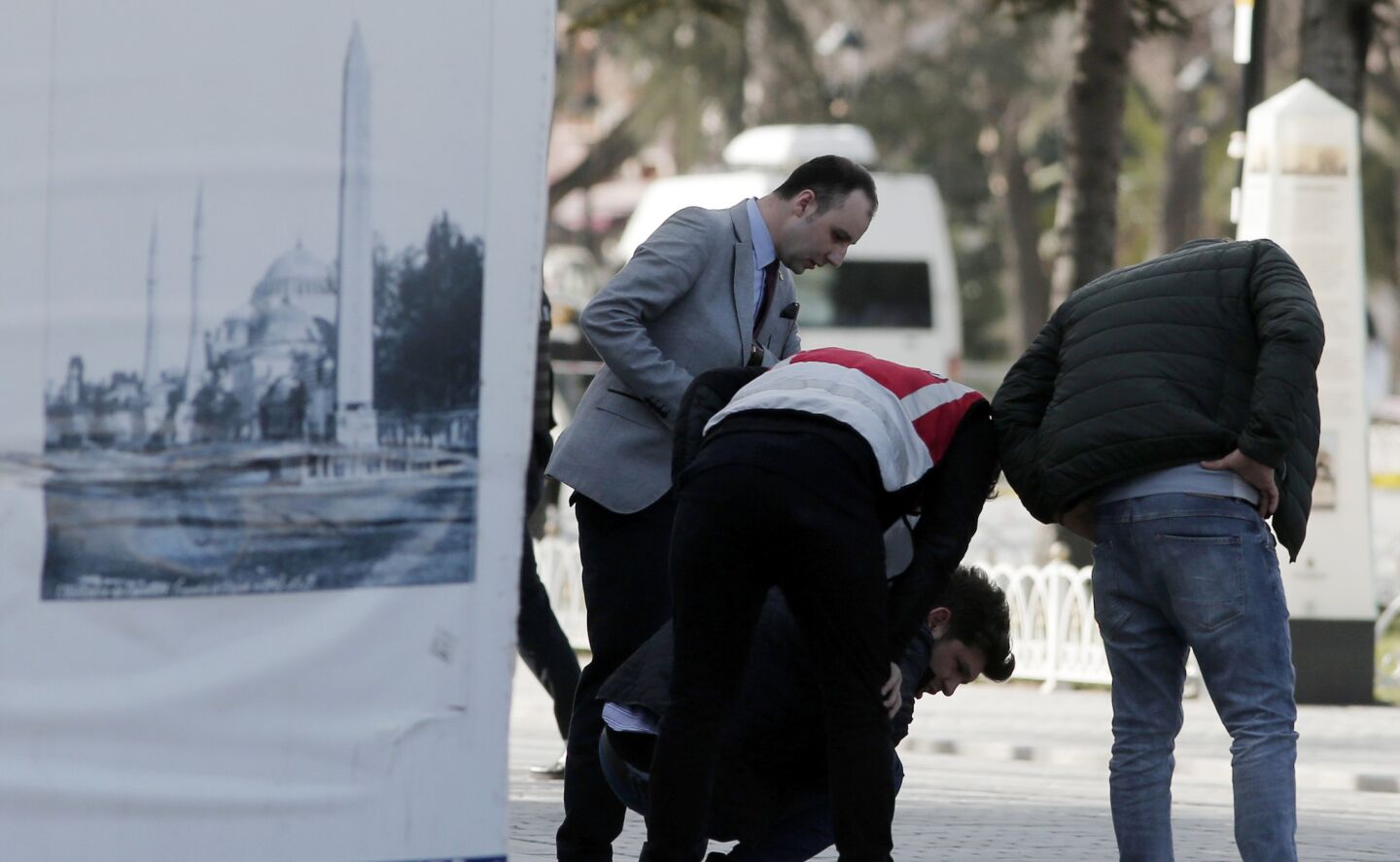 Policemen search for evidence at the historic Sultanahmet district after an explosion in Istanbul.
(Lefteris Pitarakis / Associated Press)
People react after a blast in Istanbul's tourist hub of Sultanahmet on Tuesday.
(BULENT KILIC / AFP/Getty Images)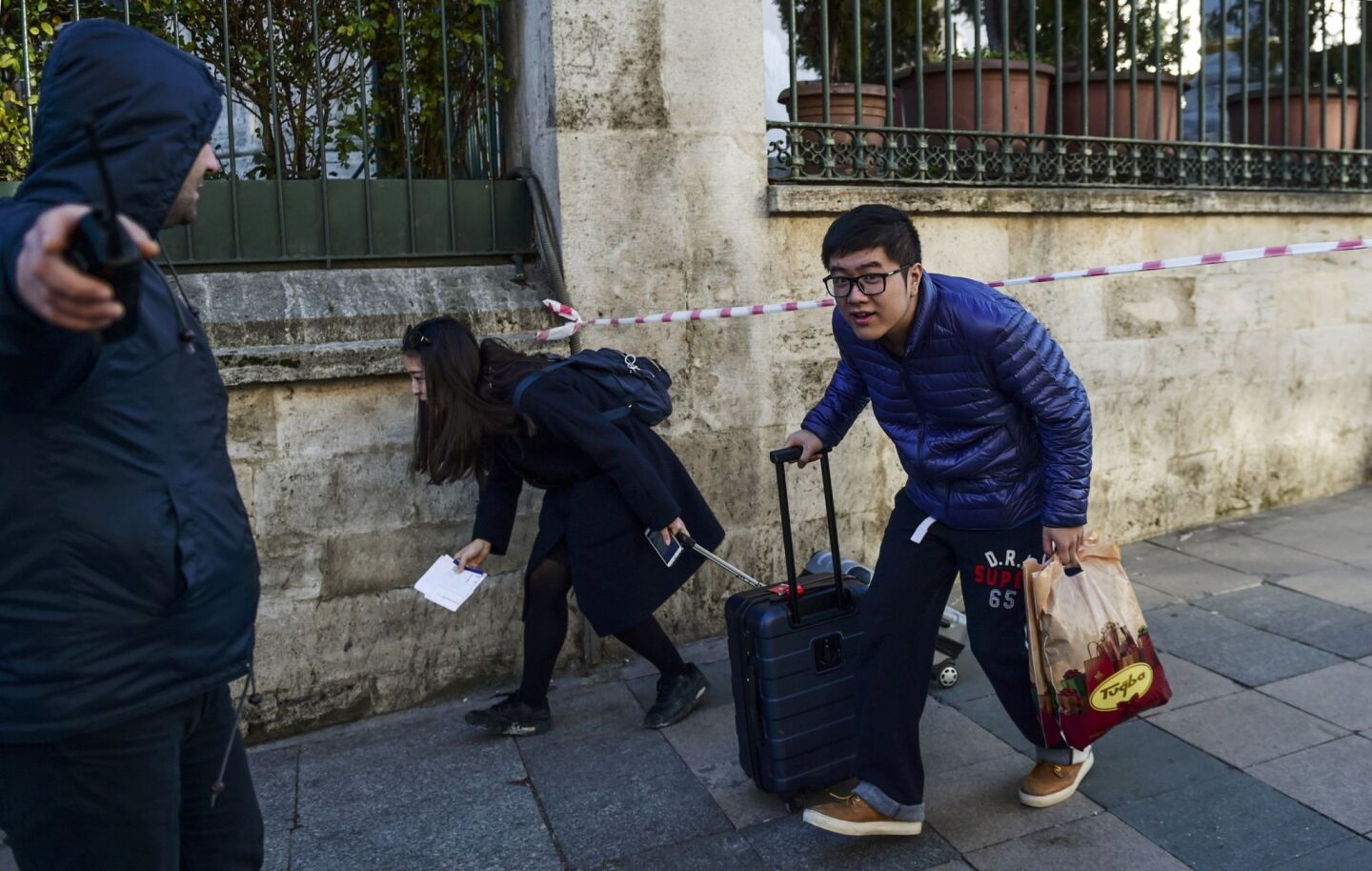 Tourists leave the area near the site of a blast in Istanbul's tourist hub of Sultanahmet.
(BULENT KILIC / AFP/Getty Images)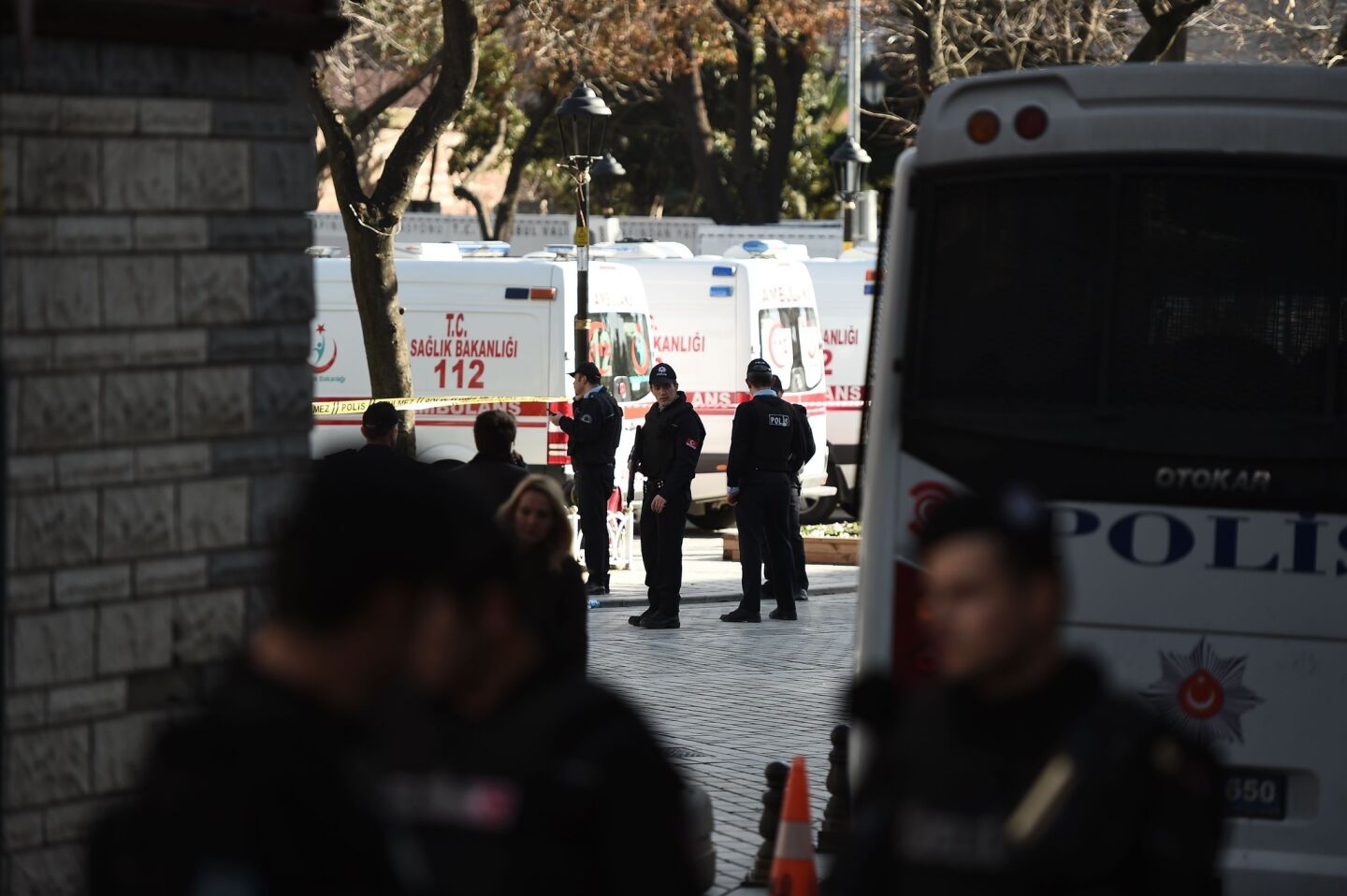 Turkish police stand next to ambulances as they block access to the Blue Mosque area after a blast in Istanbul's tourist hub of Sultanahmet left 10 people dead.
(OZAN KOSE / AFP/Getty Images)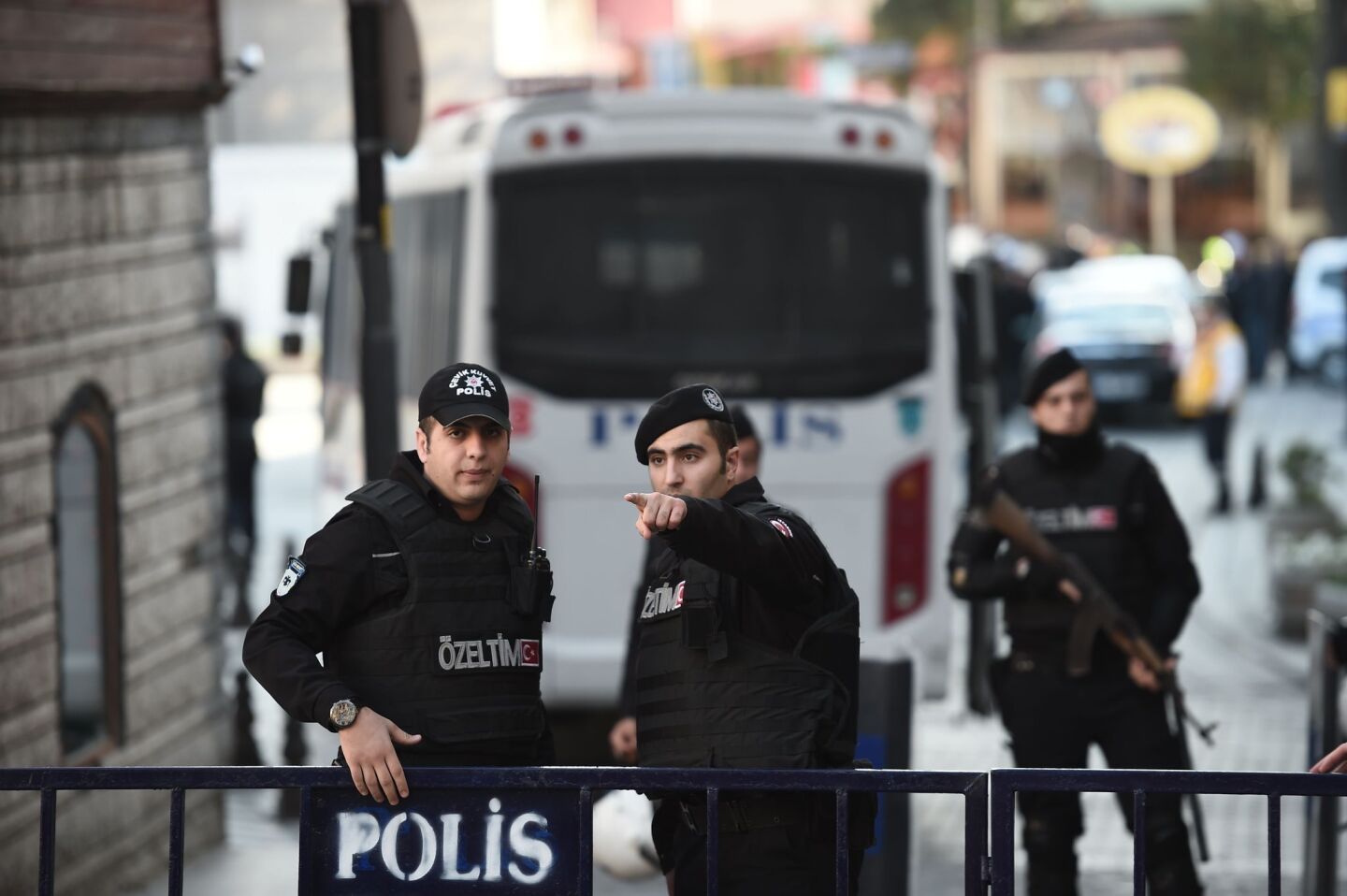 Turkish police cordon off the Blue Mosque area after a blast in Istanbul's tourist hub of Sultanahmet left 10 people dead.
(OZAN KOSE / AFP/Getty Images)
A tourist passes in front of Hagia Sophia Museum after an explosion at the nearby Blue Mosque.
(TOLGA BOZOGLU / EPA)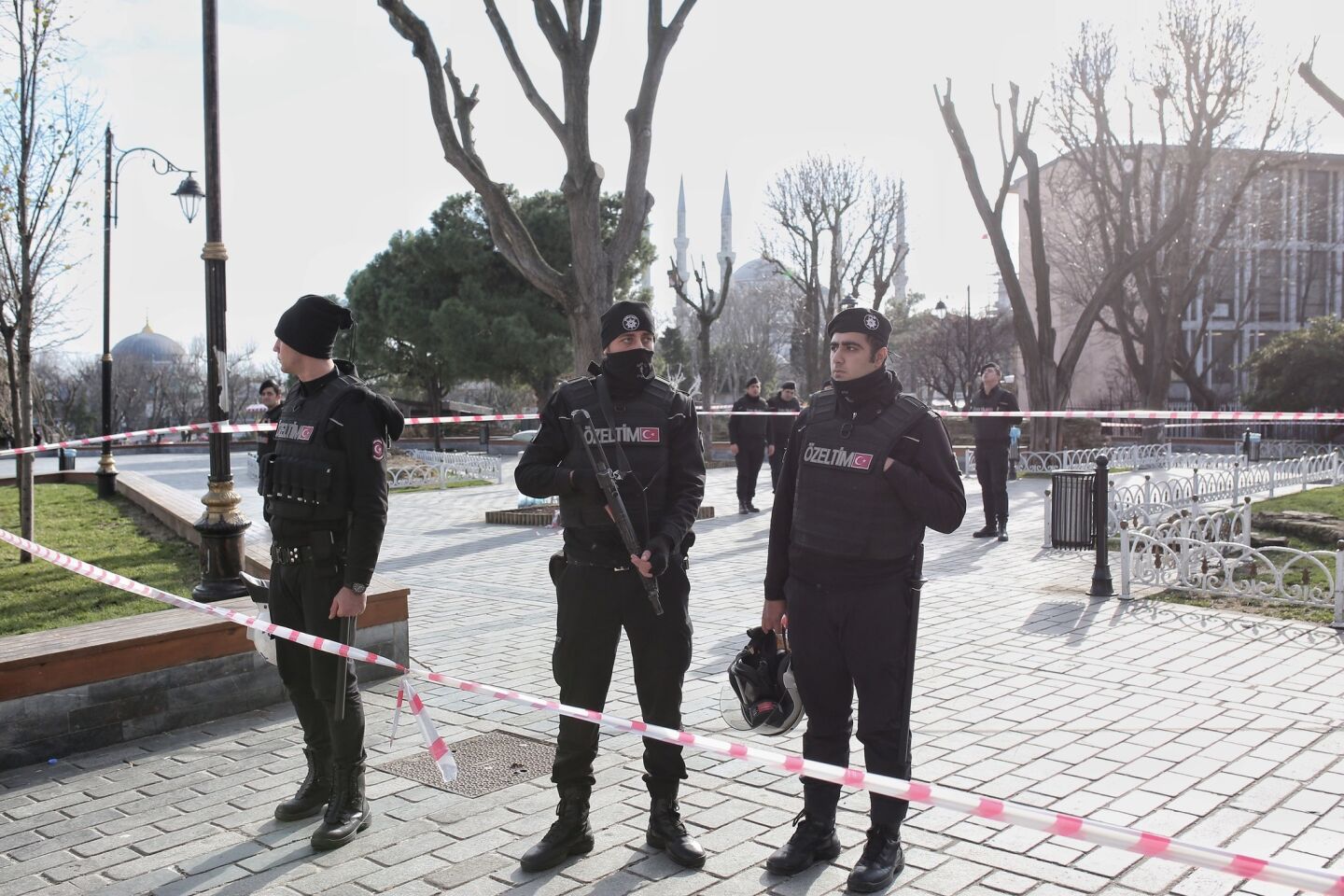 Turkish police secure the area after an explosion in the central Istanbul Sultanahmet district in Istanbul.
(Can Erok / Getty Images)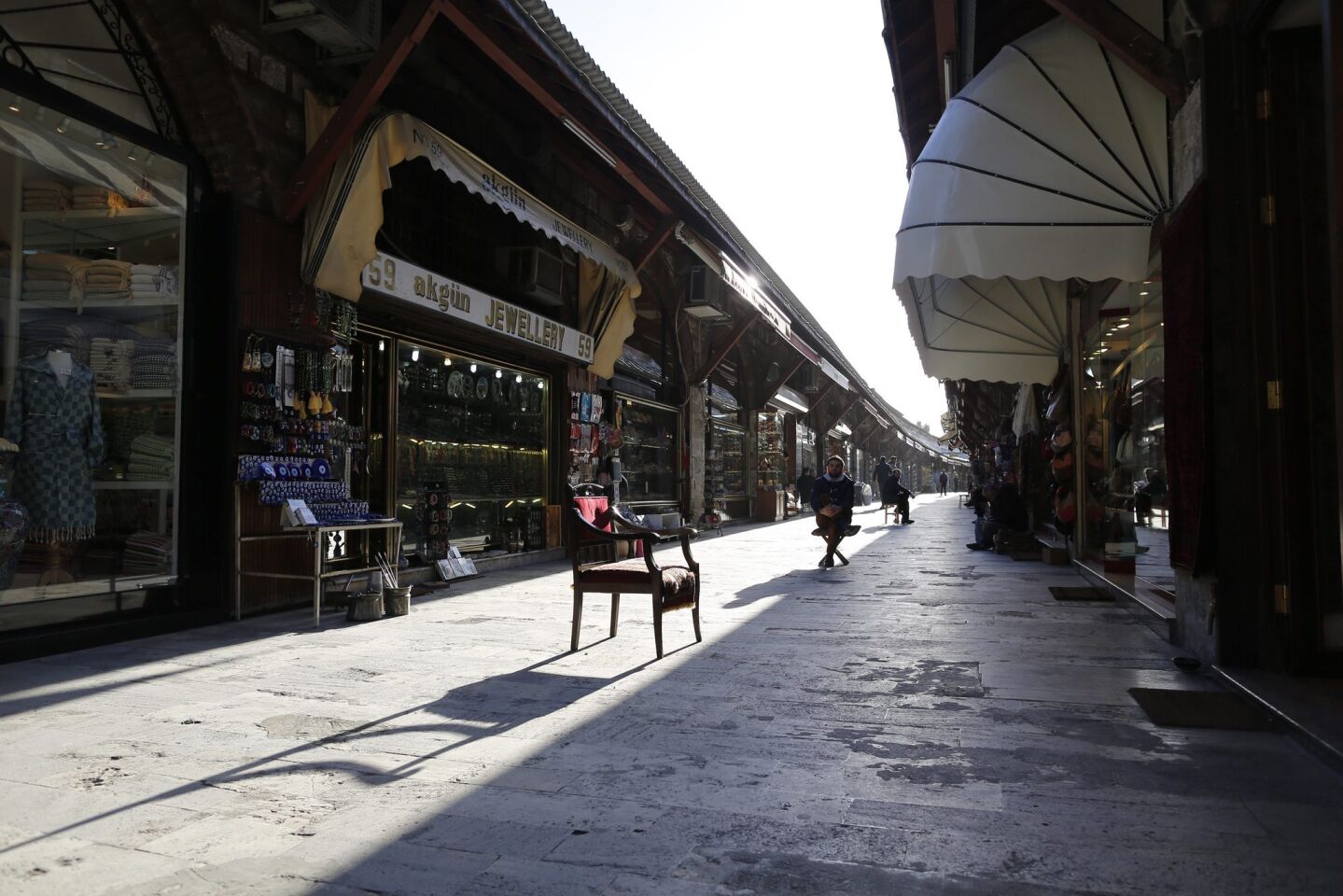 Turkish sellers wait for tourists after an explosion near the Blue Mosque in the Sultanahmet district of central Istanbul.
(CEM TURKEL / EPA)
reporting from istanbul, turkey —
Turkish authorities say the militant group Islamic State was behind a suicide bombing Tuesday that rocked the heart of Istanbul's tourist district, leaving at least 10 people dead, most of them German tourists, and injuring 15 others.
The attack appears to be the latest in a series of deadly strikes by Islamic State operatives outside the breakaway Al Qaeda faction's self-proclaimed caliphate, which stretches across a broad swath of Syria and Iraq.
Turkish Prime Minister Ahmet Davutoglu told reporters that the suicide bomber was a member of Daesh, an Arabic acronym for Islamic State, which is being targeted in Syria and Iraq by a U.S.-led coalition that includes Turkey, as well as by Russian warplanes in Syria.
"We will continue our fight against terrorism with the same resolve, and will never take a step back," Davutoglu vowed at a news conference in Ankara, the Turkish capital.
Authorities described the suicide bomber as a Syrian national born in 1988, but the private Dogan news agency said he was born in Saudi Arabia. The attacker had recently entered Turkey from Syria, Turkish Deputy Prime Minister Numan Kurtulmus told reporters, without providing additional details.
There was no immediate claim of responsibility from Islamic State.
Tuesday's explosion occurred in Istanbul's Sultanahmet Square, close to several landmarks, including the Blue Mosque and the Hagia Sophia, a former Byzantine basilica that is now a museum. The area is often thronged with tourists, raising the presumption that the bomber was deliberately targeting foreign visitors.
News reports indicated that nine of the 10 dead were German, as were several of those wounded. German Foreign Minister Frank-Walter Steinmeier put the number of German dead at eight.
The Foreign Ministry in Berlin issued an "urgent warning" to all German tourists in Turkey to avoid large gatherings in Istanbul.
Davutoglu telephoned German Chancellor Angela Merkel to express his condolences, Turkey's state-run news agency reported.
Merkel condemned the attack as a "murderous act." She issued a statement saying: "The terrorists are enemies of all free people and, yes, they're the enemies of all of humanity. But we will prevail in safeguarding precisely that freedom with our international partners against these terrorists."
Many of the German casualties in the attack were part of a group of 33 who booked their trips through the same Berlin travel agency, according to a report in Die Welt newspaper's online edition.
"Terrorism hasn't hit us Germans this hard in many years," Steinmeier told journalists in Berlin. "But we cannot allow, and will not allow, ourselves to be intimidated by murder and violence. On the contrary: Together with our partners around the world we'll fight terror wherever it is."
German Interior Minister Thomas de Maiziere is planning to travel to Turkey, and agents from Germany's federal bureau of investigation were already at the scene, the ARD TV network reported.
The Istanbul attack again dramatizes the lethal reach of Islamic State's "external" wing, which has been wreaking havoc outside the group's home turf in Syria and Iraq.
Islamic State was responsible for the Nov. 13 coordinated attacks on night spots in Paris that cost 130 lives and the Nov. 12 suicide bombings in south Beirut that killed more than 40 and took responsibility for the downing of a Russian commercial aircraft over Egypt's Sinai Peninsula on Oct. 31 that killed all 224 people on board, mostly Russians.
Islamic State, which became infamous for beheading its captives in recorded execution spectacles, has vowed to attack nationals of any country participating in strikes against the group.
Last year, Turkey began allowing U.S. warplanes bombing Islamic State to use Turkish air bases.
Authorities have warned of Islamic State cells operating throughout Turkey and blamed the group for suicide attacks last year in Ankara and in the southern town of Suruc. Those two bombings together killed about 130 people. Both targeted gatherings sympathetic to Kurdish nationalists.
Tuesday's bombing, by contrast, seemed directly aimed at foreign tourists, a key source of income for Turkey.
The area where the blast occurred is among the most popular for visitors to Turkey, which draws more than 30 million tourists each year. The strikes seem certain to batter the nation's tourism industry, which generated about $23 billion in revenue last year but was already experiencing difficulties because of security concerns among travelers and tensions with Russia, a major source of visitors to Turkey.
"Of course this will have an impact on our tourism," said a manager of a jewelry gift shop near the explosion site, who declined to give his name for privacy reasons. "But we cannot be sure how much yet, it's too soon."
Near the blast site, normally bustling restaurants and shops were almost empty. Buses and vans were parked in front of hotels, with some guests seen leaving.
The blast occurred about 10:20 a.m. It was heard at Taksim Square, more than a mile away.
Pictures on social media appearing to capture the moment of the explosion showed a blast close to the Obelisk of Theodosius, an ancient Egyptian monument transported in the 4th century to what was then known as Constantinople by the Roman emperor, Theodosius I.
The square is filled with Byzantine and Ottoman sights, and groups of tourists can be seen there throughout the day and night, often pausing at historical markers in the shape of obelisks to read information in Turkish, English and Arabic. The area is especially crowded on weekends.
Video aired by local media showed bodies on the ground in a tight group, and scores of Turkish security officials, including riot police, cordoning off the square.
Police sealed off the area amid fears of a second explosion.
This month, published reports citing security officials said Islamic State had recruited about 450 members in Ankara via a vast network. Their ranks reportedly included 100 operatives who were undergoing training on explosives in the Syrian city of Raqqah, Islamic State's self-proclaimed capital, just 50 miles south of the Turkish border.
On Tuesday, Turkish authorities said they had detained 16 suspected Islamic State operatives in Ankara who were preparing a high-profile attack, according to Turkish press reports. Those arrested included 15 Syrian nationals and a Turk who was arrested at a cafe in a busy shopping district, Turkish media reported.
Last month, Turkish police arrested a pair of suspected Islamic State members who authorities said were planning to carry out a New Year's Eve attack in Ankara.
Turkey, the eastern bulwark of the North Atlantic Treaty Organization, has come under withering international accusations of being slow to respond to the threat from Islamic State and other militant groups in neighboring Syria, which shares a border of more than 500 miles with Turkey. Thousands of militants have crossed Turkish territory en route to Syria since the conflict there began in 2011.
Turkish officials have repeatedly denied allegations that Turkey's intelligence agency has helped arm and finance militant Islamist factions fighting to overthrow the government of Syrian President Bashar Assad.
Last year, Turkish authorities announced with fanfare that Turkey was joining U.S.-led efforts targeting Islamic State. But Turkey has since concentrated much of its firepower against Kurdish militant targets within its borders and in Iraq. Still, the Obama administration lauded Ankara's decision to allow U.S. warplanes targeting Islamic State to use Turkish bases.
In recent months, Turkish authorities have begun a crackdown against Islamic State cells in various provinces. Turkey has also increased security along the porous Syrian border.
Turkey is home to more than 1 million Syrian refugees. The nation is also battling the outlawed Kurdistan Workers Party, or PKK, in the nation's southeast, which has a large ethnic Kurdish population.
Turkish authorities have generally viewed the PKK — which has mounted a more than three-decade insurgency against Ankara — as a more serious threat than Islamic State. Whether Tuesday's attack in Istanbul will alter that calculation remains unclear.
In Washington, State Department spokesman John Kirby said the Obama administration had reiterated its commitment to working with Turkey, a "valued member" of the military coalition fighting Islamic State and "the shared threat of terrorism."
The U.S. is promoting international negotiations to end the civil war in Syria as a way to focus attention on Islamic State. But key members of the group, including Turkey and Russia, disagree on the removal of Assad. Turkey wants him ousted while Moscow continues to support him.
Special correspondent Farooq reported from Istanbul and Times staff writer McDonnell from Beirut. Staff writer Tracy Wilkinson in Washington and special correspondent Erik Kirschbaum in Berlin contributed to this report.
Twitter: @mcdneville
ALSO:
Anti-immigrant protest turns violent in Cologne
Historic trial opens for Spain's Princess Cristina, accused of tax fraud
Police investigating mysterious death of an American woman in Italy
---
Must-read stories from the L.A. Times
Get the day's top news with our Today's Headlines newsletter, sent every weekday morning.
You may occasionally receive promotional content from the Los Angeles Times.