On Tehran's streets, skepticism mixes with cautious optimism over nuclear deal
Iranian President Hassan Rouhani steps to a lectern on live television in Tehran to announce that "all our objectives" have been met in a nuclear deal reached with world powers Tuesday.
(AFP/Getty Images)
President Obama, with Vice President Joe Biden at his side, discusses the deal in the East Room of the White House.
(Andrew Harnik / Getty Images)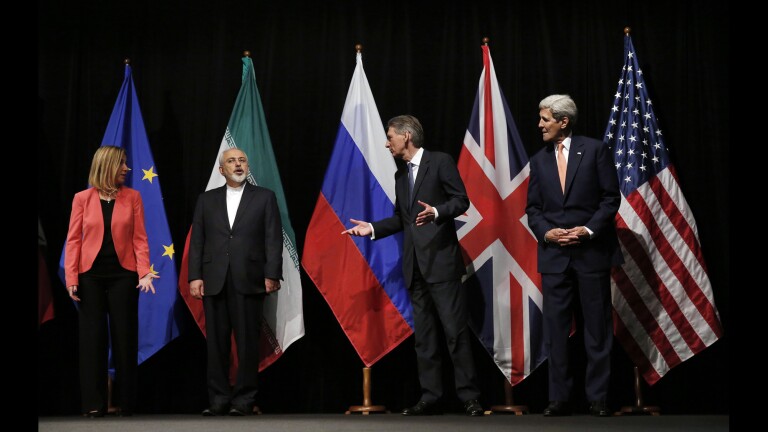 European Union High Representative for Foreign Affairs and Security Policy Federica Mogherini, left, Iranian Foreign Minister Mohammad Javad Zarif, British Foreign Secretary Philip Hammond and U.S. Secretary of State John F. Kerry gather on stage for a group picture after reaching a deal on Iran's nuclear program in Vienna on Tuesday.
(Carlos Barria / Associated Press)
Israeli Prime Minister Benjamin Netanyahu, speaking in Jerusalem, called the agreement between Iran and six world powers a "historic mistake," and said that Israel was not bound by the deal and would continue to do whatever was necessary to defend itself.
(Abir Sultan / EPA)
Iranian security officials wearing the Islamic black gown (chador), watch members of the media in front of Iran's Bushehr nuclear plant in 2010.
(Abedin Taherkenareh / EPA)
The heavy water nuclear facility near Arak, Iran, on Jan. 15, 2011.
(Hamid Foroutan / Associated Press)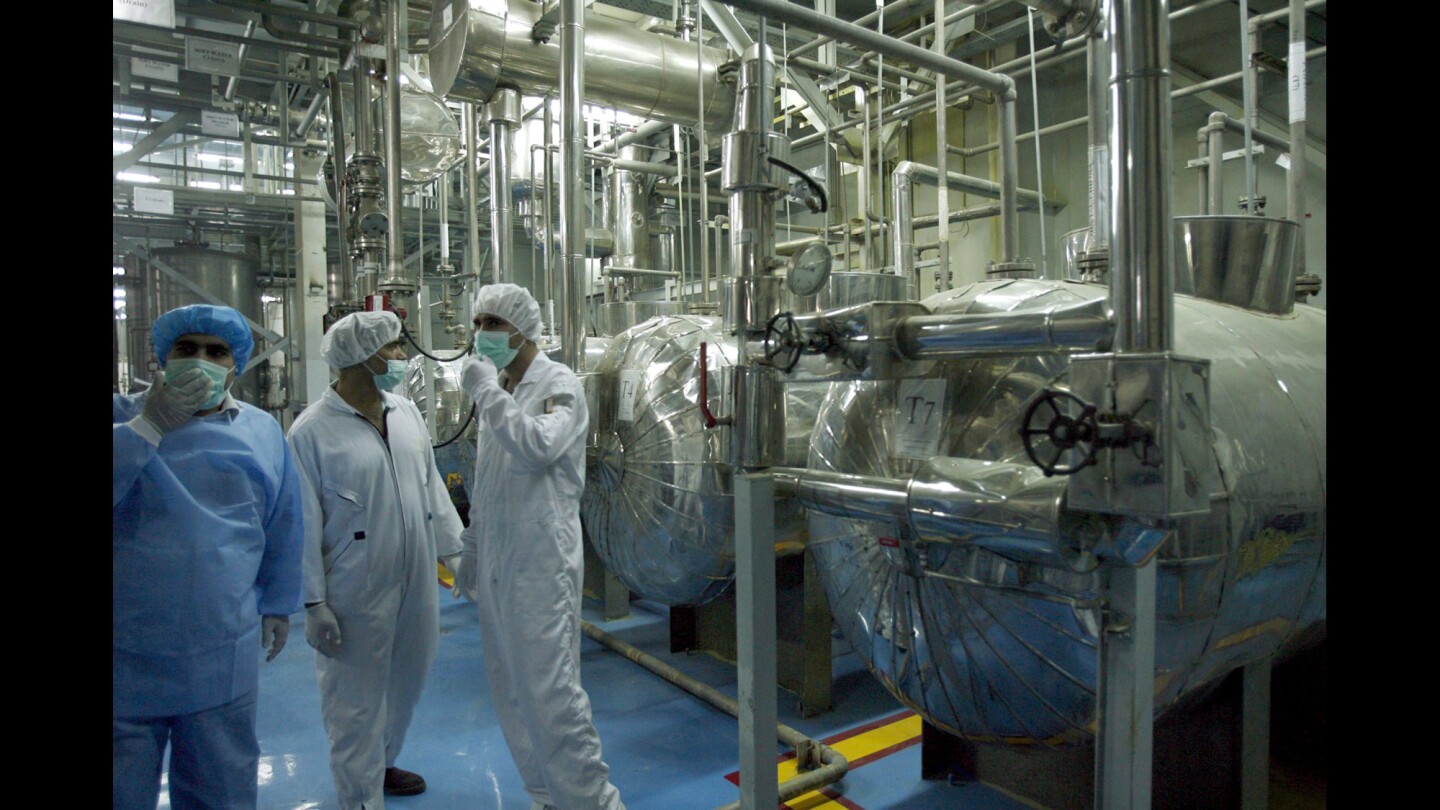 Technicians from the International Atomic Energy Agency inspect a uranium conversion plant at Isfahan, Iran, in 2007.
(Abedin Taherkenareh / EPA)
Iranian and Russian workers at the nuclear power plant in Bushehr, Iran, in an undated photo.
(Iran Atomic Energy Organiztion / EPA)
Reporting from TEHRAN —
Iran's nuclear accord with world powers may herald a new era for the Islamic Republic, but there is little sense on the bustling streets of the nation's capital that momentous change is imminent.
Official efforts to tamp down expectations and obscure details of the accord appear to have left many ordinary Iranians mystified — and worried as ever about diminished purchasing power and scarce job opportunities in the sanctions-battered economy.
Sunday officially marked "adoption day," 90 days after the accord was signed in Vienna by Iran and six other nations, including the United States. Tehran must now begin imposing new constraints on its nuclear program in exchange for promised sanctions relief.
Still, many ordinary Iranians are openly skeptical that things will get much better — or just not sure what all the fuss is about.
"I can't figure out what this deal is, but I hope it will be good for us," said Bahram Asgari, 54, a carpet salesman and father of three who was outside the capital's pulsing Grand Bazaar. "All I know is that prices keep going up and it is harder and harder to make ends meet, no matter what the politicians say."
In the underground gold market, where shop windows glittered with bracelets, rings, necklaces and other baubles, vendors said sales had been desultory.
"Business is very slack," said Asghar Nouzad, 40, seeming depressed as he manned his stall. "I don't see much to hope for in the future."
On Sunday, official news outlets quoted President Hassan Rouhani as warning that no tangible benefits are expected until spring, when Iran's key oil sector may finally shed most sanctions. It was another dose of reality meant to curb unrealistic beliefs that the deal is some kind of panacea. But few here seem to believe that anyway.
Last week, Iranian lawmakers officially signed off on the nuclear deal, signaling an end to what has often been an incendiary debate.
Hypersensitive to any suggestion that it has made concessions to Washington, Iran's conservative leadership has ramped up anti-Western rhetoric. In recent days, the military theatrically unveiled a new generation of long-range ballistic missiles, hidden deep underground — predictably drawing sharp rebuke from the Obama administration.
Western officials say it will take months for Iran to begin to comply with a number of complex nuclear deal mandates, including reducing uranium-enrichment capabilities, shrinking enriched uranium stocks and beginning the scale-down of existing nuclear facilities. Sanctions relief is scheduled to come online sometime in 2016, officials say.
Because of economic hardship, many Iranians have been forced to take several jobs. Many pensioners, their monthly stipends steadily declining in real value, have taken to driving taxis.
Ali Reza, 62, retired 10 years ago after working as a technician with the Iranian air force, maintaining U.S.-made fighter jets left over from the monarchy days. His pension, worth the equivalent of $2,500 a month a decade ago, is now valued at about $600 a month.
"I have three children; my benefits aren't enough," said Reza, who now works as a cabdriver to supplement his income.
"Nothing will ever change here," he said, adding that he had little expectation of economic progress after the nuclear accord.
Casual conversations here suggest a higher level of hope among Iran's youth, major supporters of Rouhani, who was elected in June 2013 with a pledge to end international sanctions. Young Iranians dominated street celebrations after Rouhani's surprise victory two years ago and after ratification of the nuclear deal completed in July.
"I just hope people have more money to spend so they can invest more in decorating their homes," said Parisa Jalili, 24, an interior decorator who was with her boyfriend, Ramin Haderi, at the Naderi restaurant, a bohemian haunt close to the British Embassy.
Many in Iran's young and highly educated population have found it difficult to find employment commensurate with their skills and education levels.
Haderi, 25, an engineer earning the equivalent of about $600 a month, said he was optimistic about an influx of foreign investment and the initiation of much-needed infrastructure projects.
"I'd say there's a cautious optimism out there now," said Sam Madikians, an Iranian-born Californian who owns the Naderi restaurant and travels to Iran frequently.
But Iran's clerical leadership has been repeatedly making a point: Sanctions relief and greater foreign investment in Iran do not signify a greater opening to the West.
At Friday prayers on the grounds of Tehran University, a leading cleric, 88-year-old Ayatollah Ahmad Jannati, warned that Western values — including homosexuality — were not welcome.
"Yes, we made the nuclear deal, but that's it," said Abbas Khorramabadi, 44, a civil servant eagerly participating in a "morals" march after the fiery sermon. "We will not allow for any other compromises.... No Western values shall prevail."
Mostaghim is a special correspondent.
ALSO
Pentagon says airstrike kills Al Qaeda operative in Syria
For those left in Syria, life among the ruins takes on a ghostly air
Man opens fire in crowded bus station in Israel; 1 killed, 9 injured
---
Must-read stories from the L.A. Times
Get the day's top news with our Today's Headlines newsletter, sent every weekday morning.
You may occasionally receive promotional content from the Los Angeles Times.