Pawns for Tehran? A look at the Americans being held prisoner in Iran
Washington Post journalist Jason Rezaian, who faces an undisclosed verdict in an Iranian espionage trial, is one of at least three Americans of Iranian descent imprisoned by Tehran. A fourth American disappeared while on the Iranian island of Kish in 2007.
Regional analysts have suggested that they may have become ensnared in the country's labyrinthine power machinations.
"If I know anything about Iranian politics, I know that whether they are going to be released or whether they are going to get a very harsh sentence has virtually nothing to do with the facts of the case," said Abbas Milani, who heads the Iranian studies program at Stanford University. "It's who will have the upper hand politically. Who wants to score a political point and has the muscle to do it."
In some cases, he said, people might get picked up to be used as negotiating pawns.
Iran's deputy foreign minister, Hassan Qashqavi, appeared to allude to that possibility when he noted in August that the United States was holding 19 Iranian prisoners on "sanctions-related charges." But according to the semiofficial Fars News Agency, he said a prisoner swap for Rezaian was "not on the agenda."
Analysts have also suggested that the Iranian hard-liners who dominate the judiciary might have been trying to sabotage negotiations over the country's nuclear program.
U.S. diplomats repeatedly raised the cases of the detained and missing Americans on the sidelines of talks between Tehran and six world powers, and family members expressed hope that the signing of a landmark deal in July might open the way for their loved ones to be freed.
But there are elements in Iran's opaque power structure that remain implacably opposed to efforts by reformist President Hassan Rouhani and Foreign Minister Mohammad Javad Zarif to normalize relations with the West.
"The judiciary that is aligned with [supreme leader Ayatollah Ali] Khamenei wants to serve notice to Rouhani that they're in the driver's seat, that he shouldn't really go too far beyond his brief, and that they can make life difficult for him any time they want," Milani said.
NEWSLETTER: Get the day's top headlines from Times Editor Davan Maharaj >>
Jason Rezaian, 39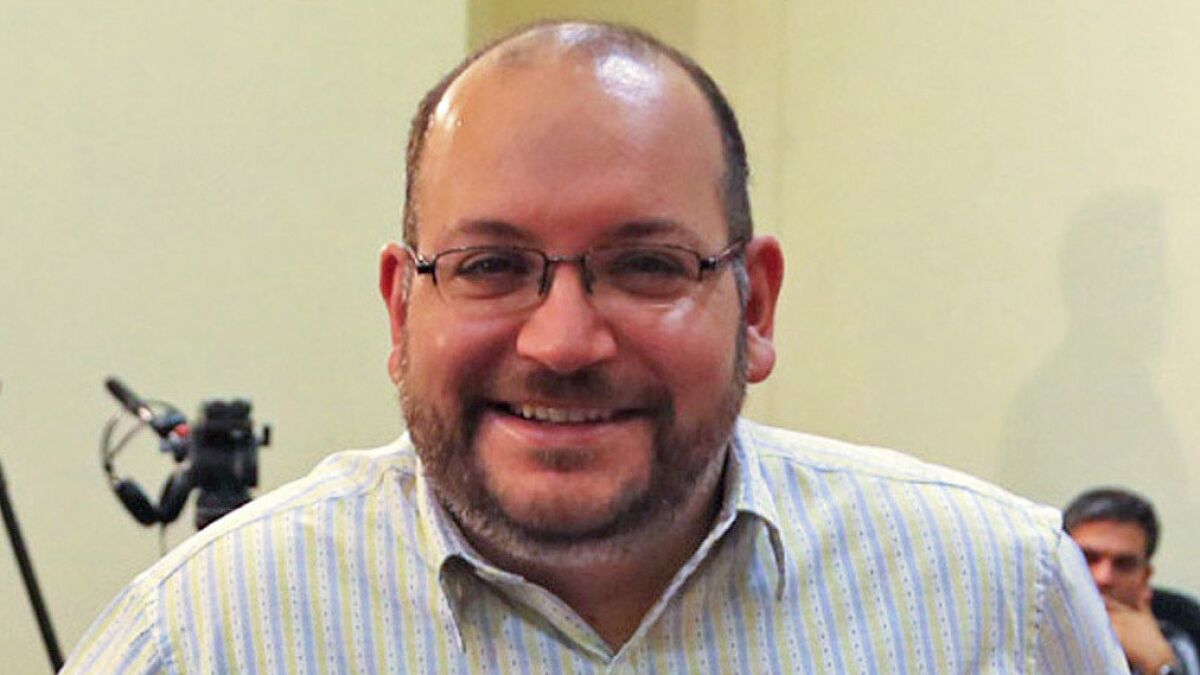 Rezaian, who was born and raised in the San Francisco Bay Area and holds U.S.-Iranian citizenship, has been the Washington Post's Tehran correspondent since 2012.
He was arrested in July 2014 along with three other journalists, including his wife, Yeganeh Salehi, who works for the Abu Dhabi-based National newspaper. The other three were later freed, but Rezaian remained in custody.
He was eventually charged with espionage and other offenses including "collaborating with hostile governments" and "propaganda against the establishment." His employers at the Washington Post called the accusations completely unfounded.
Evidence presented at Rezaian's closed-door trial reportedly included an online job application he submitted in 2008 to then-President-elect Obama's transition team and a U.S. visa application filed on behalf of his wife.
Amir Hekmati, 32
Hekmati, a U.S. Marine veteran from Flint., Mich., was detained at the home of an Iranian relative in August 2011 and sentenced to death for espionage.
Iranian state television broadcast video of a purported confession by Hekmati in which he said he had been sent by the CIA to infiltrate the country's intelligence services. His family believes the statement was coerced.
"He was held in a 1-meter by 1-meter cell, allowed out for only 10 minutes a week to stretch his legs," his sister, Sarah Hekmati, told a congressional hearing in June. "He was beaten on his feet with cables, tasered repeatedly."
She said her brother was in Iran to visit an ailing grandmother and was assured before he went that his U.S. military service would not be an issue.
Hekmati, who was born and raised in the U.S., served as a Marine between 2001 and 2005, including a deployment to Iraq. He later worked as a contractor, providing linguistic and cultural education services to U.S. troops.
An Iranian appeals court overturned the verdict against him in March 2012 and ordered a new trial, which took place late the following year. He was then sentenced to 10 years in prison for "cooperating with hostile governments."
See the most-read stories this hour >>
Saeed Abedini, 35
Abedini, a Christian pastor from Boise, Idaho, and father of two young children, was detained in September 2012 while on a visit to Iran, where he was born. He was accused of attempting to undermine national security by establishing churches in private homes.
His family and supporters say he was in the country to help establish an orphanage for street children. They believe he was targeted because he converted from Islam to Christianity and say he has endured repeated beatings by guards and fellow inmates at Rajai Shahr prison outside Tehran.
"My husband remains in prison for nothing more than the peaceful exercise of his faith," his wife, Naghmeh, said in a recent letter to Iran's ambassador to the United Nations, according to excerpts released by the American Center for Law and Justice, a conservative Christian-based group. "Saeed is not a threat to Iran or the stability of its government."
Robert Levinson, 67
The retired FBI agent from Coral Springs, Fla., disappeared in 2007.
For years, U.S. officials maintained that he was on a private business trip. Family members said he was working as a private investigator for corporate clients and had been sent to Iran to investigate the smuggling of contraband tobacco.
It later emerged that he was on a CIA contract. But according to reports by several news outlets, he answered to analysts who did not have authority to run intelligence-gathering operations, and several agency officials were forced to resign over the affair.
Iran's government has never acknowledged holding Levinson, as it did with the other Americans. But Rouhani suggested in a 2013 interview that the country's intelligence services might be willing to help search for him.
The family received "proof of life" in the form of a video sent in November 2010 in which a haggard-looking Levinson begged the U.S. government to respond to the requests of unidentified captors. Six months later, photographs arrived of him wearing an orange jumpsuit and holding signs written in poor English, including one saying, "Why you can not help me."
"We are extremely worried about his health," Levinson's eldest son, Daniel, told the June congressional hearing. "He is 67 years old, with several pressing health concerns including diabetes, hypertension and gout."
Twitter: @alexzavis
ALSO
A 'kaleidoscopic' mix of rebel alliances on Syria's battlefield
Israelis call up more police officers amid continued violence
Iran reaches unspecified verdict in case of U.S. reporter Jason Rezaian
---
Must-read stories from the L.A. Times
Get the day's top news with our Today's Headlines newsletter, sent every weekday morning.
You may occasionally receive promotional content from the Los Angeles Times.