Organizations that promote a boycott of Israel are no longer welcome there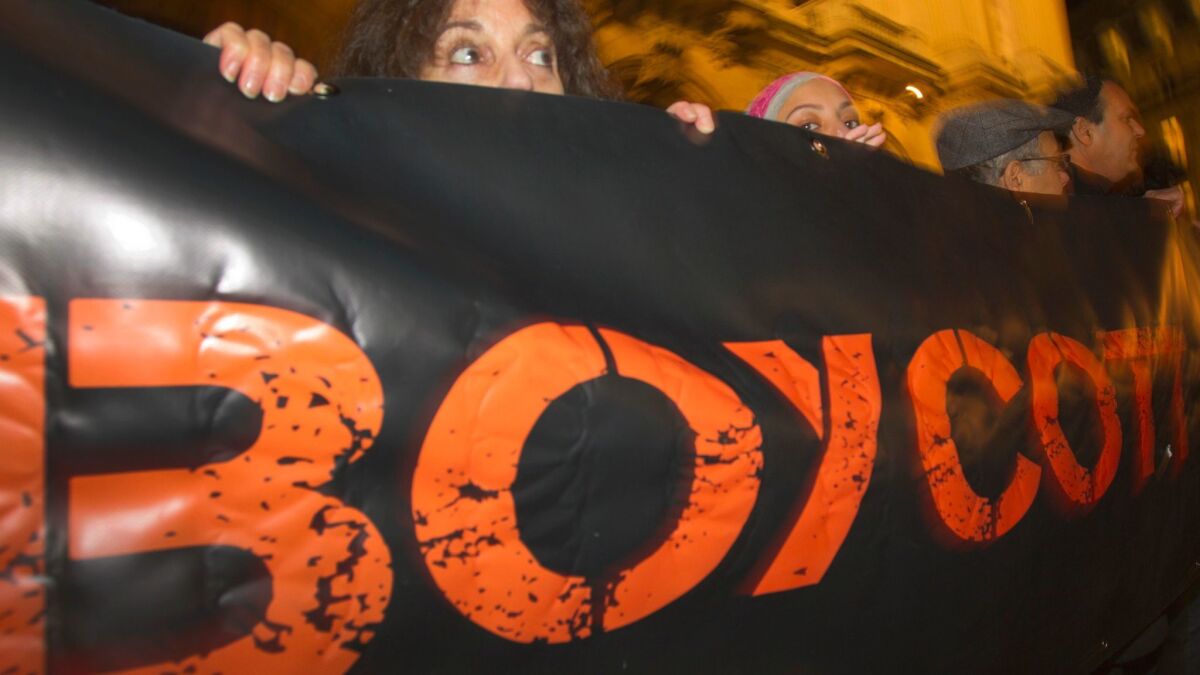 Reporting from Jerusalem —
Israel's Strategic Affairs Ministry on Sunday published a list of 20 organizations it says advocate the boycott of the country, and it announced that, in cooperation with the Interior Ministry, it will deny them entry.
Israel accused the organizations of belonging to the Boycott, Divestment and Sanctions movement, or BDS, which it says "consistently and openly works to delegitimize Israel."

For the record:
5:25 p.m. Jan. 7, 2018An earlier version of this article said activist Alana Krivo-Kaufman is one of five members of an interfaith group who were not permitted to board an Israel-bound plane at Washington's Dulles airport in August 2017. The five were barred from the flight in July 2017.
The list includes an American Jewish group, Jewish Voice for Peace; the antiwar group Code Pink; and the American Friends Service Committee, a Quaker organization that in 1947 won the Nobel Peace Prize for its work helping victims of the Nazis.
In a statement, the ministry said the listed organizations "operate consistently, continuous and persistently against Israel, by way of pressuring entities, institutes, and countries to boycott Israel. The activities of the organizations are carried out by way of a false propaganda campaign, aimed at undermining Israel's legitimacy in the world."
With the ban, which is presumed to apply to members of the listed groups, Israel is declaring a more publicly aggressive response to organizations that single it out as a transgressor of human rights and urge an international boycott. Israel's booming economy is an indicator of the boycott movement's lack of widespread success, but the recent cancellation of a Tel Aviv concert by the singer Lorde, a New Zealander, marked a fresh achievement.
At the same time, Israel is defying norms and conventions relating to international freedom of movement and its own laws.
Immediately after the list was published, the Jewish Agency for Israel, the quasi-governmental body that facilitates the immigration of Jews to the country, announced it would ignore the order.
""There's a difference between immigrating and visiting, for whatever purpose," said Yigal Palmor, the agency's director of public affairs and communications. "Those individuals who wish to have a future for themselves and their families in Israel will continue to be welcomed."
In announcing the ban, Strategic Affairs Minister Gilad Erdan said that Israel has moved from "defense to attack."
"Boycott organizations need to know that Israel will act against them and will not allow [them] to enter its territory in order to harm its citizens," Erdan said.
"Forming a list is another step in our campaign against the false propaganda of boycott organizations," he said. "No country would allow visitors who arrive to harm the country to enter it and certainly not when their goal is to wipe out Israel as a Jewish country."
The ban may run afoul of a standard published on the website of Israel's Interior Ministry. The standard says: "Membership in an anti-Israel or pro-Palestinian organization holding an agenda critical of the Government of Israel is not, prima facie, justification for denial of entry to Israel."
Less systematically, Israel has previously denied entry to some activists. Alana Krivo-Kaufman, a senior organizer with Jewish Voice for Peace, is one of five members of an interfaith group who were not permitted to board an Israel-bound plane at Washington's Dulles airport in July 2017.
In a phone interview, she said the ban represents a "deepening of the crisis of Israel's supposed democracy."
She said it is "a really shocking escalation of Israel policies of clamping down on political activism in support of Palestinian human rights and is also the extension of policies faced by Palestinians every day."
Jewish Voice for Peace openly supports the BDS movement and, according to Krivo-Kaufman, "doesn't have a position" regarding Israel's right to exist. The Anti-Defamation League calls the organization "the largest and most influential Jewish anti-Zionist group in the United States."
Nick Kaufman, an Israeli expert on international law and a former prosecutor at the International Criminal Court, said that Israel's Supreme Court has consistently upheld "the very wide berth that the minister of Interior has in deciding who can or cannot enter Israel. It is largely left to his discretion, and most challenges have not been successful."
In an interview from Moscow, Kaufman, who once defended the German writer and Nobel laureate Guenter Grass when he was denied entry to Israel, said that anyone the minister views as "not in the public interest can be denied entry. By and large, the court refuses to intervene."
However, he added, the new list "would make any challenge less difficult, whatever the underlying reasons. The ministry has to use this discretion in a reasonable manner."
Here is the full list of newly banned organizations:
United States: American Friends Service Committee; American Muslims for Palestine; Code Pink; Jewish Voice for Peace; National Students for Justice in Palestine; U.S. Campaign for Palestinian Rights.
Europe: Assn. France Palestine Solidarite; BDS France; BDS Italy; the European Coordination of Committees and Assns. for Palestine; Friends of Al Aqsa; Ireland Palestine Solidarity Campaign; Palestine Committee of Norway; Palestine Solidarity Assn. in Sweden; Palestine Solidarity Campaign; War on Want; BDS Kampagne.
Latin America: BDS Chile.
South Africa: BDS South Africa.
Other: BDS National Committee.
ALSO
U.S. fails to make payment to U.N. agency that helps Palestinians
Q&A: U.S. declaration of Jerusalem as Israel's capital has sparked worldwide anger. But there's been plenty of precedent
Israel's transportation minister offers Trump a gift: A train station at the Western Wall
Tarnopolsky is a special correspondent.
Must-read stories from the L.A. Times
Get the day's top news with our Today's Headlines newsletter, sent every weekday morning.
You may occasionally receive promotional content from the Los Angeles Times.