U.S. ambassador to Israel appears to break with American policy on West Bank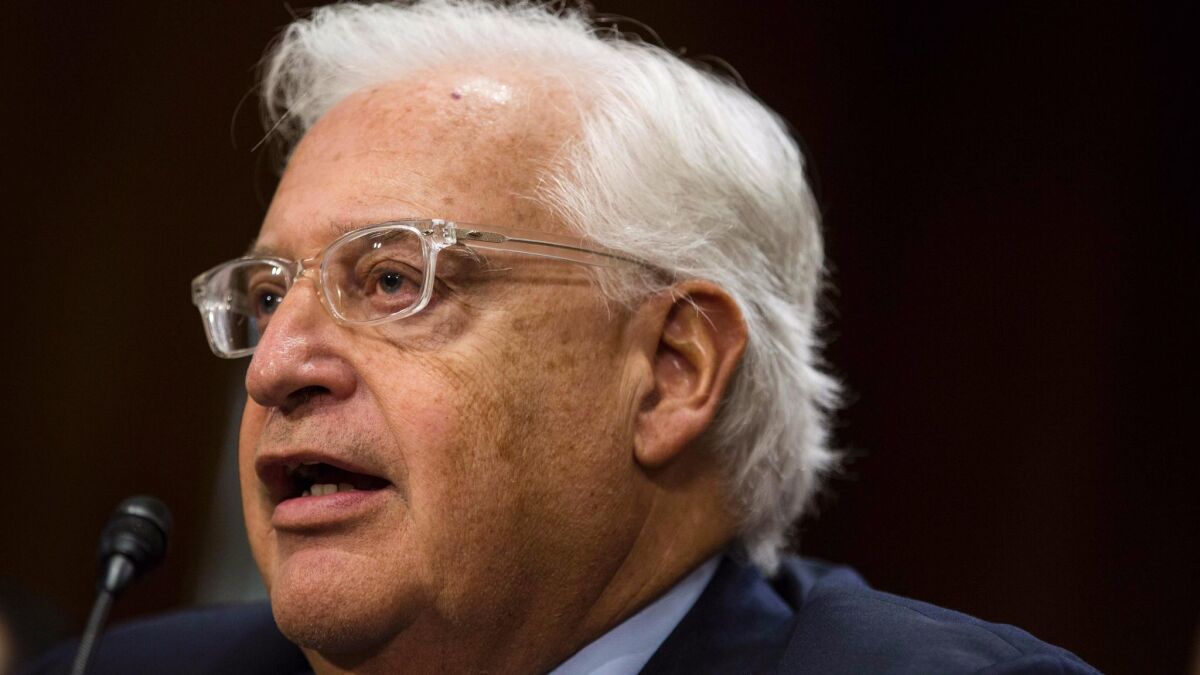 Reporting from Jerusalem —
In an interview to be broadcast in Israel on Friday, U.S. Ambassador David Friedman appears to break with almost 25 years of American policy advocating a two-state solution to the Israeli-Palestinian conflict.
Friedman also casts doubt on the American definition of the West Bank, which Israel won from Jordan in the 1967 war, and which has been considered occupied territory by the United States, Europe and the United Nations.
"I believe settlements are a part of Israel," Friedman says in a 90-second teaser posted Thursday by the Israeli outlet Walla News, which conducted the interview. "I think that was always the expectation, when Resolution 242 was adopted in 1967."
U.N. Resolution 242, approved by the United Nations after the 1967 war, cites the "inadmissibility of the acquisition of territory by war" and is widely understood not to recognize the West Bank as Israeli territory.
"It was and it remains today the only substantive resolution that was agreed to by everybody," Friedman says in the clip. "The idea was that Israel would be entitled to secure borders. The existing borders of 1967 were viewed by everybody as not secure, so Israel would retain a meaningful portion of the West Bank and it would return that which it didn't need for peace and security. There was always supposed to be some notion of expansion into the West Bank but not necessarily expansion into the entire West Bank."
We're not holding ourselves to any hard deadline. We'll try to get it done right, not fast.
— U.S. Ambassador to Israel David Friedman, speaking of efforts to forge a peace plan
"They're only occupying 2% of the West Bank," Friedman adds.
That also appears to be either a misstatement or a change in definition. In her Thursday briefing, State Department spokeswoman Heather Nauert declined to state a figure held by the United States, but the European Union and Israeli nongovernmental organizations say that Israel occupies around 60% of the West Bank, including settlements and military bases.
According to the most recently available Israeli statistics, from 2015, some 382,916 Israeli settlers live in 125 settlements spread throughout the West Bank.
Nauert said Friedman's remarks do "not indicate a shift in U.S. policy."
"I don't know where that [figure] came from," Nauert said about Friedman's assertion regarding the Israeli occupation. "I want to be crystal clear that it should not be read as a way to prejudge any negotiations that the United States may hold with Israelis and Palestinians."
In a portion of the interview not yet broadcast but quoted by Walla News in an article accompanying the video clip, Friedman also says that the "two-state solution has lost its meaning." The two-state solution refers to a peace deal that would allow for an independent Palestinian state alongside the existing state of Israel. It has been the goal of U.S. policy for decades, although the Trump administration has appeared to back away from it.
In an angry video posted by the Palestinian Authority, Nabil Shaath, a senior advisor to President Mahmoud Abbas, said that Friedman, "this alleged ambassador of the United States, has absolute ignorance of facts of law of the position of the United States."
"He talks about Israel occupying only 2% of the West Bank, when in fact they are occupying 100% of the West Bank," Shaath said.
He added that the statement "is really very bad news for the future of the American attempt to make peace in the Middle East."
From the start of his term, President Trump has declared his intention to realize "the ultimate deal" and achieve peace between Israel and the Palestinian Authority. He appointed Jason Greenblatt, a longtime associate, as his special envoy for international negotiations, and his advisor and son-in-law Jared Kushner to lead talks leading to negotiations between the two parties.
It is not known if progress has been made, but on Wednesday, following a four-hour meeting with Greenblatt and Friedman, Israeli Prime Minister Benjamin Netanyahu warned settlement leaders not to be "pigs" about expanding West Bank settlements and cautioned that Trump "is liable to come and lay a piece of paper on the table."
Before his appointment as ambassador this year, Friedman, a veteran Trump lawyer, headed a fundraising organization that raised tens of millions of dollars for Beit El, one of the most ideologically radical Israeli settlements in the West Bank.
In the interview excerpt, Friedman is asked about a timetable for a U.S. peace plan. "I would speculate [it will come] within months, but we're not holding ourselves to any hard deadline," he says. "We'll try to get it done right, not fast."
He is also asked, "At least some of the settlements will have to go as part of the deal, true or false?" Friedman replies, "Wait and see."
This month, in an interview with the Jerusalem Post, Friedman referred to the "alleged occupation" of the West Bank, prompting Nauert to clarify: "Our position on that hasn't changed. The comment does not represent a shift in U.S. policy."
Tarnopolsky is a special correspondent.
ALSO
A brave soldier and one horrible day: two lasting memories of Iraq
Rival Palestinian groups appear to move toward unity after a 10-year split
What's wrong with the Iranian army? Deadly shootings put spotlight on forced military service
---
Must-read stories from the L.A. Times
Get the day's top news with our Today's Headlines newsletter, sent every weekday morning.
You may occasionally receive promotional content from the Los Angeles Times.