Truce goes into effect on Israel-Gaza border, and goods flow into Palestinian enclave again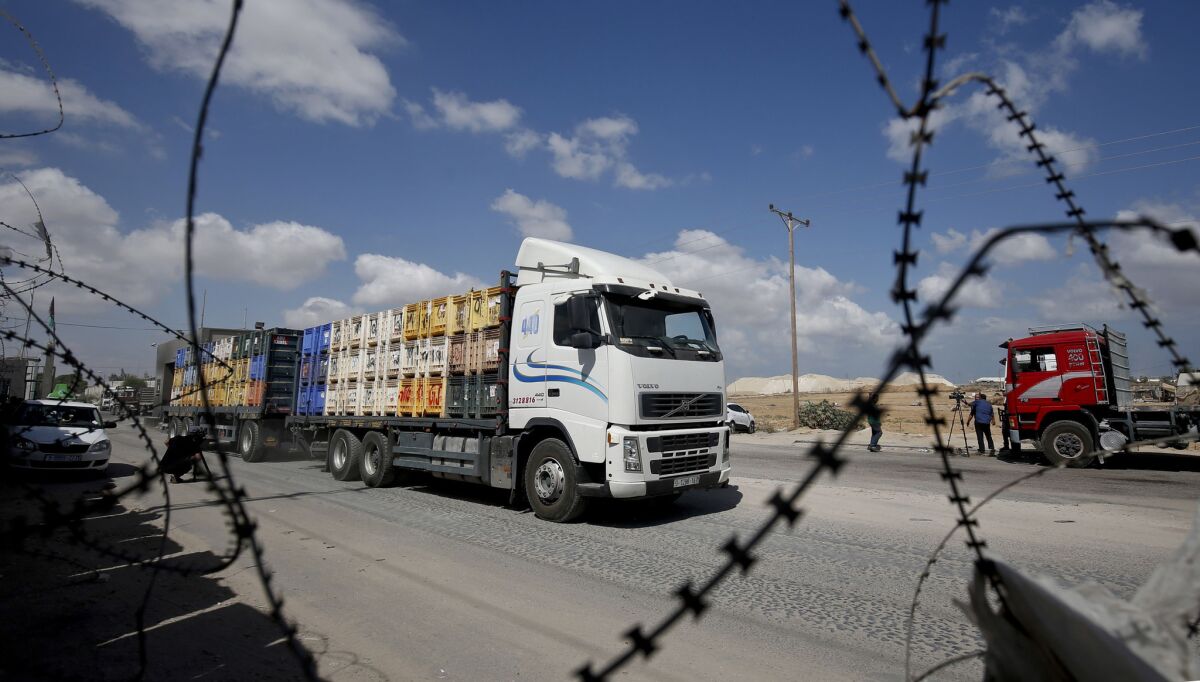 Reporting from Jerusalem —
A cease-fire between Israel and Hamas, the Islamist group ruling the Gaza Strip, went into effect Wednesday evening, ending four months of conflict along the volatile border.
The tenuous truce was roundly criticized by senior politicians both in Israel and in the Palestinian Authority, which views Hamas as an implacable rival, and was not officially confirmed by either side.
On Wednesday, following the authorization of Israel's security Cabinet, the commercial border crossing was reopened and 700 trucks carrying urgently needed building supplies, foodstuffs, textiles, animal feed, fuel, gas, hygiene products and more rumbled into Gaza after five weeks of lockdown.
The typical number of trucks entering the Gaza Strip from Israel via the Kerem Shalom crossing prior to the closure imposed last month ranges from 700 to 1,000 a day.
Since July, about 100 trucks per day have made the crossing, bringing medicine, food and other humanitarian necessities into Gaza, but no fuel or general consumer goods.
The cease-fire was brokered by the United Nations and Egypt. Alongside Israel, Egypt has maintained Gaza under a blockade since Hamas took over the territory in 2007.
The agreement provides for a halt to rocket firings and the launching of incendiary balloons and kites on the part of Hamas, and, on Israel's side, the reopening of Kerem Shalom, the only commercial crossing into Gaza, and the lifting of limitations on a permitted fishing zone of nine miles.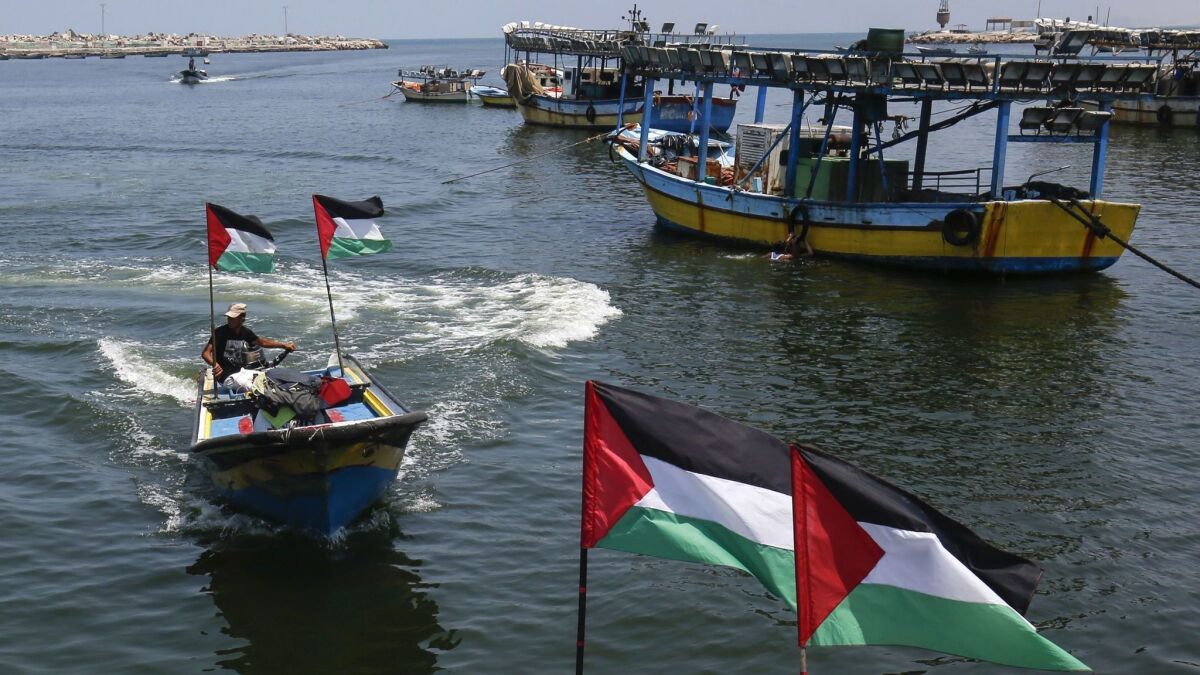 In a matter that provoked an immediate legal appeal in Israel, the deal does not provide for the exchange of prisoners, including two Israelis held in Gaza and the remains of two Israeli soldiers taken by Hamas at the end of the last Gaza war, in 2014.
Israeli officials who were not authorized to speak said "there will be no real arrangement with Hamas until our sons return and our citizens are home."
On Wednesday, Simcha and Leah Goldin, the parents of fallen Israeli officer Lt. Hadar Goldin, whose remains have been held by Hamas for four years, petitioned the Supreme Court to block the deal, saying that "the special ministerial committee on MIAs and POWs has not been convened," as required for decisions relating to their fate.
Efforts to impose a cease-fire have been underway for several weeks, but its ratification follows the first four days of calm at the border since late March.
The Israeli officials said "the current calm is the result of aggressive Israeli army action that will continue as necessary, and the quiet was achieved following the understandings advanced by the Egyptians and the United Nations."
More than 150 Gazans have been killed by Israeli fire since March 30, when weekly border protests began.
An Israeli soldier was killed in July after being shot by a Palestinian sniper.
Naftali Bennett, Israel's minister of education and an electoral rival of Prime Minister Benjamin Netanyahu, blasted the deal on Wednesday from Asuncion, Paraguay, where he was on official business.
"This is a prize … for 130 days of terror, rockets, snipers and incendiary balloons," he said.
It is the first time any Israeli leader publicly acknowledged any deal with Hamas, an internationally designated terror organization.
Bennett complained that "this 'quiet' will award Hamas total immunity to replenish tens of thousands of rockets threatening all parts of the country, and allow them to launch a war against Israel at a time and under conditions most convenient to them."
Israel's agreement with Hamas is widely understood to be a rebuke of the Palestinian Authority, Israel's partner in the Oslo Accords and in a security partnership crucial for maintaining order in the West Bank. At the same time, it is a gesture toward President Trump, who has enacted several punitive measures against the internationally recognized Palestinian governing authority this year in retribution for its rejection of an American-sponsored peace plan that has yet to be revealed.
Speaking at the opening session of his political faction's central council in Ramallah, in the West Bank, Palestinian Authority President Mahmoud Abbas also vowed to thwart the peace plan, which is spearheaded by Trump's senior advisor and son-in-law, Jared Kushner.
Abbas rejected any agreement with Hamas, saying no militias could remain in the Gaza Strip, where only "one government, one law and one security force" could operate, under the Palestinian Authority.
Hazem Qassem, a Hamas spokesman, said that Abbas and the Palestinian leadership in the West Bank are perpetuating "exclusion and exclusivity."
"Abbas continues to disregard all other Palestinian components and not to resort to the formation of a consensus on any of the national issues or the Palestinian political system," he said.
Tarnopolsky is a special correspondent. Special correspondent Hana Salah in Gaza City contributed to this report.
---
Must-read stories from the L.A. Times
Get the day's top news with our Today's Headlines newsletter, sent every weekday morning.
You may occasionally receive promotional content from the Los Angeles Times.