Relations between Israel and Jordan have become 'very dangerous'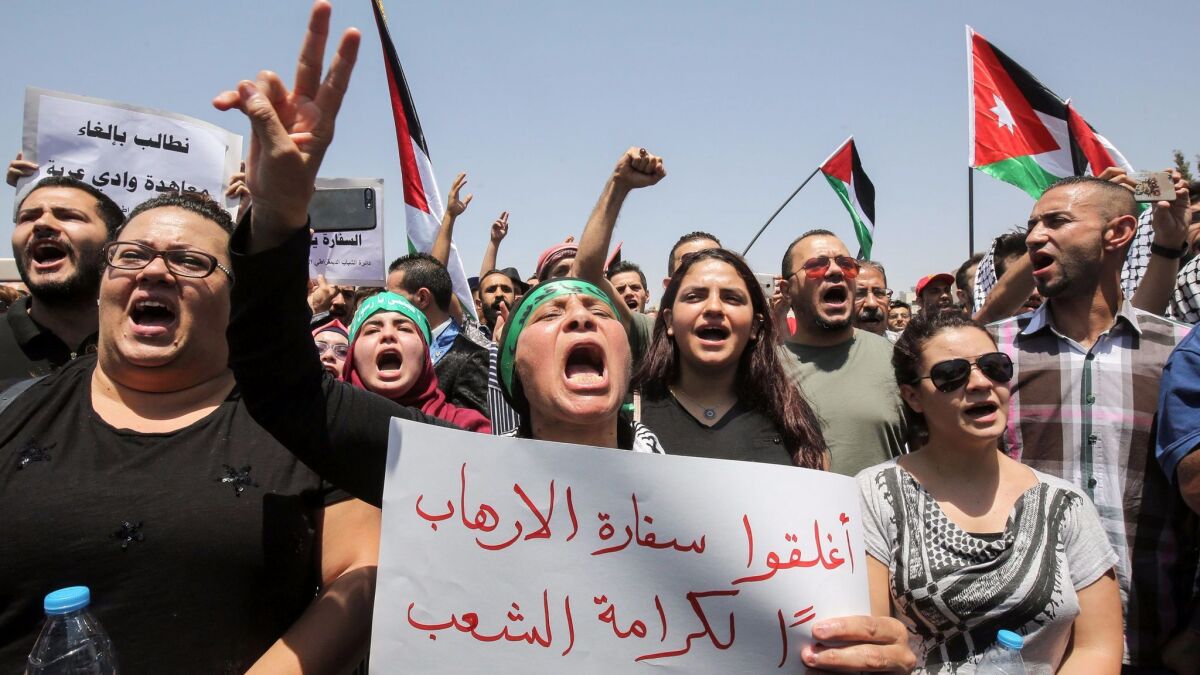 Reporting from Jerusalem —
Relations between Israel and Jordan, neighboring states that signed a peace treaty in 1994, have hit rock bottom after twin decisions by the Israeli government that have been widely seen as an affront to Jordan's King Abdullah II.
The first was Israel's order, since rescinded, to install metal detectors at the Noble Sanctuary, the Muslim name for the disputed plateau in Jerusalem's Old City that holds the Al Aqsa Mosque and gold Dome of the Rock. Although Israel backed down, the decision was seen as a slap to Jordan, which is the legal custodian of the site.
The other involved Israel's response to a deadly incident in the Jordanian capital, Amman, in which an Israeli Embassy guard killed two Jordanians, a 17-year-old delivery boy and an orthopedic surgeon.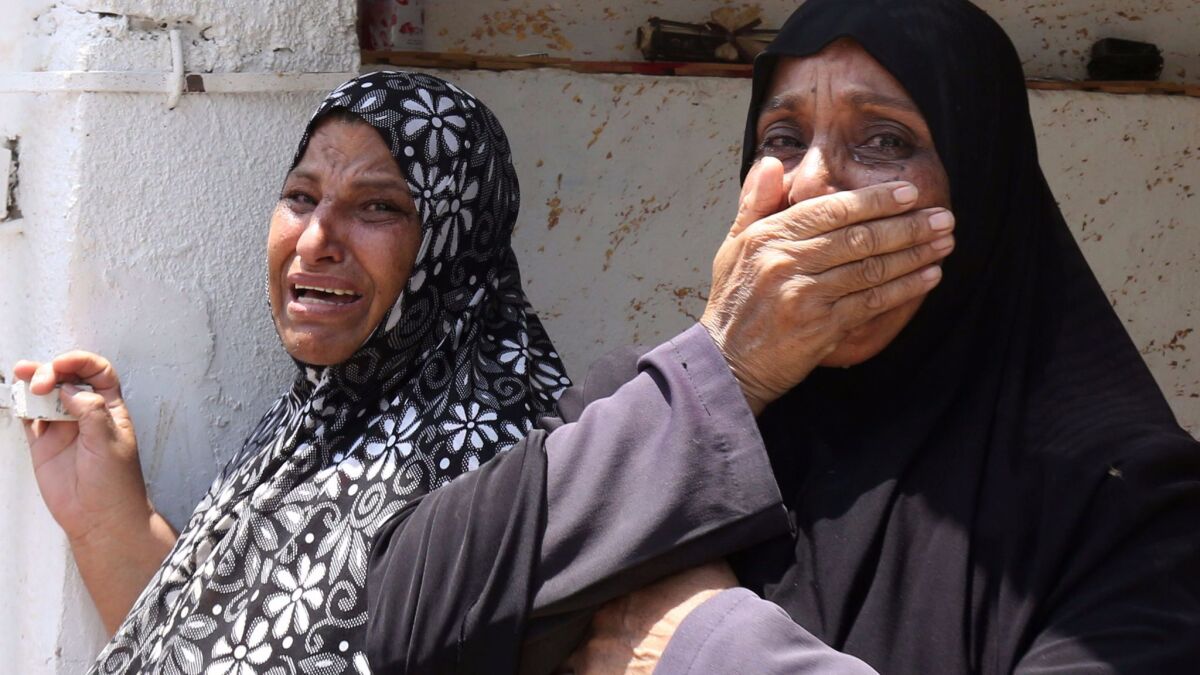 The result has been a diplomatic and social-media chill between the two countries and their leaders that has little precedence in the years since the peace treaty was signed.
"The whole thing is very dangerous," said Salameh Nematt, a Jordanian writer and political analyst, in an interview from the United States, where he was traveling.
Referring to the Amman shooting and its aftermath, he said: "The incident itself, which is provocative, isn't dangerous for the king, but it comes as so many factors are exerting enormous pressure on Jordan: the economy, the refugee crisis, a lack of progress on internal problems. Something like this can be the straw that breaks the camel's back."
Late Tuesday, addressing an emergency session of the executive committee of the Organization of Islamic Cooperation, Jordan's foreign minister, Ayman Safadi, admonished Israel that "the crisis is over, but many more and far more dangerous crises will erupt as a result of continued Israeli violations."
The Israeli government has not commented officially on the Jordanian complaints.
Israel and Jordan had been discreetly cooperating to resolve the upheaval at the holy site, known as the Temple Mount to Jews, when Israeli Prime Minister Benjamin Netanyahu warmly welcomed home the embassy guard who was involved in the deadly altercation in Amman.
On July 25, Netanyahu tweeted — in both Arabic and English — an image of himself embracing the guard, Ziv Moyal, and praising him for having "acted well and calmly."
The incident involved a dispute over a delayed delivery of furniture at the Israeli Embassy compound. Israeli and Jordanian officials said that the Jordanian teenager, Mohammed Jawawdeh, attacked Moyal with a screwdriver, and Moyal responded with shots that killed Jawawdeh and the surgeon and left another man critically injured.
After keeping silent for 48 hours, a furious King Abdullah, normally one of the Middle East's least demonstrative leaders, fired off an extraordinary sequence of tweets, in English.
It wasn't until 7 p.m. on Friday, when Netanyahu's religious, right-wing base had presumably switched off all electronic devices in honor of the Sabbath, that the Israeli Foreign Ministry acknowledged, only in Hebrew and only via WhatsApp, that Israel had launched a full investigation into Moyal's actions.
Israeli analysts attributed the chaos to political pandering on Netanyahu's part as he confronts an array of criminal investigations and challenges from within his own Cabinet. Adding to the stress, on Wednesday, his wife, Sara Netanyahu, was questioned by police as a criminal suspect in an investigation into the misappropriation of public finds.
Barak Ravid, diplomatic correspondent for the left-leaning newspaper Haaretz, wrote that "Netanyahu's spin machine is working overtime, and could destroy Israel's ties with Jordan…. It's astounding to see how much damage was caused just for short-term political spin for Israeli public opinion."
In the eyes of many Israelis, there was something uncomfortably familiar in what was perceived as Netanyahu's disrespect toward Abdullah.
"It's Obama all over again," fumed a former senior Israeli diplomat, who asked not to be identified because of the sensitivity of the situation. The diplomat was referring to Netanyahu's chilly relations with former President Obama, including a 2015 address to a joint session of Congress that he delivered without coordination with the White House. In it, he argued against the nuclear deal with Iran, Obama's signature foreign policy objective.
"This is the result of a longtime, ongoing, obstinate policy that doesn't even bother for the sake of appearances to be considerate to any partner, friend or foe. It is simply a continuous state of non-communication," the former diplomat said.
Oded Eran, a senior research fellow at the Institute for National Security Studies and a former Israeli ambassador to Jordan, said that ad hoc solutions will not repair the damage.
In an interview, he called on Israel to "seize the political and operational initiative before international and regional entities do, and propose an international summit on measures that can prevent radical entities from violating freedom of worship and freedom of access to the Temple Mount, a site holy to both Judaism and Islam."
Before any summit could be planned, Israel and Jordan narrowly avoided yet another collision.
As relations between the two countries deteriorated, two flamboyant parliamentarians — one from Israel, one from Jordan — fought via their Twitter feeds. Eventually, Jordanian Yehiya Saoud challenged the Israeli, Oren Hazan, a member of Netanyahu's Likud Party, to a duel in the Judean desert at 10 a.m. Wednesday.
Hazan, a former pimp who gained an extra measure of fame when he crashed Donald Trump's arrival ceremony in Tel Aviv last May to snag a selfie with the president, accepted.
Gleeful online anticipation followed Hazan's progress toward the Allenby Bridge border post until someone in Netanyahu's office got wind of the scheme and sharply ordered Hazan back home.
Saoud arrived unimpeded, crossed the border into Israel, and promptly began questioning journalists who had gathered to witness the fight. "If you say you're a journalist from historic Palestine, lets talk. If you say from Israel, no," he said.
Like every other step in the unhappy pas de deux, this too was tweeted live.
ALSO
Lebanon's Hezbollah group insists: We're not the 'menace' Trump says we are
Jordan releases video to tamp down support for Green Berets' killer
Syrian comedy troupe's brand of satire fails to amuse Assad government
Tarnopolsky is a special correspondent.
Must-read stories from the L.A. Times
Get the day's top news with our Today's Headlines newsletter, sent every weekday morning.
You may occasionally receive promotional content from the Los Angeles Times.