Israeli parliament passes bill defining country as the nation-state of the Jewish people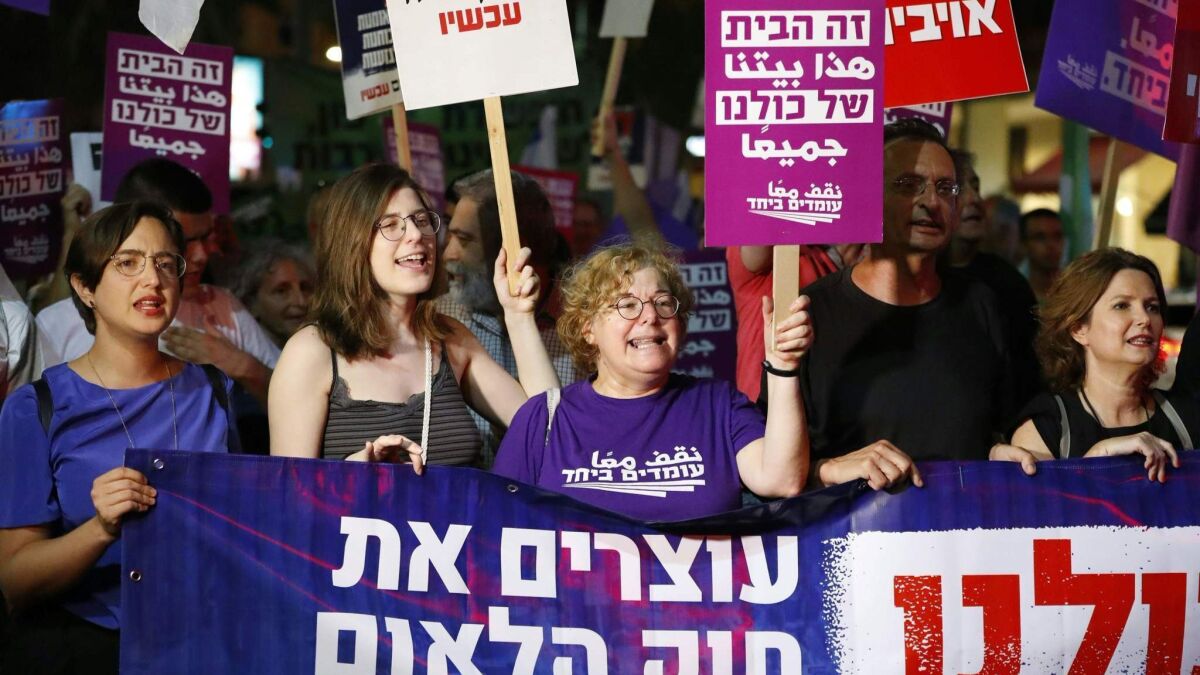 Reporting from Jerusalem —
The Israeli parliament has passed a controversial bill defining the country as the nation state of the Jewish people, granting an advantageous status to Jewish-only communities and downgrading Arabic from an official language to one with a "special status."
The bill passed at 3 a.m. Thursday, squeezing by with 62 votes out of 120.
The new law defines Israel as the historic homeland of the Jewish nation, with "a singular right to national self-determination within it."
"This is a defining moment," Prime Minister Benjamin Netanyahu said immediately after the bill passed. "Long live the state of Israel!
"With this law we determined the founding principle of our existence. Israel is the nation state of the Jewish people, and respects the rights of all of its citizens."
Arab members of Israel's parliament confronted Netanyahu as he left the venue.
"You passed an apartheid law, a racist law!" shouted Ahmad Tibi, a member of the Arab Joint List. "Why are you afraid of the Arabic language?"
Netanyahu replied: "How dare you talk this way about the only democracy in the Middle East?"
In a statement, Joint List Chairman Ayman Odeh charged that Israel had "passed a law of Jewish supremacy and told us that we will always be second-class citizens."
"Today, I will have to tell my children, along with all the children of Palestinian Arab towns in the country, that the state has declared that it does not want us here," it said.
Arabs make up 20% of Israel's population.
Opponents of the bill also included a wide range of Jewish figures.
The law "was born in sin," Jeremy Ben-Ami, the president of the American Jewish organization J Street, said in a statement. "Its only purpose is to send a message to the Arab community, the LGBT community and other minorities in Israel, that they are not and never will be equal citizens.
"Two months ago we celebrated the 70th anniversary of the Israeli Declaration of Independence, where it was written that the State of Israel 'will ensure complete equality of social and political rights to all its inhabitants irrespective of religion, race or gender,'" it continued. "Today Netanyahu's government is trying to ignore those words and the values that they represent."
The bill's sponsor, Avi Dichter, chairman of the Foreign Affairs and Defense Committee, said such characterizations were based on "disinformation and fake news."
The law "doesn't harm the culture of minorities living in Israel, doesn't damage their festivals and holidays and certainly doesn't hurt the Arabic language, which remains a mother tongue for 1.5 million of Israel's citizens," he said.
The bill was a watered-down version of an earlier draft that would also have placed considerable limitations on the Supreme Court, requiring it to place the state's "Jewish character" above its "democratic character."
---
Must-read stories from the L.A. Times
Get the day's top news with our Today's Headlines newsletter, sent every weekday morning.
You may occasionally receive promotional content from the Los Angeles Times.