Behind bars, a famed Palestinian leads his people in a prison hunger strike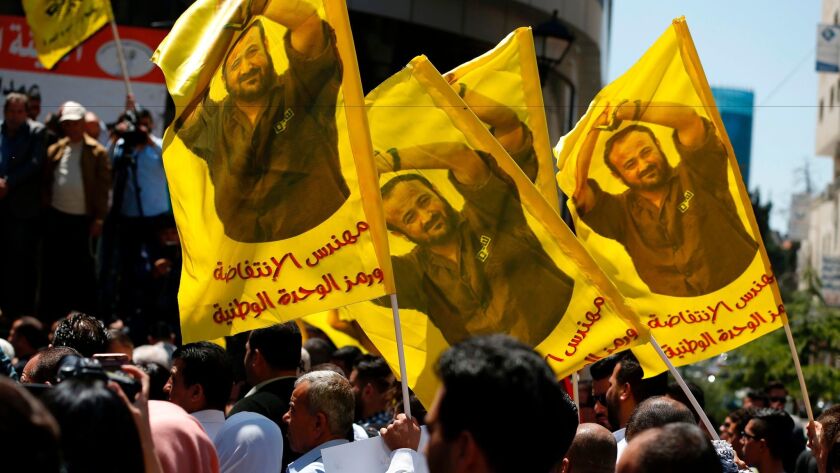 Reporting from Ramallah, West Bank —
He has long been viewed as a future president of a Palestinian state, even as he is reviled by Israelis as a terrorist who is serving multiple life terms in prison for murder.
This week, Marwan Barghouti resurfaced in the public eye in a way that put Israel's government on the defensive and seems likely to burnish his credentials among Palestinians. Barghouti began leading more than 1,000 fellow Palestinian inmates in a hunger strike to demand better conditions in Israeli prisons.
The hunger strike, an oft-used tool by Palestinian prisoners, is one of the largest in recent memory and marks the first time that Barghouti has served as the figurehead. Thousands took to the streets across the West Bank in solidarity on Sunday, the annual "Prisoners Day."
Marwan is trying to be a leader in the field by organizing this hunger strike. This will make him more popular.
Radi Jarai, a political science lecturer at Al Quds University
In an opinion article published in the New York Times on Sunday, Barghouti, who is serving consecutive life sentences on five murder convictions, wrote that the strike is a form of "peaceful resistance" to Israel and that some 6,300 Palestinian prisoners are "the compass that guides our struggle, the struggle for Freedom and Dignity."
Barghouti, who was jailed by Israel in 2002 at the height of a campaign of Palestinian suicide bombings and shooting attacks in Israeli cities, is seen by some as a potential peacemaker because of grassroots appeal among Palestinians and his support for negotiations with Israel. In 2004, he was convicted by a Tel Aviv district court of murder in three attacks that left five dead. He was also convicted of being a member of a terrorist group.
While some Israelis may see Barghouti as a potential peacemaker, that group does not include Prime Minister Benjamin Netanyahu, who wrote on Twitter that "calling Barghouti a 'political leader' is like calling [Syrian President Bashar] Assad a 'children's doctor.'"
But the Barghouti-led hunger strike isn't just about making a statement to Israel and the international community, analysts say. Amid rising speculation about who will succeed Palestinian Authority President Mahmoud Abbas, 82, the demonstration is a reminder to rivals within his Fatah party that Barghouti — even after 15 years behind bars — remains a potent force.
"Marwan is trying to be a leader in the field by organizing this hunger strike. This will make him more popular," said Radi Jarai, a political science lecturer at Al Quds University in East Jerusalem while walking with the demonstrators. Jarai said the strike has the potential to elevate Barghouti above other Fatah politicians vying to succeed Abbas, and fill the leadership vacuum in the Palestinian ruling party.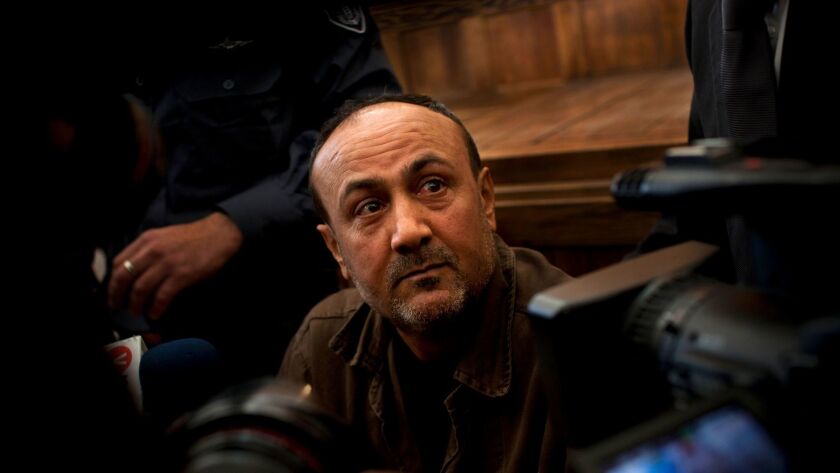 Barghouti, 57, has long been seen as the leader of a young generation of homegrown Fatah politicians who have been vying for years to win power from Abbas and an old guard of leaders in exile who returned to take control of Palestinian territories with Abbas and Yasser Arafat during the peace agreements of the 1990s.
A March poll by the Ramallah-based Palestinian Center for Policy and Survey Research found that Barghouti would win a plurality of 40% in a three-way race among Abbas and Hamas leader Ismail Haniyeh. If he were to run head to head against Haniyeh, he would win by a 23 percentage-point margin.
At the Fatah party congress last December, Barghouti was the top vote getter in polling for Fatah's Central Committee, but the jailed militant was passed over when Abbas named a party deputy.
"Barghouti's intended audience is as much Ramallah as it is Israel's prison wardens," wrote Grant Rumley, a researcher on Palestinian affairs at the Foundation for Defense of Democracies, a Washington-based institute focused on foreign policy and national security research. "In organizing a strike on this scale, Barghouti is sending a message to Abbas and the Palestinian people that he sees himself as the rightful successor to Abbas."
In an interview with Israel Radio, Barghouti's son Qassam denied that the strike was meant as a challenge to Abbas.
The hunger strikers have a list of nearly two dozen demands. They want Israel to install public phones in prisons, increase family visits arranged through the Red Cross, reinstate correspondence courses with Israel's Open University, and end administrative detentions without trial.
How long the hunger strikers keep it up, and how much the strike resonates with the Palestinians in the coming weeks, will be a test of Barghouti's sway.
Though the inmates are considered political prisoners and heroes among Palestinians, Israel's government sees them as convicted terrorists and murderers who are "treated properly under international law," according to a statement by Israel's Foreign Ministry.
Barghouti, who learned Hebrew and absorbed Israeli history during earlier jail terms, was once touted by former Israeli Defense Minister Binyamin Ben-Eliezer as a potential peace partner with enough popularity to win support for a deal.
At the main Israeli checkpoint on the road from Ramallah, the de facto Palestinian capital, to Jerusalem, Palestinian motorists drive by a giant mural on Israel's West Bank separation wall. It depicts Barghouti, with fists handcuffed, opposite an image of Yasser Arafat.
In effect, it equates Barghouti with the founding father of the Palestine Liberation Organization.
On Monday, a group of several dozen protesters marched from central Ramallah's Arafat Square to the offices of the International Red Cross, holding pictures of the hunger-striking Palestinian prisoners and chanting, "With our souls and blood we will sacrifice ourselves for you, oh prisoner."
Tamam Fuqaha, 53, stood with a picture of her son Alaa, who she said was jailed for about 16 years for shooting at Israeli soldiers and is one of the hunger strikers. The mother complained that Abbas and other leaders of the Palestinian Authority had spent too much time on negotiations with Israel and international diplomacy while neglecting to improve the conditions for the Palestinian prisoners.
Barghouti "is the only one that has supported the prisoners," Fuqaha said, expressing hope he would one day succeed Abbas — even if he still remains behind bars. "He's the only one who is sincere about the prisoners' issues.''
Mitnick is a special correspondent.
ALSO
Your neighbor's house is on fire, but he hates you. Do you help? That's Israel's Syria dilemma.
Israel's conservatives face tough lesson: Trump's policies may not be so different from Obama's approach
In Arab world, fresh doubts about the chances for a Palestinian state
---
Must-read stories from the L.A. Times
Get all the day's most vital news with our Today's Headlines newsletter, sent every weekday morning.
You may occasionally receive promotional content from the Los Angeles Times.