Hezbollah set to become a dominant force in Lebanon's parliament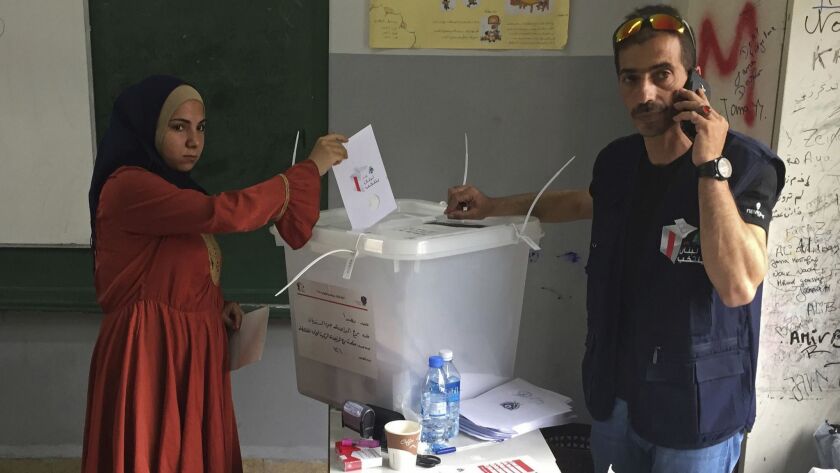 Reporting from Beirut —
The Iran-backed paramilitary movement Hezbollah is poised to be a dominant force in Lebanon's next parliament, based on official but incomplete election results announced Monday, an outcome that probably will unsettle the United States and its Persian Gulf allies.
Hezbollah and its political allies won more than half the 128 seats, giving them the power to block any attempt to force the Shiite militant group to disarm, as demanded by its foreign and domestic opponents.
Hezbollah, which the U.S. considers a terrorist organization, maintains Lebanon's most powerful military force and has deployed thousands of fighters to neighboring Syria to prop up President Bashar Assad's government there.
Lebanese Prime Minister Saad Hariri, an ally of the U.S. and Saudi Arabia, said his Future Movement lost a third of its seats. But he remains the Sunni Muslim leader with the biggest bloc in parliament, making him the front-runner to form the next government.
Under complicated power sharing arrangements instituted at the end of Lebanon's 1975-1990 civil war, the country's prime minister must be a Sunni, while the speaker of parliament is a Shiite and the president a Maronite Christian.
Interior Minister Nohad Machnouk announced the results late Monday but said vote counting was still underway for seven seats in the northern Akkar district.
Even before the official results were announced, supporters of the major parties started celebrating, driving through Beirut and other cities in cars decked out with party flags and firing guns in celebration . At least one person was critically injured by a stray bullet, Machnouk said.
Hezbollah's leader, Hassan Nasrallah, hailed the results in a televised speech as "a great political, parliamentary and moral victory for the resistance," a reference to the regional forces opposed to Israeli and American influence in the region. But he urged his supporters not to gloat, saying the elections were over and it was time for the Lebanese people to unite.
"The sectarian, doctrinal, regional speeches — or even the words aimed at hitting some nerves — they're done," he said.
Hariri echoed that sentiment at a news conference in the capital, Beirut, saying he was satisfied with the results and was extending his hand to all those who seek stability in Lebanon. He joined forces with Hezbollah's allies to form the outgoing cabinet and indicated he would do so again.
"This country cannot be ruled by excluding any of its political components," he told reporters. "If we really want to achieve the citizens' needs, we should work together."
But Hezbollah's growing political clout could complicate relations with Western allies at a time when the country is counting on international support to help revive a stagnant economy and cope with a million refugees from the war in Syria. Though Hezbollah may not increase its share of seats from its current 13, the group's press office said with its allies the bloc will control 71 seats.
Just over 49% of registered voters cast ballots Sunday, Machnouk said. That fell short of the 54% participation rate in 2009. Analysts blamed frustration with the country's political leaders and confusion over complicated new election rules.
"I hate all of them because they didn't do anything for the Lebanese citizens," said Fady Masri, a 28-year-old graphic designer who spent election day camping in a forest with friends.
Lebanon's problems are indeed significant: corruption, unemployment, persistent power outages and perennial problems with trash collection.
Lebanon was supposed to have elected a new parliament in 2013, but lawmakers instead extended their term, citing security concerns related to the Syrian war and their inability to reach agreement on electoral reforms.
Sunday's election was the first to be held under the country's new proportional voting system, which allocates seats based on the share of the vote received, instead of the former winner-takes-all system. Voters were asked to pick a slate of candidates and a preferred candidate from that list.
The system appeared to be causing some confusion Sunday. In Beirut's densely populated Basta Tata neighborhood, a supporter of the prime minister flagged down a passing observer as he waited to vote at a school and asked how he would know who to pick for his so-called preferential vote.
"Are their pictures inside?" asked Ahmad Mahran, a 60-year-old retired flight attendant.
The observer explained that he was there on behalf of another list and couldn't advise him.
At another school in the up-market Achrafiyeh neighborhood, Maria Joseph Sawana, 70, peered anxiously at the ballot she had just been handed and asked if she should mark it with a cross or a check mark. Do what you like, an official told her.
Sawana decided a cross would be best and marked the box for Nadim Gemayel, the son of one of Lebanon's most prominent Christian civil war leaders, who was assassinated after being elected president during Israel's 1982 invasion.
"I will stay with him," she said, "even if the son isn't the father."
But for critics of Lebanon's entrenched elites, it's an example of what is wrong with the country's sect-based political system. In theory, the new voting procedures should give a chance to candidates who aren't from the main political blocs.
Civil society activists in Beirut seized on the opportunity to field their own slate of candidates, known as Kulna Watani, or We Are All the Nation. But without the resources of the more established parties to buy television airtime and blanket neighborhoods with posters, they struggled to make themselves heard.
Their only seat went to a well-known journalist and television host, Paula Yacoubian. Another candidate, author Joumana Haddad, had appeared poised for victory Sunday. But the seat went instead to Antoine Pano, a member of President Michel Aoun's Free Patriotic Movement.
Haddad's supporters gathered outside the Ministry of Interior on Monday to protest what they said was evidence of fraud. In addition to reports of intimidation and vote buying, they said party representatives were told to leave a room where ballots were being tallied while a technical problem was addressed.
But another candidate on the list, Gilbert Doumit, remained optimistic. Until this election, he said, there was no organized platform for those who want to break free of sectarian politics. He said Kulna Watani was determined to continue putting forward fresh ideas, holding political leaders accountable and entering candidates in elections.
"It's just a beginning," he said. "This is why I am very hopeful."
Tobia is a special correspondent.
---
Must-read stories from the L.A. Times
Get all the day's most vital news with our Today's Headlines newsletter, sent every weekday morning.
You may occasionally receive promotional content from the Los Angeles Times.