Libya's leaders shelter by the sea as country tilts toward civil war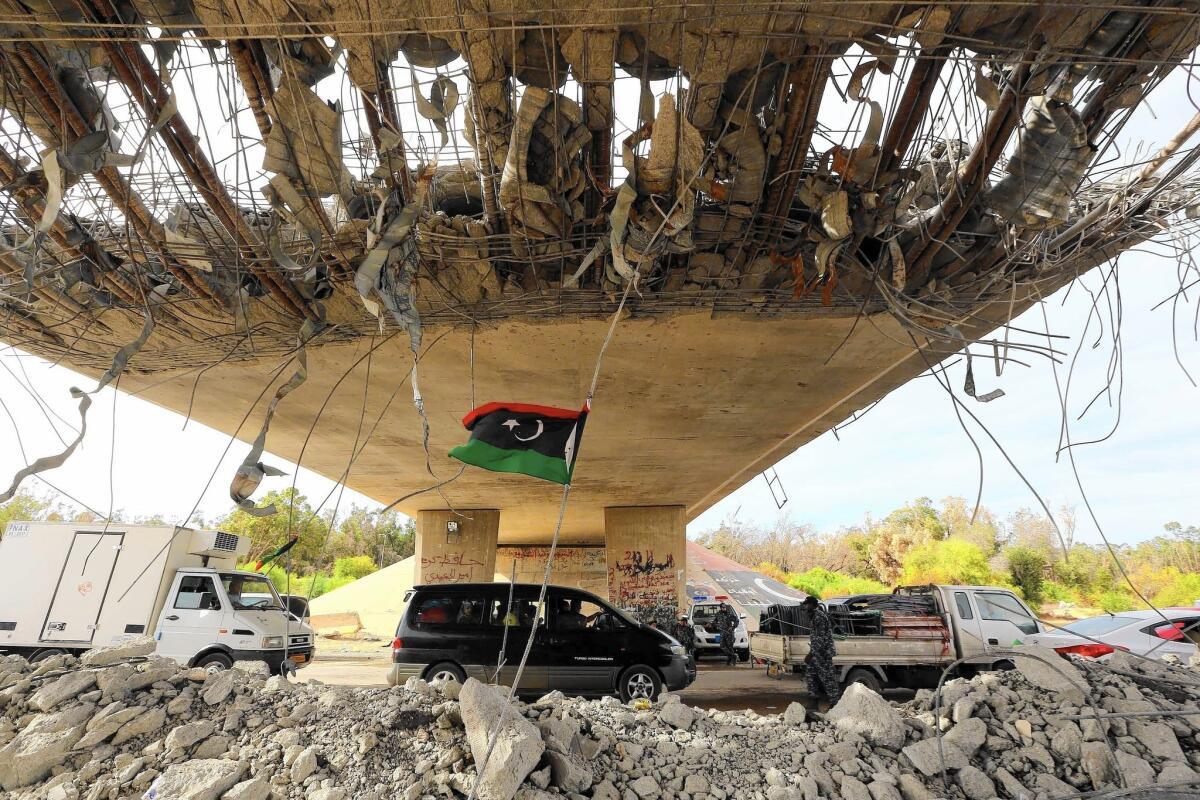 reporting from TOBRUK, Libya —
The seaside hotel that serves as the last redoubt of Libya's internationally recognized government is named Dar al-Salam, or House of Peace. But beyond the confines of this modest port city nearly a thousand miles from the capital, this country teeters on the brink of civil war.
In the three years since longtime dictator Moammar Kadafi was toppled and slain, the energy-rich North African nation has struggled fitfully to reach some power equilibrium among heavily armed groups, fractured along ideological, regional and tribal lines. But over the last four months, the level of violence has escalated as the various groups fight for influence and riches, and the very notion of Libya as a state is slipping away.
Residential neighborhoods in the two biggest cities — Tripoli, the capital, in the west and Benghazi in the east — have been smashed by battlefield-grade weapons. Most diplomats, aid groups and foreign enterprises have fled. The fighting has driven civilians from their homes by the tens of thousands. At least 150,000 people, many of them impoverished foreign laborers, have swamped the frontiers in a perilous scramble to escape. Assassinations are commonplace.
In Tripoli, where Islamist-linked militias have seized control, government ministries are guarded by fighters but virtually empty of employees. The international airports are shuttered, their runways and terminals pocked by shellfire. People in the once-cosmopolitan capital scramble for daily necessities such as gasoline and drinking water — even as they cling to vestiges of normality, such as the daily routine of whiling away time in coffeehouses.
"We have no real state," said Vice President Mhamed Ali Choueib, interviewed in Tobruk, 85 miles from the Egyptian border, where the parliament elected in June has set up shop. In Tripoli, militias from the coastal city of Misurata have ensconced their own rival legislature and sworn in their own prime minister.
With rival governments each dismissing the other's legitimacy, Tobruk, a onetime Roman fortress, is now a Libyan version of Baghdad's Green Zone: heavily fortified, but with questionable writ outside its boundaries. In a key test of power for the Tobruk-based parliament, lawmakers on Sunday dismissed the head of Libya's central bank, but it was not yet clear who would emerge with control of $100 billion in cash reserves and investments.
Analysts describe the crisis gripping Libya as far more serious than the upheaval that triggered NATO's intervention in 2011, as Kadafi was fighting to cling to his power and his life. This time around, though, Libya's descent into chaos has been eclipsed by catastrophes erupting elsewhere in the region — the juggernaut in Syria and Iraq of the radical Islamic State, this summer's war in the Gaza Strip — and in the wider world as well, with the conflict in Ukraine and the Ebola outbreak in West Africa.
So even as the chaos mounts, the country has been largely left to its own devices as it is carved into fiefdoms by rival militias. And the fight is fast becoming a proxy war among rival regional powers. The United Arab Emirates, with an assist from Egypt, has staged airstrikes against the Islamist-linked militias, with more strikes reported Monday outside Tripoli. Meanwhile, the Tobruk-based administration accuses Qatar and Sudan of providing arms to the Islamists.
All this has led to an unraveling whose scope has caught even experts by surprise.
"It's been clear since the end of the revolution that the militias have been paramount, but the ability to abrogate the institutions of the Libyan state has been shocking," said Jason Pack, a Cambridge researcher who runs the strategic forecasting company Libya-Analysis.com. "That veneer of official legislative control has disappeared."
Tobruk's last real claim to fame was as the scene of bitter World War II fighting between Allied and Axis forces. Now, it is a place of refuge, but an imperiled one. It sits almost at the doorstep of relatively safe and stable Egypt to the east, but just 100 miles west, the town of Derna is firmly in the grip of a loose alliance of Islamist militias.
"The [government] control of the east is limited to the most eastern part of the east," said Claudia Gazzini, senior Libya analyst with the Brussels-based International Crisis Group. "From there to Benghazi, it is not clear whether the Tobruk parliament has any authority. I wouldn't say that it seems so."
Many of those who have sought haven in Tobruk have ties to the military, which is badly outgunned by the militias. Benghazi has been plagued by targeted killings, and some military officials placed themselves in the gun sights of some militias by allying themselves with former army Gen. Khalifa Haftar, who in May launched a self-declared offensive against Islamist groups such as Ansar al Sharia.
Among those who fled east to Tobruk was the family of an army colonel who joined forces with the rogue general. His son Ahmed — who did not want his last name used because it would endanger the family and his father — said that back home in Benghazi he felt the need to have his weapon constantly at the ready. But he had no illusions that the protection found here extends far.
"If you're traveling outside Tobruk, you need a gun to protect yourself," he said. "Even police are being killed — how else can an ordinary citizen protect himself?"
Some outside Libya have suggested the international community should step in. Last week, French Defense Minister Jean-Yves Le Drian told the newspaper Le Figaro that Libya was a "terrorist hub" at the gates of Europe. Egypt and other Libyan neighbors also have voiced sharp alarm.
"It's almost a failed state, and it's right next door," said Egyptian Foreign Ministry spokesman Badr Abdelatty. Vast Libyan weapons stocks, energetically trafficked by smugglers, are fueling other conflicts, such as the Islamist insurgency in Egypt's Sinai Peninsula, he said.
But even if there were an appetite for international intervention, the Libyan government, such as it is, has serious misgivings about such a course of action, analyst Gazzini said.
"Certainly there are lessons of the past, a reluctance to repeat the mistakes of the 2011 intervention, a growing awareness that maybe the international community jumped in, in too much of a rush, without understanding who the actors were and what was happening on the ground," she said. "Not everyone is convinced that international intervention would solve Libya's problems."
Choueib, the vice president, was adamant that the parliamentarians are seeking a political solution, not a military one. He said government pleas for international support, answered in part by a U.N. Security Council resolution last month, do not mean it wants an outside coalition to fight its battles. He cited the need to develop state institutions and legal structures, which never flourished under Kadafi, as well as training the military.
"We are not asking for military action or intervention; we are asking for help," he said. "Help can take many forms."
A few high-profile outside figures have made their way to Tobruk in recent days to express support for the administration based here, among them U.N. special envoy Bernardino Leon. He emphasized the need for talks among the key Libyan players, though previous efforts crumbled.
And so continue the surreal routines of governance at the House of Peace. Parliamentarians gather under tight security, sometimes holding consultations late into the night, with banquet rooms and the hotel swimming pool transformed into Libya's halls of power.
The city was unprepared for the influx of outsiders, so in another incongruous touch, a Greek car ferry docked in Tobruk's harbor provides accommodation for some of the lawmakers and other out-of-towners — workers from nongovernmental organizations, journalists and a scattering of military families like those of the colonel from Benghazi.
Ahmed, the colonel's son, interviewed on the deck of the vessel, was already wondering what life would be like if the family went home again. The roiling violence in Benghazi pushed onward last week when a well-known moderate imam was killed by a car bomb as he left his mosque after leading Friday prayers. The imam's sect had allied itself with the anti-Islamist Haftar forces.
Ahmed said his father had stopped going to prayers, for fear of being targeted there.
"What will I do?" he asked. "Go to the mosque with a Kalashnikov to protect him?"
Special correspondent Ryan reported from Tobruk and Times staff writer King from Cairo. Special correspondent Mohammed Juma in Benghazi contributed to this report.
Follow @laurakingLAT on Twitter for news out of the Middle East.
Sign up for Essential California for news, features and recommendations from the L.A. Times and beyond in your inbox six days a week.
You may occasionally receive promotional content from the Los Angeles Times.